For affiliate links and as an Amazon Associate I earn from qualifying purchases.
Bellafinas, Tinkerbells, Yum Yums … whatever you call them, those adorable mini-sweet bell peppers are popping up at grocery stores everywhere and their monikers are just as cute as they are! They only recently showed up at my grocery store and I could not be more pleased. I've been looking for them ever since my friend Kalyn mentioned them a while back.
You see I love sweet bell peppers stuffed full of goodness, but usually the standard size pepper yields a portion that is just way too much for my appetite and I really like getting a bite of the sweet pepper with every bite of the filling. Happily, Stuffed Mini-Sweet Bell Peppers give you that!
This recipe is more of a concept than anything. I made these for one of our recent camping trips. I threw them in the cooler along with a few other items from my fridge and pantry: cooked quinoa (left over from making the Flourless Chocolate Quinoa Cake), a white onion, garlic, an avocado, and roasted red pepper hummus. I also employed some of the contents of my camping food box: aluminum foil, seasonings, and extra virgin olive oil.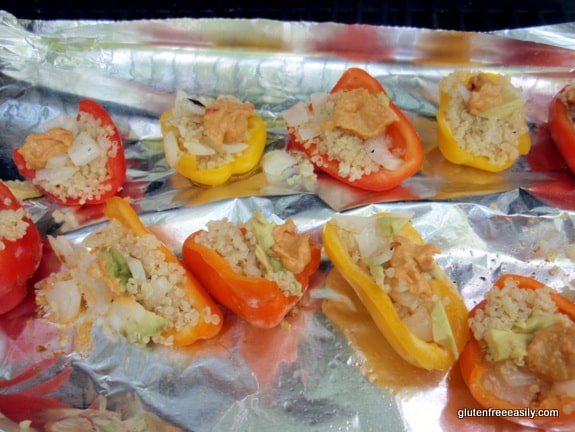 These stuffed peppers come together quickly and make a great side dish or an entrée. Son and I enjoyed our stuffed mini peppers for lunch while Mr. GFE enjoyed his left over  carry-out steamed shrimp  with cucumber slices. (The shrimp was not an option for Son and me as it had been steamed in beer—always inquire if your seafood has been steamed in beer.)
You can stuff these with rice instead of quinoa or use some other veggies in addition to onion and garlic. Adding some black beans would also be nice. Or if you're grain free/bean free/paleo, you can skip the quinoa and hummus and use a filling of veggies only or toasted almond flour mixed with other suitable ingredients. This concept is really perfect for using up any bits of leftovers. I cooked our stuffed peppers on the grill, but you could also bake them in the oven (or toaster oven or even slow cooker to keep the heat to a minimum).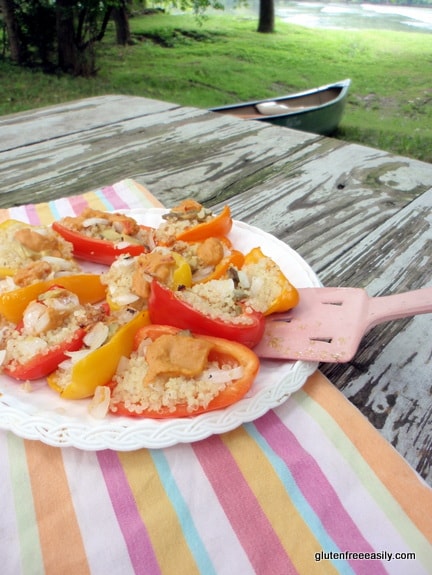 I love that you can easily pick these stuffed peppers up with your hands. The fork simply ensures that you don't miss any of the filling that "overflows." Think of eating a taco … you always "lose" a little bit, right? Along those lines, be forewarned that if you are wearing sunglasses around your neck at the time, they might get filled up! Yes, I speak from experience.
Last, aren't these Stuffed Mini Sweet Bell Peppers simply beautiful? Real food always rocks, right? I took a ton of photos because these little stuffed peppers made me so happy with their colors and shapes and, of course, their healthy, tasty goodness.
You can find the recipe/basic instructions at the bottom of this post. And here are six other ways to use mini peppers:
Marinated Pepper Salad with Garbanzos, Olives, and Feta
Stuffed Mini Sweet Peppers from Sarah's Cucina Bella
Stuffed Mini Sweet Bell Peppers (important:  sub gluten-free bread crumbs or similar)
Slow Cooker Mexican Chicken Fajitas
Yield:
Grilled Stuffed Mini (Baby) Sweet Bell Peppers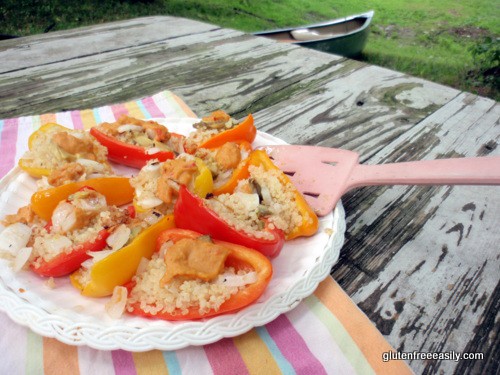 Ingredients
6 mini/baby sweet bell peppers
2 tbsp or so of extra virgin olive oil, divided
1 medium onion, diced
About 2 cups of cooked quinoa
1 tbsp minced garlic
Avocado, cut into small chunks
About ½ cup roasted red pepper hummus (I love this paleo version)
Seasonings of choice, to taste
Instructions
Wash peppers, cut in half lengthwise, and remove stems, seeds, and white pithy parts.
Heat grill to medium to medium-high heat.
Place aluminum foil on grill and turn up on all edges to create a pan effect. Drizzle olive oil on cooking area.
Add diced onion to grill and cook until translucent, about a minute or two.
Add quinoa, garlic, and any seasonings to grill with onion and cook and stir until both are toasted and heated through, another minute or two.
Using potholders, remove foil with contents off to the side.
Spoon about a tablespoon of quinoa mixture into each pepper half.
Spoon avocado on top of quinoa mixture in each.
Top each pepper half with a dollop of roasted red pepper hummus.
Place new aluminum foil on grill. Drizzle olive oil on cooking area.
Heat about a minute. Add stuffed pepper halves. Close grill (if you have that option).
Cook about 10 to 15 minutes, or until desired doneness for the peppers themselves.
Serve. Makes about 6 servings.
This post is linked to 5-Ingredient Mondays, Allergy-Free Wednesdays, Gluten-Free Wednesday, Wellness Weekend, Foodie Friday, and Whole Foods Friday.