For affiliate links and as an Amazon Associate I earn from qualifying purchases.
Remember my Chocolate Milkshake? Many of you fell in love with that recipe. Today I'm sharing Chocolate Cherry Milkshake and I think you will love this version as much or more!
I picked up a big bag of cherries recently and Mr. GFE enjoyed them for a few days as part of a fresh fruit breakfast while camping. When my aunt visited the other day, there were still plenty of cherries left, so I decided to make Chocolate Cherry Milkshakes for us to go with our lunch. We really enjoyed them with our Turkey Salad Wraps (the turkey salad was made from my slow-cooked Special Zesty Turkey Breast).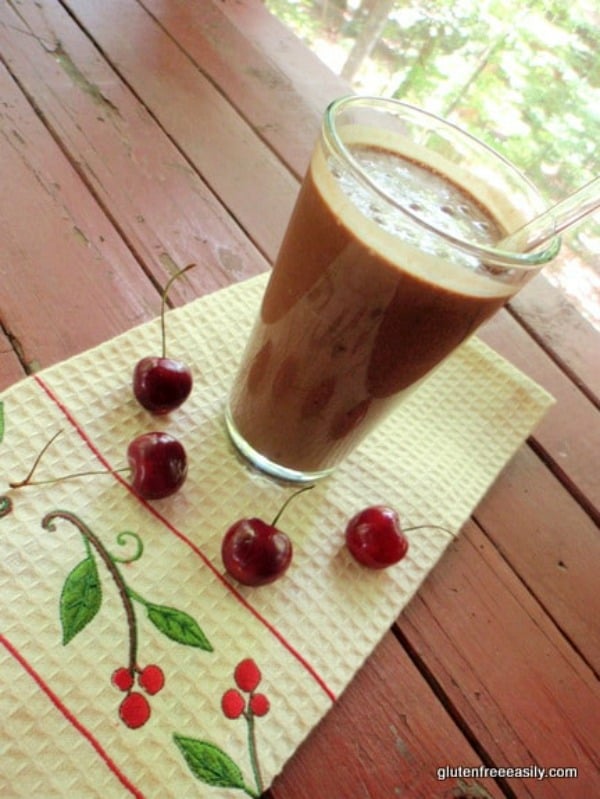 We both thought that original version was delicious, but the cherry flavor wasn't pronounced enough for me. It seemed overpowered by the other ingredients, mainly the chocolate.
So I tried again and I think this latest version is the perfect balance of cherries and chocolate. It's not only raw and gluten free (of course!), but it's also grain free, vegan, nut free, and "more free"—and naturally so!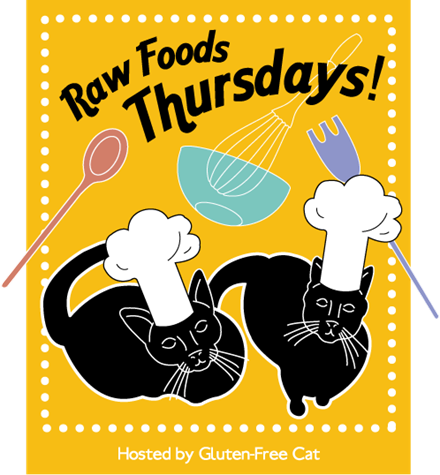 I'm including this recipe as part of Raw Foods Thursdays, a wonderful weekly event hosted by my good friend Heather of Gluten-Free Cat. (Sadly, this site is no longer active.) Heather is in the process of relocating to "The Big Apple," so guest hosts have graciously stepped in for her the last few weeks.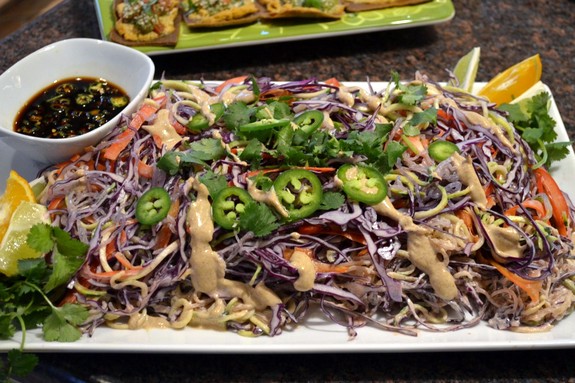 Individuals' reactions to dishes labeled "raw" can be much like their reactions to "gluten-free" foods … as in, eek, I'm not eating that! But there are many dishes and foods that we eat all the time that are naturally raw and we love them. So please don't be afraid of the label!
Most of the raw recipes featured on Raw Food Thursdays include ingredients we already love; they are just prepared and/or combined in a different way. And at Raw Food Thursdays and on Heather's blog in general, the raw food recipes will often blow you away.
How about the Living Pad Thai (shown above) that was featured a while back? Or Heather's Raw Chocolate Cherry Pieshown below?
And that leads me back to my Chocolate Cherry Milkshake, because it was Heather's pie that was the inspiration for my milkshake! As soon as I saw her pie, I thought, now that would make a good milkshake!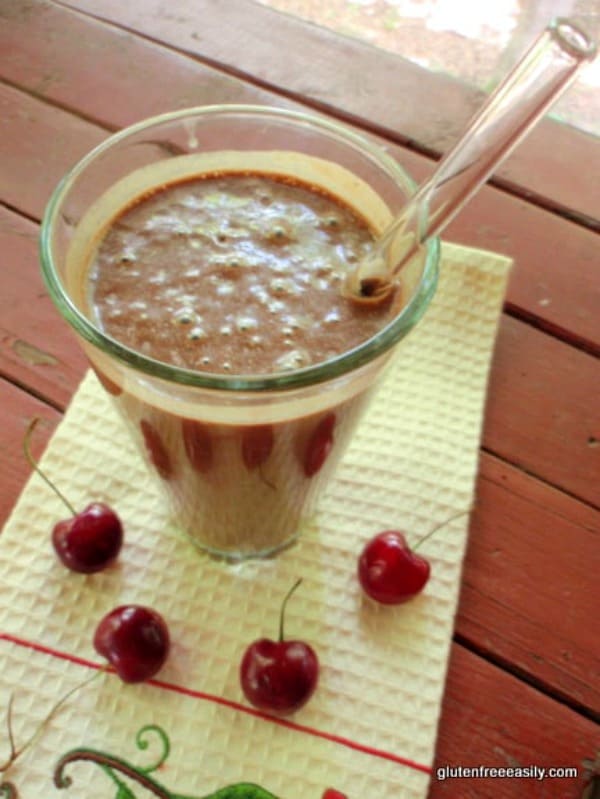 Mine is quite a bit different as far as the ingredients included, but cold, chocolate cherry creaminess is still what it's all about, just like with Heather's pie. Here's the recipe; enjoy!
Chocolate Cherry Milkshake Recipe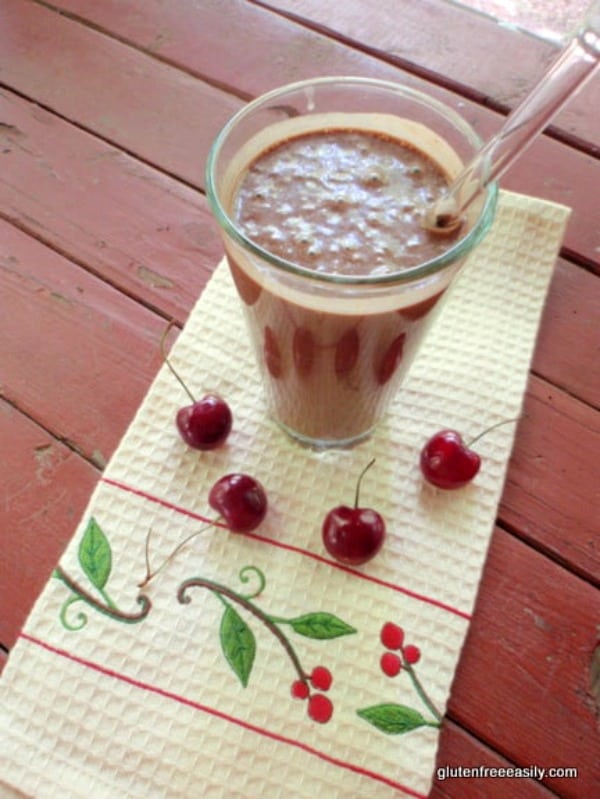 Yield: Two 16-ounce milkshakes
Chocolate Cherry Milkshake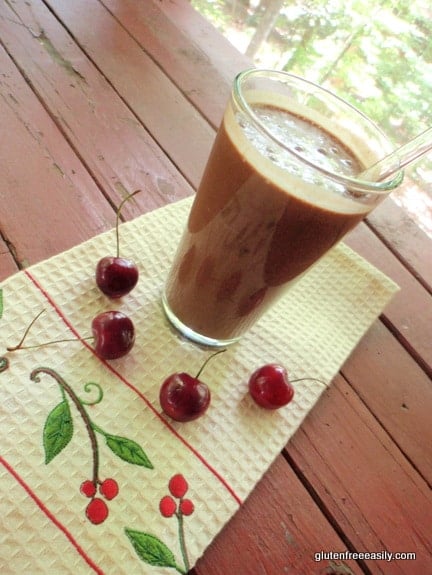 Cold and divine chocolate cherry creaminess!
Ingredients
1 1/3 cup full-fat coconut milk, preferably chilled (or almond milk; see notes)
1 cup cherries, washed, pitted, and packed (about 28 cherries)
1 tbsp plus 1 tsp almond butter
2 bananas, preferably frozen (about 2 cups)
1 to 2 tbsp raw cacao powder (or cocoa powder for a non-raw version), to taste
2 to 3 Medjool dates, pitted and preferably fresh and soft (see notes)
Ice cubes, if needed (if you're using frozen and/or chilled ingredients, you might not need any ice cubes)
Instructions
Add ingredients in the basic order shown to a high-speed blender. (That's what I use, but a regular blender might work just fine.) The real key is to add the liquid ingredients before adding other ingredients so your almond butter, cacao powder, etc. are not stuck on the blender blades and unmixed at the end.
Blend in spurts from low speed to high speed for a few minutes total until you have well-blended shake consistency.
Notes
I used David Lebovitz's method for cherry pitting; i.e., I used a large paper clip. Just insert into cherry and use as a lever to pop out the pit. If dates are not fresh and soft, soak in boiling water for 5 minutes first. Then drain and reserve the water for another use (e.g., a smoothie). This milkshake can also be made using almond milk versus coconut milk, but I think the coconut milk version allows the cherries to shine through more.
Inspired by Heather of Gluten-Free Cat
Originally published July 18, 2013; updated February 20, 2022.