For affiliate links and as an Amazon Associate I earn from qualifying purchases.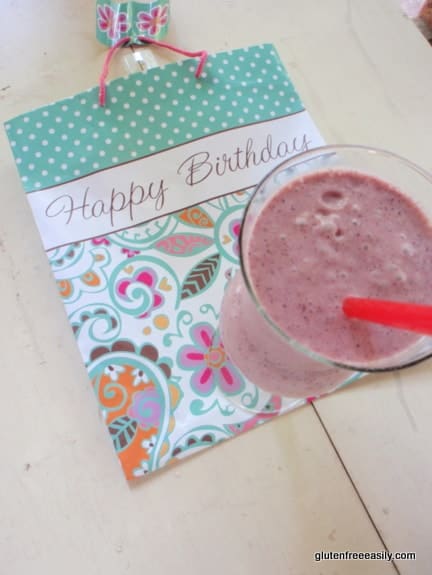 How now purple cow. Okay, that's not exactly how that phrase that's used to test one's elocution is supposed to go, but with the intense summer heat, I'm fixated on cold beverages and this Purple Cow beverage recipe is my latest creation. Last week, I shared my Chocolate Cherry Milkshake, which was based on my original Chocolate Milkshake and made from yummy ingredients that I had on hand. Today I'm sharing my Purple Cow recipe, which I made as part of my own birthday celebration.
Like the Chocolate Cherry Shake, this cooling concoction is also simply a creation from the contents of my fridge/freezer at the time. I didn't use grape soda, grape juice, or grapes in any form, or even black raspberry based-ice cream, which all seem to constitute proper Purple Cows. Instead I combined fruits with the primary colors of red—raspberries—and blue—blueberries—to create my purple cow, plus three more basic ingredients—coconut milk, bananas, and orange juice—which I always have at the ready.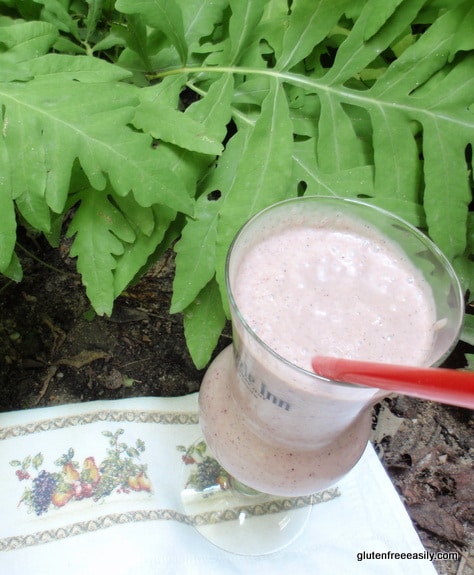 These kinds of smoothie/milkshake creations are far from rocket science. You add a little bit of this and a little bit of that, adjusting amounts and adding other ingredients if necessary. This Purple Cow beverage recipe is gluten free, grain free, dairy free, vegan, raw, sugar free, and more free, but after meeting the gluten-free requirement, most important of all to me is that it's simple and satisfying—that's always my favorite combo!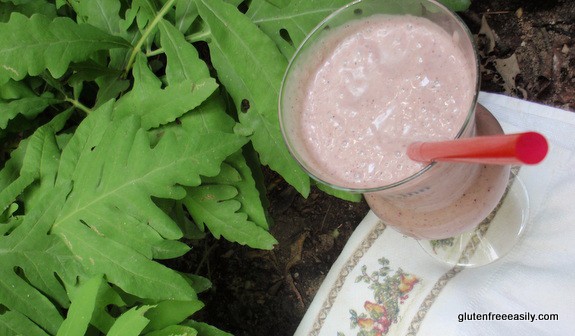 Ingredients
1 cup full-fat coconut milk, preferably chilled
1 cup raspberries, preferably frozen
2 bananas, preferably frozen
2/3 cup blueberries, preferably chilled
½ cup orange juice, fresh and preferably chilled
Instructions
Add all ingredients to blender and blend until well mixed.
Notes
If all your ingredients are not frozen or chilled, just add several ice cubes to get the proper chill factor and consistency. Makes about four 8-ounce servings.