For affiliate links and as an Amazon Associate I earn from qualifying purchases.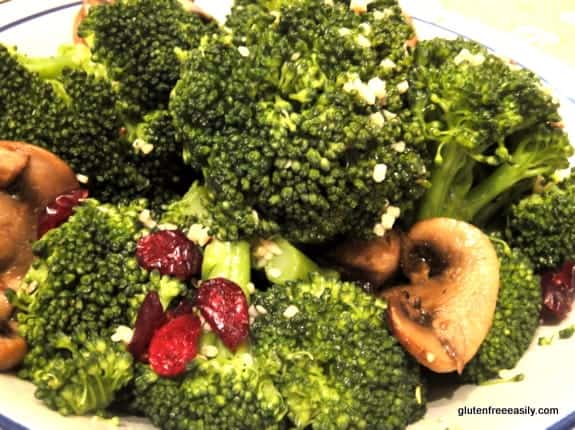 I didn't eat broccoli until I was 32 years old. Seriously. I know … ridiculous, huh? I finally decided to eat broccoli when I was pregnant with Son. I was looking for extra nutrition, particularly iron. I was taking double the dosage of prenatal vitamins to keep anemia and the accompanying fatigue at bay. The double vitamins and increased ingestion of healthier foods did work. I felt surprisingly great during my pregnancy. However, at the time, I had no idea that I was experiencing vitamin/mineral deficiency issues due to malabsorption caused by gluten.
When I first started eating broccoli, I always served it with a cheese sauce. (After all, I needed calcium, too, right?) But, soon, I didn't feel like making cheese sauce and I was actually learning to like the taste of the broccoli itself, so we just started eating it steamed with some butter. After draining, I'd add just a few thin slivers of butter to melt on the steaming broccoli. Really, not much butter was needed. That has remained my favorite way to eat it for many years. But, now I am eating dairy free, so a recipe for Garlicky Lemon Broccoli that had been shared online somewhere came to mind. I had printed it out, but never tried it because, as I shared, I was pretty pleased with my steamed broccoli with just a little bit of butter. So the Garlicky Lemon Broccoli recipe has remained unused in my massive pile of "I want to try" recipes. The recipe said it came from the highly recommended Fresh Choices cookbook.
Then, recently, I spied a recipe for Jenny's Super Curry Salad by Jennifer Motl (Bright Eating), a registered dietitian and former area resident, in our local newspaper. Her recipe obviously called for curry (which I still don't care for … maybe next year on that one) and a lot of other ingredients that are packed with nutrition and which I do like. Obviously, I wasn't interested in the yogurt dressing, but I thought I could borrow some of the elements of Jennifer's recipe and use them with the Garlicky Lemon Broccoli recipe. The result is this Super-Charged Garlic Lemon Broccoli. It doesn't take any longer to make than regular steamed broccoli, but it's colorful, full of flavor, and super charged with nutrition. Plus, the recipe is naturally gluten free (gfe!), dairy-free, and refined sugar free—my current trifecta of deliciousness!
Yield: 4
Super-Charged Garlic Lemon Broccoli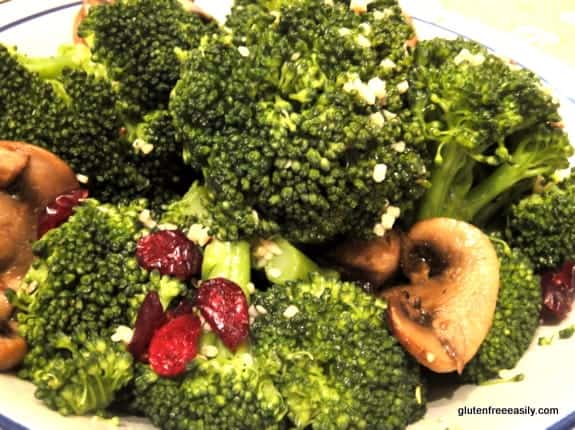 Adapted from Fresh Choices and Jennifer Motl
Ingredients
About 5 cups of broccoli, cut into florets
Juice of half of a lemon
3 tbsp extra-virgin olive oil
2 cloves garlic, finely minced
½ tsp sea salt
1/8 tsp ground black pepper
Pinch of crushed red pepper flakes (optional)
Toppings, as desired; e.g. dried cranberries, sliced almonds, chia or hemp seeds, sunflower seeds, sautéed mushrooms, Parmesan cheese, nutritional yeast, almond flour
Instructions
Steam your broccoli to desired doneness; drain.
While broccoli is steaming, squeeze the juice from the half lemon into a large bowl. Add and whisk in oil gradually until thoroughly blended. Whisk in garlic, salt, pepper, and pepper flakes.
Add the hot broccoli and toss until coated in dressing (or simply pour dressing over broccoli and stir a bit).
Sprinkle with toppings of your choice. As shown in the photo, I've added dried cranberries, hemp seeds, and sautéed, sliced Baby Bella mushrooms.
Notes
If you use a microwave, microwaving your lemon on high for about 30 seconds will yield more juice when you squeeze the lemon. Rolling on the counter a bit beforehand also works.
This dish works well either hot or cold, and works as a side dish or a vegetarian/vegan main dish. I actually prefer it hot when the garlic lemon dressing is still light and lovely. When cold, this dish takes on a tarter taste. I predict any broccoli lovers will enjoy this recipe, and it just might convert those who currently abstain. The Garlic Lemon Broccoli "base" recipe was actually shared by a mom who said her kids absolutely love broccoli made this way. I can understand why. It's not overly garlicky or lemony, but light and tasty—surprisingly appealing. You just wants to keep eating this broccoli after you have a taste. And, the toppings just add to the goodness. To help win over the broccoli non-believers, follow Alison's lead of setting out veggies when the kids are hungry (which she shared in her guest post over at 30 Days to a Food Revolution)—perhaps slightly before dinner.
Don't forget to eat your broccoli! Enjoy!