For affiliate links and as an Amazon Associate I earn from qualifying purchases.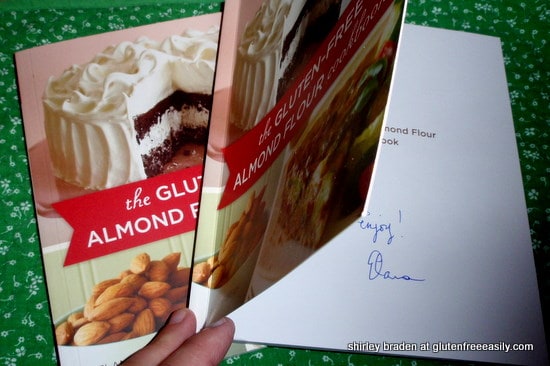 First, I'm happy to announce that The Gluten-Free Almond Flour Cookbook by my dear and lovely friend, fellow gluten-free blogger, and chef extraordinaire, Elana Amsterdam, will be going to not one, but two, lucky readers! Yippee!!
When I left for the BlogHer Food conference at the end of last month, I tucked one copy in my suitcase planning to ask Elana to sign it for my giveaway. Once I got to the conference and actually met Elana, I realized that I really should have brought both my copies—my own personal copy for her to sign and the other for her to sign for the giveaway. I felt like a ninny for forgetting it. Unfortunately, that's the kind of thing that happens when a girl tosses out a third of the contents of her carry-on to ensure that 1) she can hoist it into the overhead bin and 2) that it won't get vetoed as a carry-on. First, I asked Elana to sign my personal copy, which she so graciously did. Then I headed out to the "bookstore" set up by BlogHer to sell all the books available by bloggers. I snagged a copy and hurried back in to get Elana's signature on that giveaway copy. (That's the one I'm holding in the photo in this post of Elana's on BlogHer Food.) While I was at BlogHer Food, I posted the giveaway announcement for the one signed copy. Therefore, I wasn't sure what I'd do with the unsigned copy left at home. However, with the great response here for the giveaway, I decided to give both the signed and unsigned copies away.
I used an online random number generator to choose the winners via comment number. Now, finally, for the part you really want to hear about … the winners. The first winner was actually the last entrant, Sarah Tolson. She will receive the signed copy. The second winner is CinnamonQuill. She will receive the unsigned copy. Elana's cookbook is so terrific that I don't think she'll mind. If she's lucky, she'll get to meet Elana one day, in which case, I'm certain Elana would be delighted to autograph her copy. CinnamonQuill didn't enter too much before the deadline either. All of that goes to show that as long as you get in before the deadline expires, it's never too late to enter a giveaway! Congratulations, Sarah and CinnamonQuill! Ladies, please email me your mailing addresses so I can get your cookbooks in the mail tomorrow. 🙂
Thanks to all for participating!
Shirley
Not just gf, but gfe!