For affiliate links and as an Amazon Associate I earn from qualifying purchases.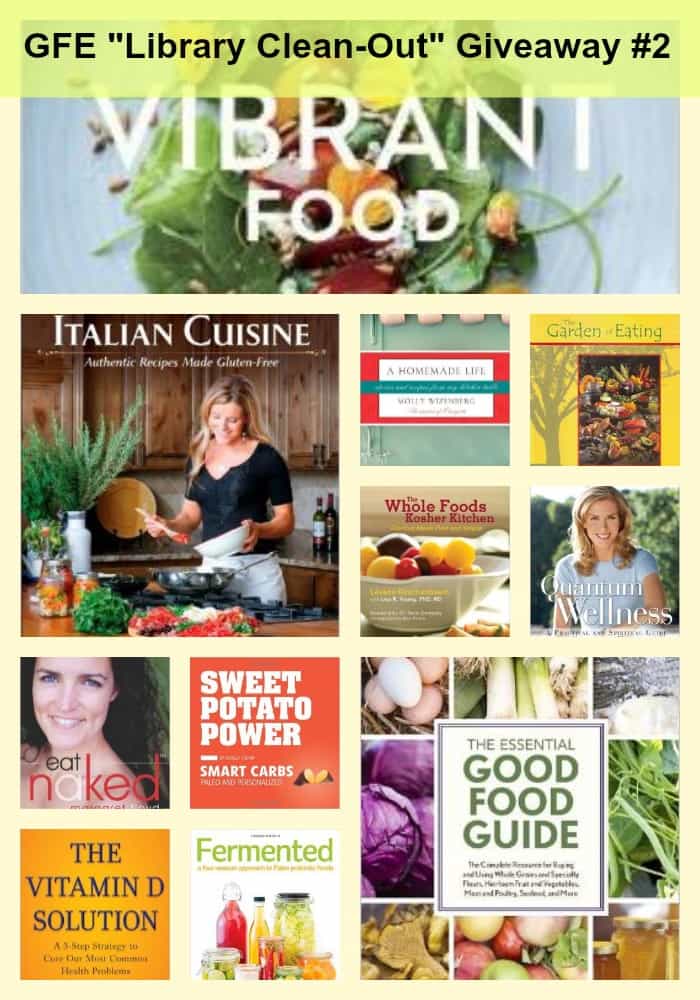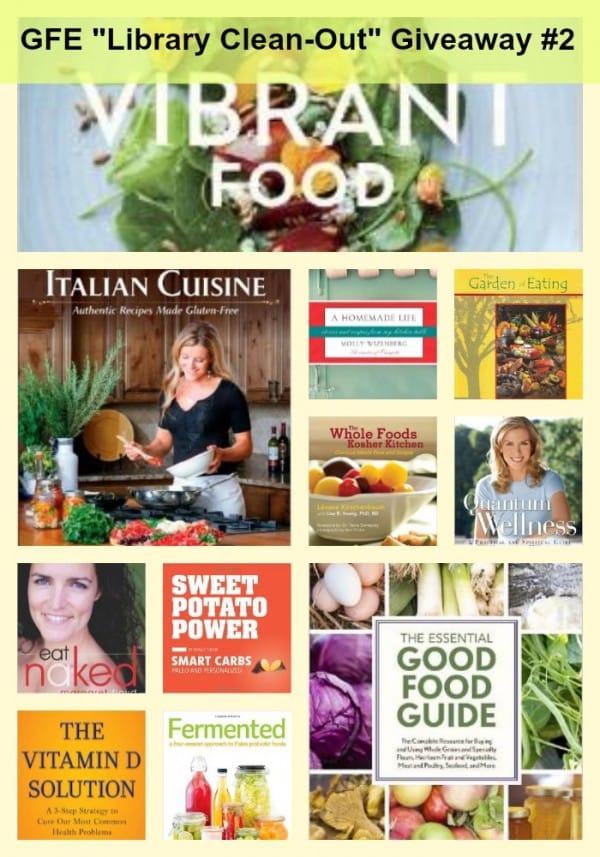 I'm continuing on with the clean-out of my support group's overflowing library, sharing with you all terrific cookbooks and resource books that sometimes don't get checked out or, sadly, even perused. We have so many books and get more all the time and we meet in my house, so I'm trying to keep our number of books at a manageable level.
All of these books are in brand new or almost brand new/little wear status. A few have my name and/or our support group acronym on the cover or inside or a wee bit of cover wear from being on shelves and being moved around/carried to my speaking events, but that's pretty much it. I've already passed on quite a few via other giveaways (on Facebook and here on gfe) and letting my members choose some to keep and donating others to our local thrift shops, but I still have quite a few more!
UPDATE: This giveaway is now closed. The winners are shown below. All winners have been emailed. If you're a winner, please respond promptly to my email notification TODAY, so that I don't have to pick a new winner! Thanks and congrats to all!
So I'm conducting a few "extreme" giveaways—as in extreme in the number of books being given away—here on gfe. The giveaway instructions are simple.
~ Just leave a comment below indicating your top 5 choices. You can check out the books more via their links, but I have provided some additional info on each this go 'round.

~ There will be one winner for each book.

~ The giveaway ends Thursday, July 24, at midnight Eastern. Important: Once I send out an email to the winners, they'll have 24 hours to respond or new winners will be selected so please be sure to check your email on Thursday and respond promptly if you're a winner. Good luck!
Here are all the prizes for Round 2!
~ Eat Naked: Unprocessed, Unpolluted, and Undressed Eating for a Healthier, Sexier You from Margaret Floyd ~ As the title indicates, this book will help you strip away overprocessed, overpackaged, and overdressed junk food from your diet and add in fresh, organically grown, whole foods. This book is an easy read, but a great introduction to and validation for leaving processed foods behind. It includes over 40 recipes, all gluten free.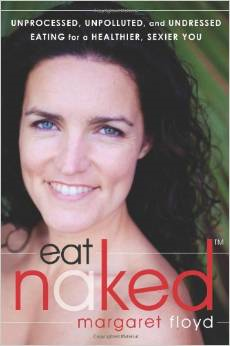 ~ The Essential Good Food Guide: The Complete Resource for Buying and Using Whole Grains and Specialty Flours, Heirloom Fruit and Vegetables, Meat and Poultry, Seafood, and More from Margaret Wittenburg This book is billed as "the definitive guide to buying, storing, and enjoying whole foods." There's information on organics, heirloom grains and legumes, fruits and vegetables, at-a-glance charts, etc. Because this is a comprehensive food guide, some gluten-full grains are included, but I'm happy to say that they are identified as containing gluten. I love the info on all kinds of foods, including nutritional content and cooking tips.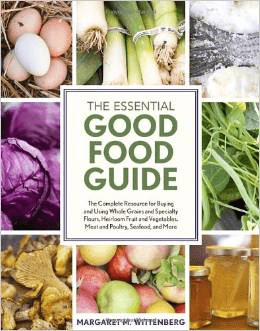 ~ Everyday Paleo Around the World: Italian Cuisine: Authentic Recipes Made Gluten Free from Sarah Fragoso ~ Almost all of the 134 Amazon reviews of this second book from Sarah are 5 star raves. If you love Italian food, are gluten free, and/or paleo, this cookbook is sure to be an asset in your kitchen. Sarah's first cookbook was Everyday Paleo. Her second was Everyday Paleo Family Cookbook: Real Food for Real Life. Her newest cookbook is Everyday Paleo: Thai Cuisine: Authentic Recipes Made Gluten Free.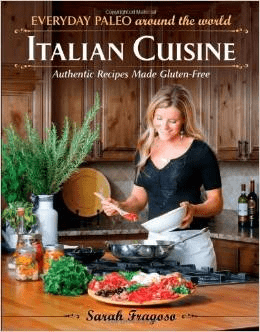 ~ Fermented: A Four Season Approach to Paleo Probiotic Foods from Jill Ciciarelli ~ Jill makes fermenting food doable and beautiful, all with a seasonal approach.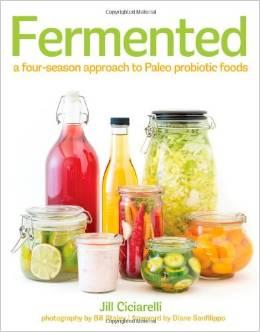 ~ A Homemade Life: Stories and Recipes from My Kitchen Table from Molly Wizenberg ~ Molly Wizenberg is the author the blog Orangette. This book, her first one and a New York Times bestseller, reads like her blog … a huge slice of life—the highs, lows, and in-between periods—wrapped around food in all forms … tantalizing food, comfort food, sustaining food. FYI–Although there are some recipes interspersed throughout this book and few of them are gluten free as Molly is not gluten free herself. But this is still a really enjoyable read. Molly also has a new book out, which is the next chapter of her life's story, and it's also a NYT bestseller—Delancey: A Man, A Woman, A Restaurant, A Marriage.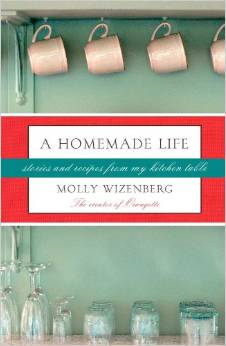 ~ Quantum Wellness: A Practical and Spiritual Guide to Health and Happiness from Kathy Freston ~ Note that this book is not 100% gluten free and takes a vegan approach when food is discussed. While it's not solely a cookbook, almost 50 recipes are included. A fair number of the recipes are gluten free and most of them can be adapted to be gluten free, but not all.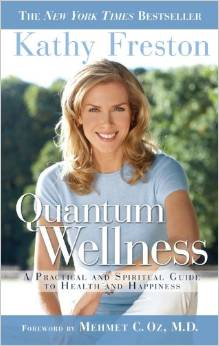 ~ Sweet Potato Power: Smart Carbs; Paleo and Personalized from Ashley Tudor ~ This book is more than a book of sweet potato recipes, although there are 40 of them and they all sound delicious! Ashley shares the history of sweet potatoes, their values as alternatives to grain-filled starches, and much more.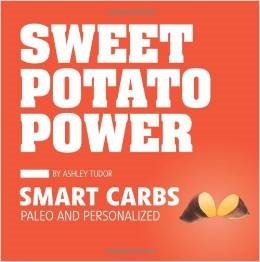 ~ The Vitamin D Solution: A 3-Step Strategy to Cure Our Most Common Health Problem from Michael Holick, Ph.D., M.D. ~ Many individuals have Vitamin D defiencies—they're especially common among those with celiac disease and non-celiac gluten sensitivity (most experts say our vitamin and mineral levels should be tested right after diagnosis and then periodically or if we're still experiencing health issues)—and these deficiencies can lead to or contribute to many illnesses/conditions/diseases. Dr. Holick addresses resolving and preventing illness related to Vitamin D deficiencies.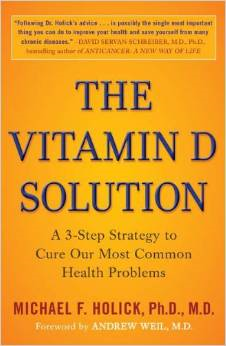 ~ The Whole Foods Kosher Kitchen: Glorious Meals Pure and Simple from Levana Kirschenbaum with Lisa R. Young This cookbook is full of great simple whole food recipes (250 in all) with beautiful photos. Levana Kirschenbaum is the co-owner of Levana's restaurant in Manhattan and is well versed in kosher upscale dining. Her co-author, Lisa Young is a nationally known nutritionist. Together they've created a terrific whole foods cookbook that gives you great recipes and the nutritional logic behind them. One would not have to be kosher to enjoy this one! Note that this cookbook is not 100% gluten free, but all recipes are marked … GF for Gluten-Free, GFA for Gluten-Free Adaptable, and P for Passover.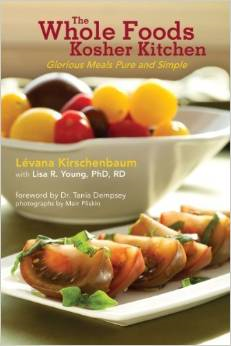 ~ The Garden of Eating: A Produce-Dominated Diet & Cookbook from Rachel Albert ~ This cookbook by Chef Rachel is a weighty tome—almost 600 pages! There are three parts: Principles & Practice (history and "preparatory" info to the recipes and meals), The Recipes (divided by category—250 naturally grain free and dairy free; there are a few samples here), and Appendix (more resources, menu ideas, etc.). This is quite an impressive book. It will definitely have you eating more produce and eating healthier in general, and that's something most of us are striving for daily.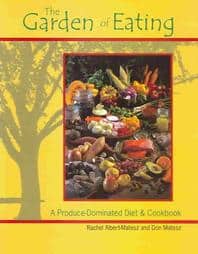 ~ Vibrant Food: Celebrating the Ingredients, Recipes, and Colors of Each Season from Kimberley Hasselbrink ~ This stunning new book was sent to our group by Ten Speed Press. It is not 100% gluten free, but it's easy to adapt the recipes that are gluten full (e.g., sub gluten-free pasta, sub gluten-free croutons).