For affiliate links and as an Amazon Associate I earn from qualifying purchases.
Hi, all! Mr. GFE and I just got back from a road trip to Georgia, South Carolina, and North Carolina. We visited with lots of family and many friends. It was a wonderful trip for both of us and terrific gluten-free travel for me! I hope to share some photos and snippets with you later. Today's guest post is also on gluten-free travel although this travel is of the international, quite a bit more exciting, variety. This gluten-free "trip report" comes to you from India Baldwin. India was the winner of the gluten-free getaway to City Gite in Jarnac, France. A "gite" (pronounced "zheet") is a holiday rental that has the owners nearby to provide any needed assistance. In the U.S., we say vacation rental of course, although I much prefer the term holiday. (It sounds like so much more fun!)
This giveaway was sponsored by owners Peter and Victoria Edlinger. Victoria Edlinger is the owner of GF Patisserie. Originally a very popular, well-loved gluten-free bakery in Calgary, Alberta, GF Patisserie has now evolved into a business which, in the simplest of terms, helps others set up their own successful gluten-free bakeries. There are currently four gluten-free bakeries licensed through GF Patisserie: Beau Monde Bakery in Las Vegas, Nevada; Big Star Bakehouse in Calgary, Alberta;  Kneaded Bakeshop in Regina, Saskatchewan; and Nourish in Newfoundland and Labrador.
I have been online friends with the Edlingers via their GF Patisserie Facebook page and Peter's blog, The Celiac Husband, for several years. (Lauren, one of their daughters, was also a baker at GF Patisserie.) Victoria and Peter are very talented, warm, and welcoming folks, so it came as no surprise to me that they'd sponsor a giveaway of their gluten-free apartment in their "new" home in Jarnac, France, which is located just a few hours outside Paris. I hope you'll enjoy India's wonderful write-up on her experience at City Gite. Many thanks to her for giving us this delightful and delicious gluten-free trip across the pond! Final, but important note:  The Edlingers are taking the summer off from hosting at the City Gite and plan to open similar accommodations that will hospitably and safely house more gluten-free folks in the future.
Many thanks to India for sharing her detailed and well-photographed trip report! Here she is …
When you dream about going on a trip to France, gluten free isn't usually the first thing that comes to mind. To be fair, France usually isn't a place that would come to mind at all if you're thinking about a vacation that would cater to your gluten free diet. Traveling in general, always feels a little risqué to me. I have that feeling of impending glutening! Especially if you plan to go somewhere and you don't speak the language. Explaining what gluten is to someone who speaks the same language as you is difficult enough. There are only so many GF snacks you can bring with you and those usually only last me through the journey there.
But hold your breath, because you can find a gluten free oasis, lets actually call it heaven, where you least expect it; in the quiet country French town of Jarnac. I had the pleasure of finding myself in GF heaven courtesy of gfe and Peter and Victoria who own the City Gite and GF Patisserie. I entered a contest here on gfe's website last fall and was counting down the days until I arrived in Jarnac this January.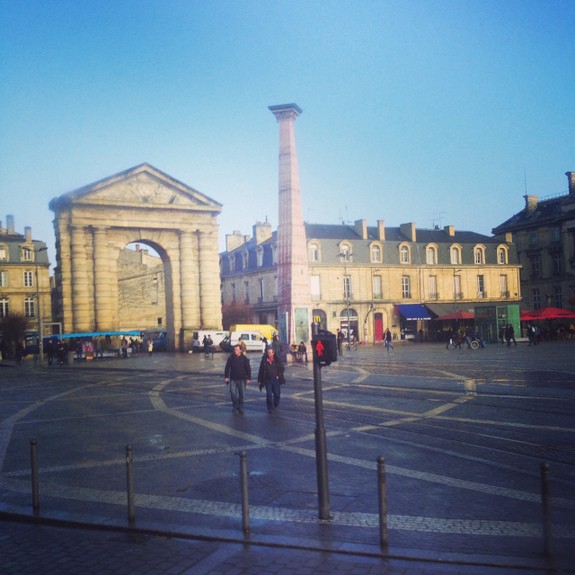 Part of the reason I was so thrilled to go to Jarnac was that a) I had given up an amazing opportunity to live in France for 6 months when I was 17 and b) I had recently moved to London so getting to France was going to be easy. Okay so getting to France was easy, I just hopped onto a plane to Bordeaux. Getting to Jarnac on the other hand, was a little journey in itself. But getting there is half the fun isn't it? Depending on where you come from will obviously change your options as well. If you decide to check out Paris on your way to the country, you can take the train right there with a couple of easy changes. I flew into Bordeaux, took a shuttle from the airport to the train station and another train from there. It may seem a little like Planes, Trains and Automobiles, which it was exactly. But I had never been to France before and I was happy to be on a shuttle and looking out the window and then the same on the train. You never know what or who you may see. I had a bit of a layover once I arrived at the station in Bordeaux, so I just sat back and did some people watching. Luckily for me, a local gentleman brought in a portable speaker with some great music playing and proceeded to talk to all of the ladies and even got one of them to have a dance party with him. That was worth the layover right there.
Like I said, you can get straight through to Jarnac on the train. Or you can stop off in Angouleme and take a look around. From there Jarnac is a short drive or hopping back onto the train. I highly suggest checking it out though, you're already there and it's a beautiful little city. As well as home to Tin Tin! Keep your eyes open for street art, Angouleme has long been associated with animation and comics and they even have the Angouleme International Comics Festival. It's a week-long festival that attracts nearly a quarter million international visitors and is the largest comic festival in Europe and second largest in the world. Of course, there's lots of amazing architecture to see as well.
Once you make your way to Jarnac, you'll be welcomed by Peter and Victoria (and maybe their lovely daughter Isabella!) You'll be given the big heavy skeleton key to your Gite; its the only one so don't lose it! After I had arrived and settled in, I was invited up for a post journey snack. The first thing I laid my eyes on was a beautiful display of cupcakes and fresh baked cookies. The cupcakes were the most light and moist chocolate cupcakes I had ever tasted. With a butter cream icing that I can still taste. And if that wasn't enough, I was promptly offered a peanut butter ice cream sandwich! I've never had one of those before. You're getting the "heaven" bit now, aren't you?
Pizza was on the menu for dinner that night. Now in my opinion, GF pizza is getting easier and easier to come by in restaurants and as a delivery option. I always worry though about cross contamination and how careful people really are. I also find I'm so excited to be able to order pizza, that I have forgotten what good pizza tastes like. Well the kitchen is 100% gluten free and Victoria's crust left everything I've had previously in the dust. I opted for a simple margherita, and what I got was the best pizza I've had in years. You have to remember that not only are you getting the highest quality of gluten free food, you're in France now. Think of the cheese, the fresh produce from the market, the fresh meat from the butcher. Think of the wine … Afterwards, I was so full of delicious food, wine and great conversation that falling asleep in the big comfy bed in the beautiful and quiet gite was an easy task.
I awoke promptly at 10 am. The result of the perfect combination of great food and comfortable and relaxed surroundings. For breakfast I had yogurt with homemade granola and fresh honey from Austria! And if you're into coffee, you're in luck. This was the icing for me, I'm a big coffee lover. And a good cup of coffee is hard to find, I've found, since moving to this side of the planet. Again, I was in heaven… just loving life.
Now I picked a very quiet time to visit Jarnac. On purpose. I chose the off season because who doesn't want some quiet time right after the busyness of the holidays? I took up the invitation for a river side walk to see the local ducks. I reveled in the calm that is Jarnac in early January. Being delightfully full of GF food whilst in France and walking along with no one else around as they were all at home for lunch, it all felt a bit surreal. And so far I was loving every minute of it.
Since I won a two-night stay for two, I had a friend coming to join me from Paris. She arrived just in time for dinner, tonight was chicken nuggets with homemade dipping sauces to boot! Victoria made sure the meal was balanced by serving us salad as well. However, the part I enjoyed almost the most was the fresh, warm, focaccia bread! This bread quickly won my heart and became decidedly my favourite. I mean I could have eaten the whole loaf! To be fair, it took all of my strength to not fill up on bread. And that in itself was a magical thing! Think about it, when was the last time you had to stop yourself from filling up on warm bread before dinner? I never get the bread basket and I couldn't have been happier. Except I was when I tasted the chicken nuggets. I was purposely being fed things you normally cannot have on a GF diet. Cupcakes, warm bread, chicken nuggets, pizza. And everything so far, not a shred of flavour or authenticity had been lost. Somehow, I still had room for a cupcake. Okay, it was two.
After we awoke the next morning from our food coma, and before we set out for a walk all around Jarnac; up and down the river, into the woods and getting caught in the rain. We had another lovely breakfast. Obviously I'm reliving all this food as I'm writing about it and yes I can get GF products here. But Victoria's are made from scratch. With carefully researched and sourced ingredients and well tested recipes. She has high expectations of the products she puts out and calling her a perfectionist would be a severe understatement. The GF flour blend she has created is by far, the best and most versatile I've had. In a perfect world it would be available to purchase everywhere. For now, you visit one of their five licensees or ideally, book a stay at the gite in Jarnac.
Our big walk and post walk nap had miraculously made room for our last dinner, crepes! Savory and sweet. Of course, we had more bread as well. Now I don't know about you, but I think it's much easier to find sweet GF options than savory. So I was all over the goat cheese and hot sauce crepes. But I make sure to taste the lemon/sugar and nutella crepes as well. There was some talk of who could eat the most, and I shared my childhood record of 12 crepes during one Sunday morning. My dad made crepes every Sunday (not GF as I didn't know about my allergy yet) and these ones…well I couldn't tell the difference. The miracle flour had proven itself again. And for dessert, you guessed it! Cupcakes, cookies and some peppermint tea.
After another perfect sleep and lie in, we went up for our last breakfast. Pancakes! I've been cursed with a daily pancake craving every day since I found out I couldn't have them so easily anymore. Seriously, Every. Day. Of course, they were perfect. I've never been able to perfect the GF pancake. With or without a mix. Too thick, lumpy, not cooked through or dry is how it usually goes for me. As were the fresh baked short breads Victoria had made. (Don't ask me when, she's a wonder woman!)  They melted in your mouth, little squares of buttery perfection.
Sadly, the time had come to say goodbye, I was on my way home (with a leftover cupcake and a few stow away short breads in hand!) I couldn't have changed anything to make it more perfect. The best food, great conversation, new friends and getting to catch up with a special old friend, and a new love for the quiet off season town of Jarnac, left me feeling fulfilled and ready to start my new year. And what a way to do it! My parting words of wisdom are these; stay at least three nights (I extended mine), throw your diet out the window (it's worth it and the gym is going to be there when you get home) and take the time to explore not just Jarnac but also Angouleme and even Cognac which is also very close by. I really don't need to say anything else, as I've already talked myself into going back asap I'm sure you're already planning you trip as well. All I can say is thank you for an experience I'll never forget and can't wait to repeat again.