For affiliate links and as an Amazon Associate I earn from qualifying purchases.
One of my family's very favorite recipes, naturally gluten-free Bacon Chicken, was found online when I was trying to make a recipe using ingredients I already had on hand. Sound familiar?
Yes, you've read about me doing this same thing many, many times here at gfe. It's my main M.O. in the kitchen. So I had chicken, bacon, and cheddar cheese.
The Bacon Chicken recipe I found only required a few more ingredients, namely, onion, garlic, salt, and pepper. Those are my typical pantry items—and beloved ones at that—so there was no problem there.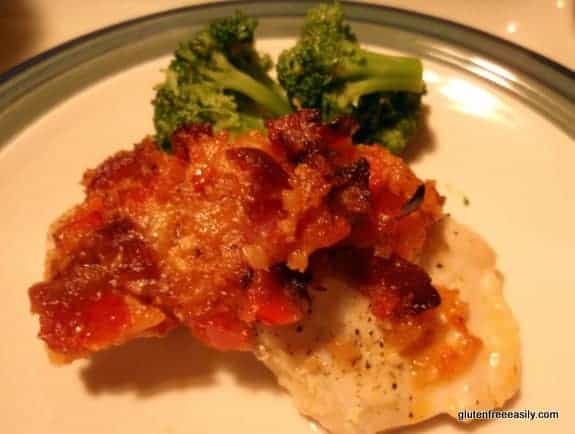 The "problem" came into play when I wanted to make this recipe dairy free. Could one convert a recipe that required 1 ½ cups of cheese to be dairy free … and delicious?
It turned out to be an easy "conversion." I simply left out the cheese and used a small amount of red bell pepper to create a sweet flavorful oomph, if you will.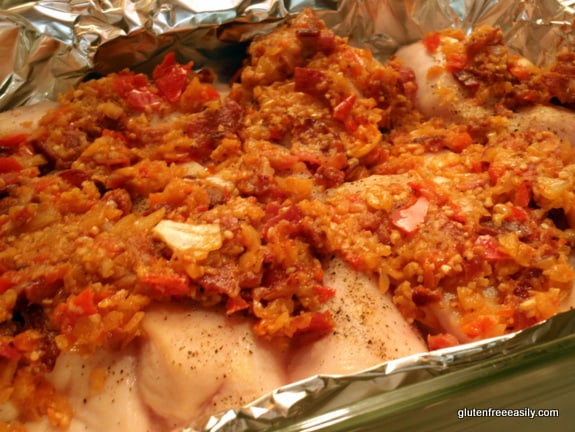 I also added the Sun-Dried Tomato Jalapeno Majestic Garlic Spread that I love, which adds its own "cheesy oomph," but this recipe still works fine without it. It turns out that it's the bacon-onion-garlic topping combo that really elevates this recipe to "family favorite."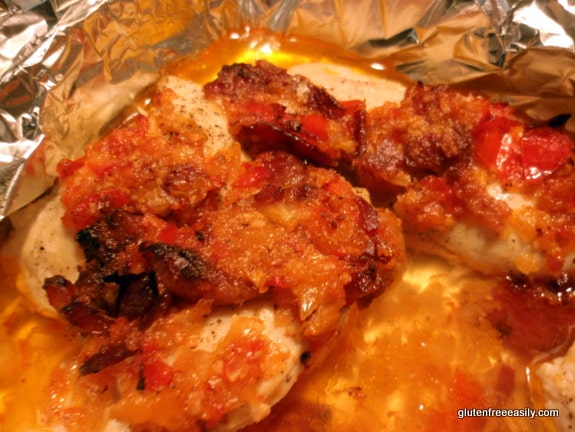 Update: Now I use shredded cheese (dairy-full or dairy-free) instead of Majestic Garlic Spread as their products are no longer shipped and unfortunately, none of my local grocery stores carry it.
Be forewarned … make this dish knowing that unless you have lots of other side dishes, there are unlikely to be leftovers. This Bacon Chicken is just that good!
More Delicious Gluten-Free Bacon and/or Chicken Recipes
~ 50 Gluten-Free Bacon Recipes for National Bacon Lover's Day
~ Homemade Gluten-Free Chicken Nuggets
~ Paleo Sweet Potato Bacon Tater Tots
~ Triple Chocolate Double Bacon Freezer Fudge
Bacon Chicken Recipe (Naturally Gluten Free)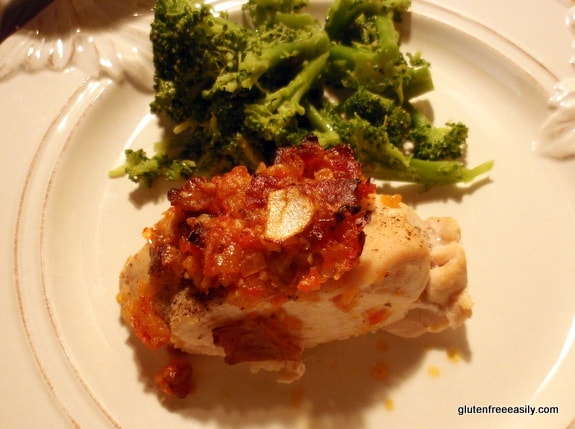 Yield: 3 to 4 servings
Bacon Chicken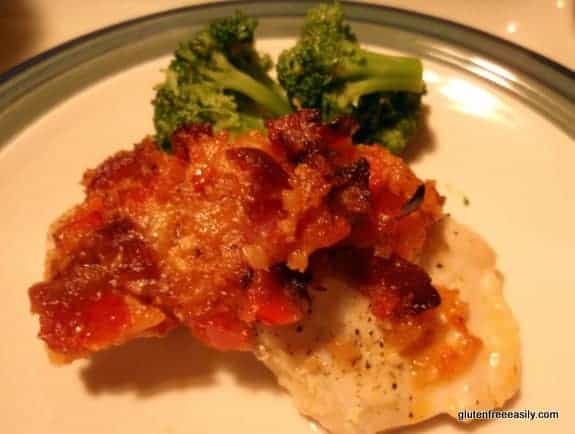 Bacon always adds extra flavor to dishes and this chicken recipe is no different. Plus, the combination of the bacon with the onion, red peppers, garlic, and other ingredients makes the perfect chicken topping.

Prep Time 5 minutes

Cook Time 30 minutes

Total Time 30 minutes
Ingredients
3 to 4 boneless chicken breasts
6 slices bacon (I use uncured, nitrate-free bacon)
1 small onion, chopped
3 cloves garlic, minced
¼ cup red bell pepper, chopped fine
½ tsp sea salt
¼ tsp pepper
1 tsp shredded cheddar cheese (dairy or non-dairy; see notes)
Instructions
Preheat oven to 350 degrees Fahrenheit.
Using kitchen shears, cut the chicken breasts into smaller pieces. I recommend cutting each chicken breast into two or three pieces lengthwise.
In deep skillet, cook bacon until crisp (about 4 minutes on medium to medium-high heat, turning over as needed with tongs or a spatula). Remove bacon and set aside on a plate. (Do not drain bacon drippings from skillet.)
Saute chicken breasts in bacon drippings for about 8 to 10 minutes.
Transfer chicken breasts to baking dish. (I use a 9 x 13 glass baking dish, which I line with aluminum foil.)
Saute onion, garlic, and red pepper in remaining drippings in skillet. Stir in salt and pepper.
Crumble bacon strips and add to the mixture.
Stir in cheese.
Spoon mixture over chicken breasts in the baking dish, distributing equally.
Cover baking dish with aluminum foil and bake chicken breasts for about 12 to 15 minutes longer.
Notes
Six slices of bacon does not yield a large amount of drippings, aka bacon grease. But if you are absolutely bacon grease phobic, you may drain the grease (no need to wipe skillet) and add about 2 tbsp of oil of your choice to replace it.

I have made this recipe using Majestic Garlic Spread instead of cheese but you can no longer order it online and none of my local stores carry their products. (I am not affiliated with this product; I am simply a huge fan.)

Sometimes when I make this dish, I cheat and skip the step of partially cooking the chicken breasts in the skillet. In that case, I place chicken breast pieces in the baking dish, top with garlic-onion mixture, cover, and bake for about 20 to 25 minutes at 400 degrees Fahrenheit. This method yields more liquid in the baking dish, but still works just fine.

While I'm not phobic about bacon drippings, I am about undercooked chicken, so please adjust your cooking time if you know from experience that you need less time to achieve perfectly cooked chicken.

Recipe adapted from busycooks.com.

Originally published July 26, 2012; updated April 29, 2023.