For affiliate links and as an Amazon Associate I earn from qualifying purchases.
I'm giving away a Vitamix S30 High Performance Blender! Now let me share the full disclosure—and admittedly you might think this giveaway is as hokey and tacky as it gets, but in the words of Popeye, "I yam what I yam." You see I won this beautiful Vitamix S30 High Performance Blender from Chocolate-Covered Katie a few months back. And I was thrilled. But ever since I received it, I've had doubts if I really needed it. So I didn't open the box right away, and even after I did, I didn't pull out all the pieces and "fire it up", so to speak.
You see I already own a "full-size" classic Vitamix  (which dear gluten-free blogging friends gave me) and I've loved it. When my gluten-free girlfriends came for my annual gfe retreat a few weeks ago, we finally broke out the S30 Personal Vitamix and gave it its inaugural run. But it only got used once—to make a green smoothie. I used it again today to make this Morning Mocha Monkey Smoothie. Yum. But I digress. A bit. It was while sipping the smoothie and pondering life that the idea for this Saturday Surprise! giveaway hit me.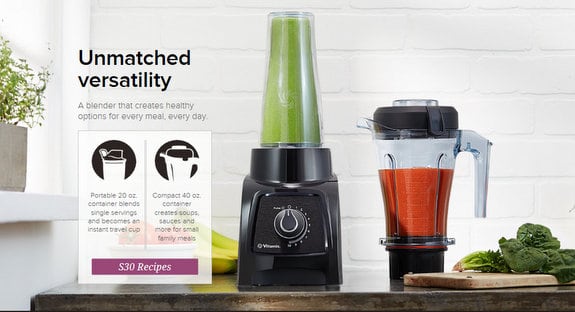 I've been on a new mission in life of late, to reduce the things in my life—both physical and mental distractions. I've been doing this off and on for a while, but the mission has taken on a new life the last 2 months. I started following the blog, Becoming Minimalist. The author's story spoke to me. This post made things even clearer; I don't want to continue to be a "Stuff Manager."  A while back on Apartment Therapy, I read that the best tip for decluttering your closets was asking yourself the question, "Would I buy this today if I were shopping?" (The original question came from Lifehacker.) The shortened "Would I buy this today?" gets right to the point. With non-material things, it's more of a "Would I sign up for this today?" type of thing. If you need to declutter in all phases of your life, not just your closets, not much passes that test, folks.
I truly want to make my life as simple as possible so I can live my life and not worry about stuff so much, and especially not have more than I really need. I even gave away my KitchenAid Stand Mixer recently. In all the years, I'd owned it, I'd used that about twice, too. (Yep, I know, I'm not a typical foodie or food blogger. I'm pretty basic when it comes to kitchen tools. A good wooden spoon is my favorite.) So I have decided to face the fact that I really don't need the Vitamix S30 High Performance Blender. As beautiful and wonderful as it is. Sigh. As I said, I already have the "full-size" Vitamix, a 5200 Super Healthy Lifestyle model.  So if I'm being honest with myself and following my new minimalist path, I really don't need the smaller Vitamix. Okay, that's probably the longest disclosure in blogging histor
This S30 Personal Vitamix is ideal for one person or a couple, or the person with a small kitchen and/or limited counter space, or the person who needs the "to go" container full of blended goodness as s/he heads out the door to work; to drop the kids off at school, soccer practice, etc. So I'm pretty sure that one of my loyal gfe readers could really put this blender to excellent use, so if you don't mind a Vitamix S30 High Performance Blender that's been used exactly twice—and afterwards thoroughly cleaned and returned to its original packaging—then throw your name in the hat for this baby. And thank you for helping me with my ongoing decluttering/purging for a simpler, more joyful life!
More Photos and Details on the Vitamix S30 High Performance Blender In This Giveaway
Like I said earlier, the Vitamix S30 is a personal size blender that's ideal for the person on-the-go. It comes with two BPA-free containers: one 40-ounce container for small batches and one 20-ounce blend-and-go beverage bottle with a flip-top lid. Even with the 40-ounce container in place on the base, the unit will still easily fit under your upper kitchen cabinets. You can use this blender to whip up individual portions of smoothies or make small batches of soups, sauces and dressings. It's great for chopping herbs and vegetables as well. Like a classic Vitamix, but smaller in many regards, but the fact that you can make your smoothies, salad dressings, cold soups, etc. right in the Tritan To Go container and then remove the base and use the flip-top lid and be out the door is the coolest!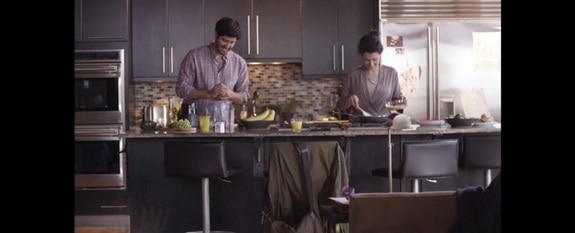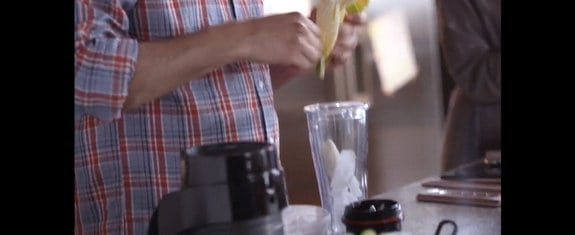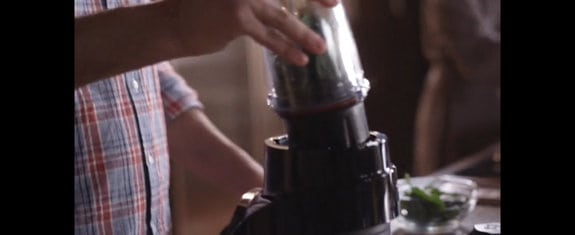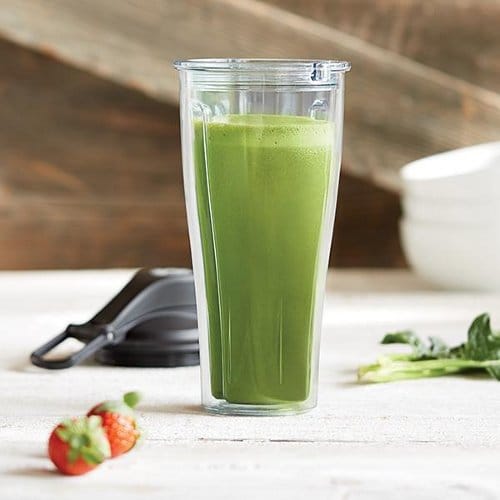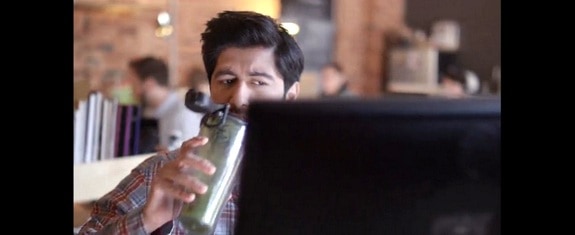 As is true with the full-size Vitamix, you can use hot ingredients in the 40-ounce container to make hot beverages, soups, and sauces. Incidentally, the smaller container is double insulated to maintain the temperature of the contents.
While this S30 Personal Vitamix comes with only one personal container, the Tritan To Go Cup, if you're purchasing one, you can get a package that includes two personal containers. Or if you win this one and have more than one family member making their own tasty concoctions to go, you can purchase additional containers.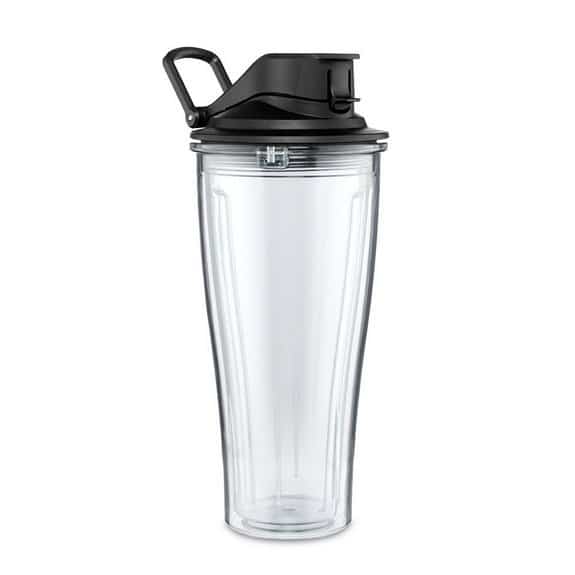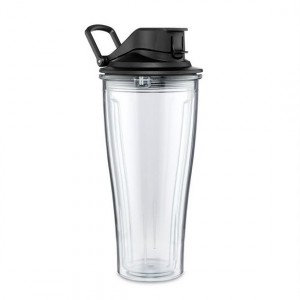 Here's a video from Williams-Sonoma that shows all the great features of the S30 Personal Vitamix. There's also a fun, much shorter video on Amazon (click on link and then click on last image icon on left side of page) that features the family shown above and demonstrates the "grab and go" aspects of this blender.
This giveaway ends Sunday, September 14, at midnight Eastern. The winner will be randomly selected via Rafflecopter. There is one mandatory entry plus one optional entry for those who want an additional chance.
Good luck! (NOTE:  Be sure to read disclosure at the beginning of this post before entering this giveaway.)
UPDATE:  This giveaway is now CLOSED. The winner is Jacki. Congrats, Jacki! Her answer on what she'd make first in her Vitamix was: 
"Chocolate smoothies (w/ spinach and banana) Yum!"