For affiliate links and as an Amazon Associate I earn from qualifying purchases.
I became a huge fan of Beth and her Tasty Yummies blog from the moment I found them both. Beth makes recipes that I want to try every single week—like today's gluten-free Banana Coconut Bread—so it was an easy choice to adopt her this month for Sea's (Book of Yum) Adopt a Gluten-Free Blogger event.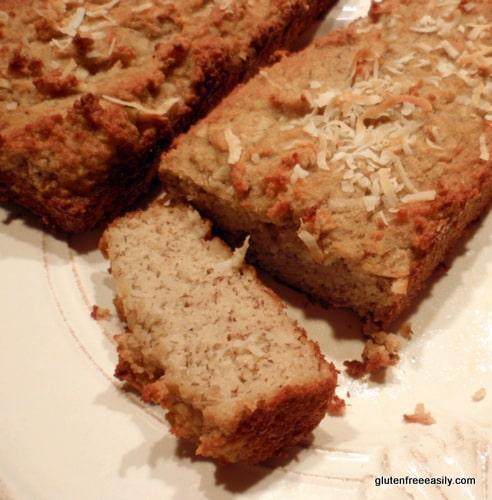 Adopt a Gluten-Free Blogger is the longstanding blogging event where one blogger adopts another blogger who is gluten free or has gluten-free recipes (by category) on his/her site, makes at least one the adoptee's recipes, and shares the review and photos. Sea, the event's creator and usual hostess, has been doing her doctoral dissertation in Japan so she's had to take a break from her usual hostess duties and has had some other great stand-in hostesses the last few months. This month it's Kate of Eat, Recycle, Repeat (this blog is no longer active).

Beth is one of those multi-talented folks who make our world a much more interesting, sweeter, and more delicious place. She and her husband have their own design company, so it should come as no surprise that her cute blog header is one of their designs. I actually had the privilege of seeing Beth and her husband's excellent, super appealing design work up close. I had shared a photograph on Facebook of a bumper sticker that I'd spied on the road—"Love People … Cook Them Tasty Food"—and I had stated how much I adored that message. Beth and several others pointed out that the bumper sticker was one of Penzey's. Then Beth went on to send me one of the bumper stickers, as well as several of her kitchen-themed designs. I loved her and her husband's work for its simple design and colors and was so very grateful that she'd shared them with me!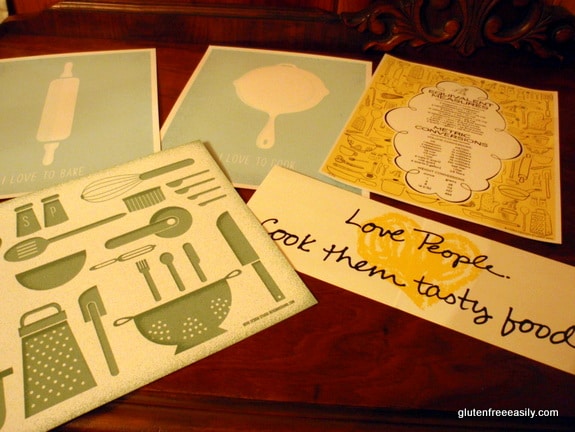 In her sidebar, Beth explains that she's both gluten free and dairy free and goes on to describe herself as a "conscientious omnivore" who eats mostly vegetarian. (You can read more on Beth on her About page.) Many of Beth's recipes are actually vegan, not just vegetarian, so I've referred many gfe gluten-free, vegan readers to her site. But you don't have to be either to enjoy her recipes.
I honestly don't remember how long I've been reading Beth's blog. I'm pretty sure I followed a linky thumbnail (in one of my favorite weekly roundups) over to her site and was immediately hooked. I commented. She replied and the next thing you knew we were friends. The power of the blogosphere once again; don't you love it? Here's just a "taste" of some of Beth's many recipes: Vegan Caramel Dipping Sauce, No Bake Banana Cream Pie, No Bake Pumpkin Spice Balls, Grain-Free Mini Pumpkin Pie Tarts, Zucchini Socca with Caramelized Onions … oh one could get carried away with all the goodness! Plus, she also lets you peek into her life beyond cooking and baking when she shares her Photo Fun Day Friday posts like this most recent one.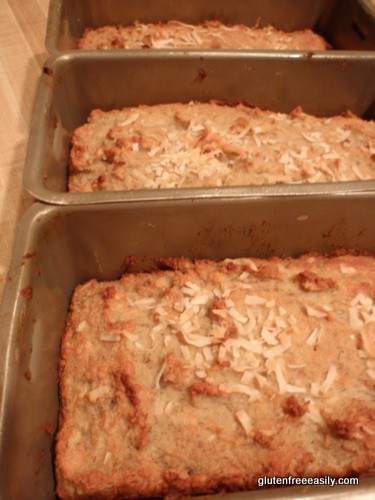 With four small, very ripe bananas on my kitchen counter, it was the recipe for Beth's gluten-free Banana Coconut Bread, which she calls Grain-Free Banana Coconut Mini Loaves, that was the ideal choice for me. I had not yet tried a grain-free version of banana bread, so I was excited to try Beth's recipe based on the beautiful photos in her post. She used a set of eight mini-loaves. I didn't have mini loaf pans as small as those in Beth's set, but I did have some mini loaf pans that were a bit larger—four "quarter pans" that equaled one "full" loaf in volume, of which I used three. I increased the baking time by a few minutes as the pans held more batter.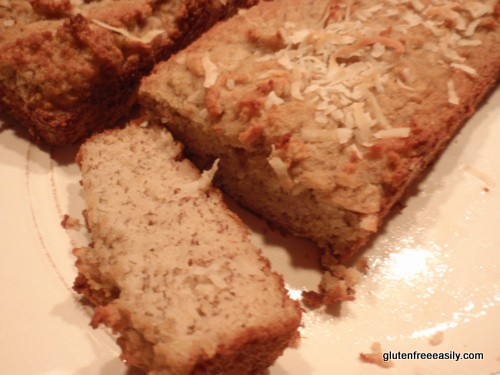 This Banana Coconut Bread was very easy to make and tasted very good, and it was more than a bit surprising. In the best possible way, I should add. When I took my first bite, the initial nibbles whispered "too moist" … "not sweet enough," but by the time I'd finished eating that very same mouthful my thinking had changed to "this bread is just right" and "what a lovely texture and perfect sweetness." And you won't believe that this bread is grain free either. It simply does not taste like it's made of mostly almond flour because the bananas, coconut flour, coconut oil, and shredded coconut (plus a small amount of honey and vanilla extract) work together to create a traditional banana bread taste and texture.
I suspect it will taste even better tomorrow after overnight refrigeration per Beth's recommendation. Oh, and with a little dab of my Homemade Pumpkin Butter (the maple syrup version), it was especially delightful! In summary, this recipe is a big winner and gives me even more of an incentive to start working through all of Beth's gluten-free, grain-free, dairy-free recipes. That's a "to do" list I can take on! Join me?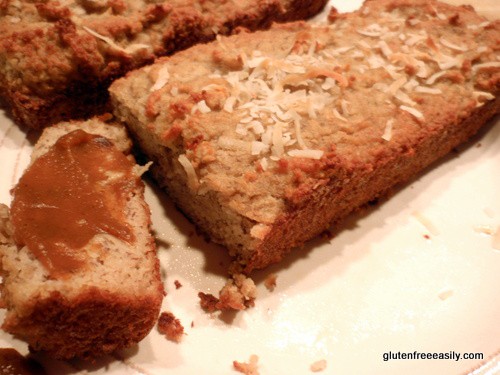 Originally published November 6, 2012; updated October 9, 2017.