For affiliate links and as an Amazon Associate I earn from qualifying purchases.
This post is linked to In the Gluten-Free Kitchen–Sharing Sundays.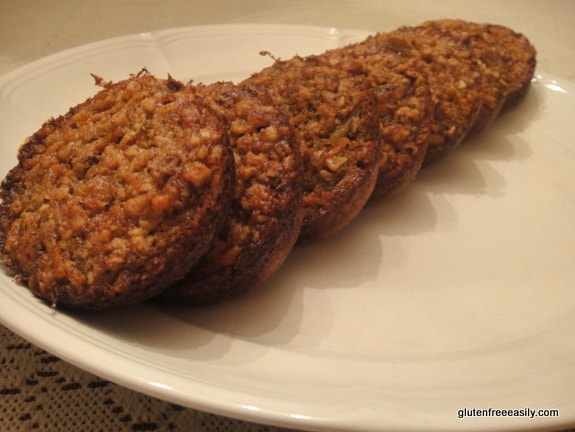 Cooking for Isaiah: Gluten-Free & Dairy-Free Recipes for Easy, Delicious Meals, the cookbook written by Silvana Nardone (of Silvana's Kitchen and much more) was sent to me last fall for review. In fact, I received two complimentary copies—one for my review and the other for a giveaway. Isaiah is Silvana's son. He was diagnosed with both gluten and dairy intolerances some time ago. Silvana set out to make recipes that would both heal and please her son. I flipped through Cooking for Isaiah and then read it immediately; I was impressed. I thoroughly enjoy reading and perusing cookbooks as much as I like making recipes from them. Silvana's husband, photographer, Stephen Scott Gross, took all the photos, which include many lovely ones of their family. While full color photos of recipes are expected in a cookbook, the numerous other photos—in both color and black and white–definitely add to the appeal of this cookbook.  
I had all kinds of plans to try a ton of recipes—like I do every time I get a cookbook to review—but I'm finding that's really not realistic given my schedule. I keep delaying on doing reviews thinking that some miracle will happen and I will get to make a bunch of recipes, but it never happens, so I'm pretty much going to be abandoning that approach to catch up with cookbooks in my review/giveaway queue. The important thing is that I give you, the gfe readers, a chance to check out books for yourself as we all have such different tastes and preferences. Rest assured that all of the cookbooks I share will continue to fit my gfe approach though.  And whenever you have firsthand experience with a cookbook, I hope you will share those in comments as Casey (Live Your Art) so graciously did today on Cooking for Isaiah. Your feedback is always greatly appreciated.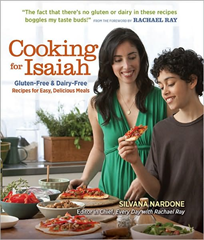 In the end with Cooking for Isaiah, I tried one recipe and that was a bit of a lark, or maybe serendipity. Allow me to explain. A few days after making Wendy's (Celiacs in the House) crepes for dinner (we love that recipe!), I began to make a Pina "Greena" Colada for breakfast using some leftover coconut milk I had in the refrigerator. I dumped the coconut milk into the blender and then added some pineapple chunks. But before I went any further, I noticed that the mixture didn't look right and it didn't smell right. It took me a few seconds to realize that I had added leftover crepe batter to the blender, not coconut milk. Of course, since I'd already added the pineapple, what the heck was I going to do with the mixture? I couldn't make a smoothie that contained crepe batter. Then something clicked in my memory and I pulled out Silvana's cookbook. There was the recipe that could potentially save the day—Carrot-Pineapple Muffins.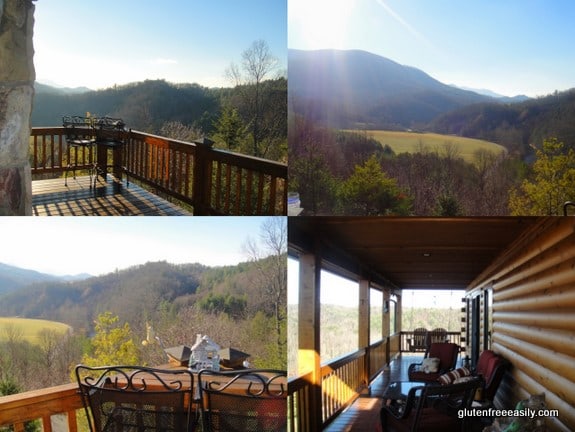 This all happened on the day after Thanksgiving. We were headed out on a road trip to visit several friends in North Carolina. The first stop (after an indulgence at a favorite B&B) was to visit some friends at their mountaintop weekend home in northwestern North Carolina. We needed some homemade goodies to take to them, ones that could also do double duty as healthy car food for us. (Wine and our bees' honey were already packed as other hostess gifts.) I kind of eye-balled the accidental mixture I had at that point because I hadn't measured anything. So I added the remaining ingredients per Silvana's recipe. The batter still looked a little thin (remember I hadn't measured anything) so I added some almond flour for thickness and to increase the protein/nutritional factor. I really wasn't sure how my crepes-turned-smoothie-turned muffins would work out, but the results were actually fantastic! Mr. GFE and our friends agreed. The combination of carrot and pineapple is a perfect one for sweetness. The almond flour and walnuts added nice weight and crunch. The muffins were also pleasantly filling, which was great when we relied on them for an afternoon snack and even breakfast for me one day. Note that my muffins turned out a bit flat, but that tends to happen when using almond flour in my experience. I'm not sure how these would look if made exactly per Silvana's directions as there is no photo of this recipe in her cookbook, but I suspect they'd rise higher.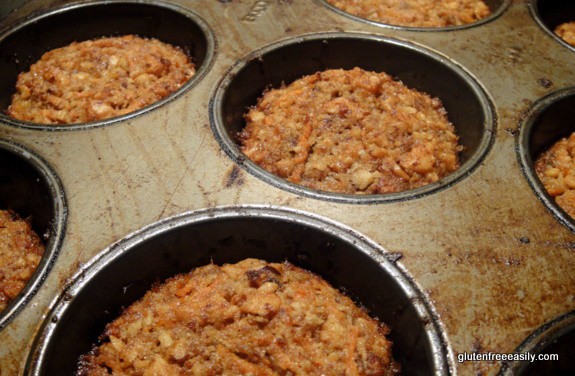 I finally got to meet Silvana last month at the Gluten-Free and Allergen-Free Expo. Well, actually we met the first evening before the Expo started. I was waiting in the lobby for the shuttle bus to a special dinner hosted by the delightful folks at Rudi's when the lovely Silvana walked by. I called to her and then introduced myself. Well, from that point on, we talked non-stop like old buddies until we arrived at Wildfire Restaurant for the amazing dinner that Rudi's provided. That's me, Silvana, and my wonderful friend, Heidi (Adventures of a Gluten-Free Mom) in the photo below. Being gluten-free food bloggers, recipe creators, and moms of children with food intolerances, we had a lot to share with each other over four days. Another dear friend, Stephanie O'Dea (blogger and author of Make It Fast, Cook It Slow!; More Make It Fast, Cook It Slow!, and soon-to-be-released Totally Together: Shortcuts to an Organized Life) often joined us, too. Some of the issues we discussed are echoed in Silvana's beautiful and moving post, Everything I Know About Gluten Free (Plus, My Dairy-Free Knockoff Nutella Recipe).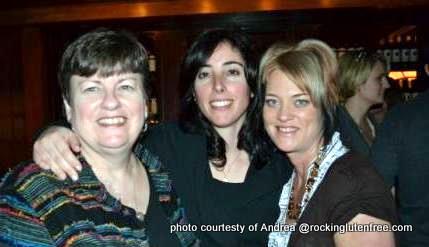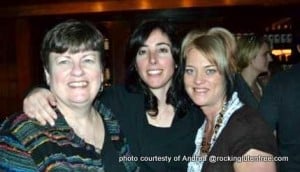 Of course, when it comes to the Expo and Silvana, what you especially want to hear about are the recipes that Silvana demonstrated and attendees got to sample—like her luscious chocolate doughnuts and her very popular jalapeno popper waffles. You'll be happy to know that several doughnut and waffle recipes are included in Cooking for Isaiah. There are 135 recipes in all. About 50 of them require either her gluten-free flour mix or pancake flour mix. The latter is her flour mix with a few additional ingredients added. So both mixes contain white rice flour and starches like potato and tapioca. She's gotten a lot of flak for that, but honestly, while I like to go crustless and flourless as often as possible and use more nutritious flours these days, I do use a flour mix that includes white rice flour for some of my baking. Unless you're making these recipes often, using Silvana's flour mix shouldn't be a huge concern and you can most likely substitute another gluten-free flour mix of your preference with satisfactory results.  
While I've only made this one adapted recipe from Silvana's cookbook, I think it's a great cookbook. There are lots of naturally gluten-free recipes—which are always my favorite—as well as creative, fun recipes that the whole family will enjoy. If you click on the cookbook image above (or any Amazon links within this post), you can look inside Cooking for Isaiah to see recipe categories and an actual recipe from each category. How do Grilled Peach BBQ Chicken Wings sound? If you're not convinced by the name, you will be when you see the photo.  
If you'd like to read some additional reviews of Silvana's cookbook to get a better preview, check out these below: 
Wendy at Celiacs in the House 
Linda at The Gluten-Free Homemaker 
Alea at Premeditated Leftovers  
Amy at Simply Sugar and Gluten-Free  
Finally, back to the really important part … I'm giving away one copy of Cooking for Isaiah courtesy of Silvana and her publisher! This giveaway ends Monday, June 6, at midnight Eastern. Here are the ways you can enter. Please leave a separate comment for each. 
~ Leave a comment on why you'd like to win Silvana's cookbook. 
~ Subscribe to gfe in a reader or via email. Leave a comment. 
~ Tweet about the giveaway with @Shirleygfe in your tweet, share on Facebook and tag gfe in your post, and/or share on your blog. Leave a comment for each.