For affiliate links and as an Amazon Associate I earn from qualifying purchases.
For Day 19 of March Muffin Madness, we'll be enjoying Gluten-Free Coconut Chocolate Mint Muffins (Paleo) from Nancy French of Gluten-Free & Paleo Travels.
Another terrific and delicious addition to March Muffin Madness, folks!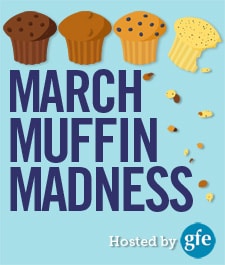 Nancy shares some of her own personal story:
"My gluten intolerance began in 2005, triggered by what I'm not sure (though I was hospitalized for pneumonia that year.) I had never been sensitive to gluten and then suddenly I would become very ill after eating gluten. A number of doctors refused to acknowledge the possibility of gluten intolerance and discounted my symptoms.
Unfortunately, my experience with doctors is not unique. Finally, I found an allergist who agreed to do testing which confirmed a severe sensitivity. The allergist suggested I follow up with testing for celiac disease. At this point, I knew definitively that I could not eat gluten and didn't pursue further testing.
Through the years, my husband, Alan, and I have traveled to every state in the union, and to over 50 countries. I began writing and posting stories about our travels in 2009 on my original blog, The Traveling Manatees. I had started eating and cooking gluten-free in 2005, and in 2011, I started posting those recipes on my Gluten Free & Paleo Travels site. Over these years, I've shared over 450 recipes."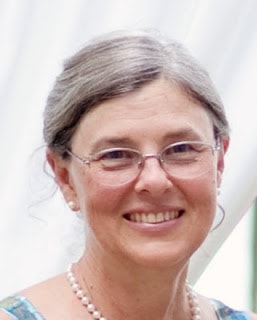 You can read more about Nancy here. and Follow Nancy on her gluten-free blog, travel blog, and Twitter.

I've been following Nancy for many years now. She is such a lovely and engaging person! I always thoroughly enjoy our discussions. Oh, and she's an outstanding recipe creator!
I don't remember exactly how we met online but soon enough we were checking out each other's posts regularly and leaving comments. Initially, I found her gluten-free blog and then her travel site. (I believe that's how it went anyway.)
Both of Nancy's sites are excellent. On her travel site, her posts are categorized by location and each of her posts is a quick report with gorgeous photos. Most offer tidbits of food info, history, travel tips, and more. She often re-creates the outstanding dishes that she experiences while traveling and shares them on her food site.
I stay tuned to her gluten-free site. In fact, over the years we have sort of become informal cheerleaders for each other, trying each other's recipes and reporting back on our successes and any changes we may make.
For example, Nancy was inspired by my Gluten-Free Never-Fail No-Roll Press-In Pie Crust to create her own paleo version and followed my lead on combining sweet potato pie with pecan pie to create a Paleo Sweet Potato Pecan Pie with Press-In Paleo Crust.
She adapted my Paleo Bread to be Paleo Cinnamon Raisin Bread. And she shared in a comment on the Cheddar Cheese Bread that she made a few simple changes to turn them into excellent—and "easy-to-whip-up"—lactose-free Cheddar Cheese Muffins.
When she made my Quinoa-Crusted Salmon Cakes, she reported: "Super simple and tasty, so my favorite combination. I made a quick mayo and brown mustard sauce. The leftovers are going on garbanzo flour tortillas for lunch tomorrow."
Those garbanzo flour tortillas of hers, aka Chickpea Flour Tortillas, are simply amazing and one of several recipes she discovered during a trip to India. These tortillas are made from just two ingredients—chickpea flour (aka garbanzo bean flour) and tapioca flour—plus water and salt. No gluten, no grains, no dairy, no eggs, paleo, and vegan and easily made in your skillet. No need to buy gluten-free tortillas when you can easily make these on the spot any time you need tortillas.
You may also want to check out her Paleo Coconut Flour Wraps. She initially used hers for Lamb Gyros!
Nancy turned my gluten-free Lemon Sponge Cake into an Easter Bunny Cake by using two 9-inch baking pans (versus a Bundt pan) and then cutting the cakes into shaped pieces to make a bunny from them. She "topped her cake with a traditional buttercream icing and then sprinkled flaked coconut on for the bunny fur." Her grandchildren decorated the bunny cake with jelly beans. She told me that "Bunny" was eaten too quickly for photos to be taken!
After seeing my roundup of gluten-free Strawberry Shortcakes, she created her own yummy biscuit version.
When I was seeking new ways to use leftover holiday ham, Nancy told me about her Ham and Zucchini Casserole. It is saucy and delicious! We make it dairy free and serve it over gluten-free pasta or roasted potatoes.
Her wonderful Paleo Almond Flour Dinner Rolls are on our table whenever we want a quick, easy, and delicious roll. They're ready to eat in 20 minutes! They'd be perfect for a holiday meal (Easter is almost here after all).
Speaking of holidays, Nancy created the Best Ever Onion Strings, which she uses in her Paleo Green Bean Casserole.
Some other recipes of Nancy's that you should check out are her Gluten-Free Waffles, Potato Pancakes, Turkey Vegetable Noodle Soup, Traditional Manicotti ("From Scratch") Gluten Free, Chickpea Marsala, General Tso's Chicken (AIP version), Raspberry Coconut Treat, and Paleo Chocolate Cake ("as good as Mom's Deviled Food Cake!").
I definitely recommend spending some time on her site so you can check everything out! Now back to those Gluten-Free Coconut Chocolate Mint Muffins. Oh, how I love chocolate and mint together!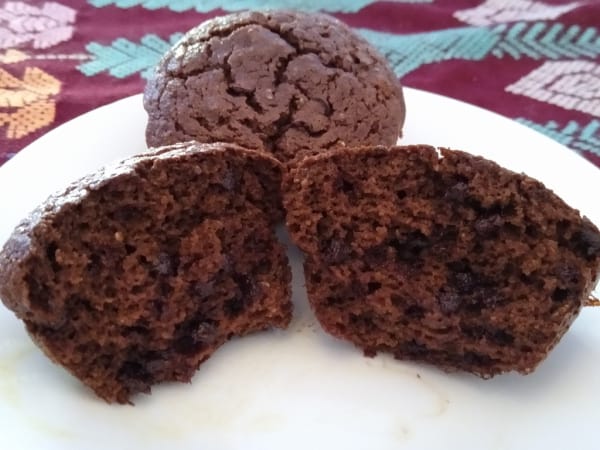 Gluten-Free Coconut Chocolate Mint Muffins (Paleo) Recipe
Nancy shares: "This recipe is grain-free, gluten-free, nut-free, and dairy-free. Though some folks with nut sensitivities also react to coconut as well. Having determined that nuts, for now, are a definite no for me, I wanted to try adding coconut back into my diet. Happily, the coconut did not create the eczema flares triggered by tree nuts. So, the coconut-based recipes I love have been added back into our meal rotation.
A rainy day and a yearning for anything peppermint caused the following successful experiment. Modifying a recipe from Nutiva coconut flour for Blueberry Chia Muffins worked perfectly. Coconut flour is tricky to cook with and I've found that using the Nutiva brand seems to yield the most consistent end product.
My husband, who has no dietary issues, wolfs these down, also. Needless to say, these muffins never last more than 24 hours in our house.
Even though he raved about how moist they were, he did suggest that they would be even better topped with vanilla ice cream (dairy-free, of course) and chocolate syrup. I wouldn't say he was wrong on that count but they are excellent just as is!"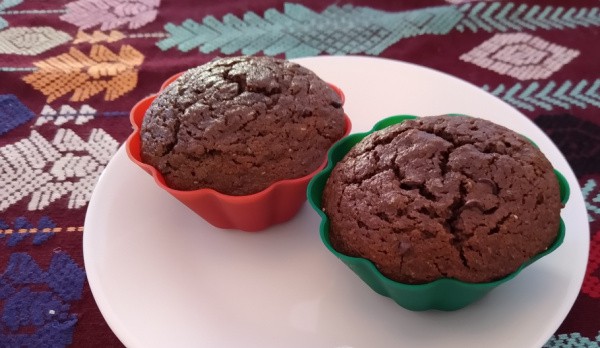 Yield: 8 muffins
Gluten-Free Coconut Chocolate Mint Muffins (Paleo)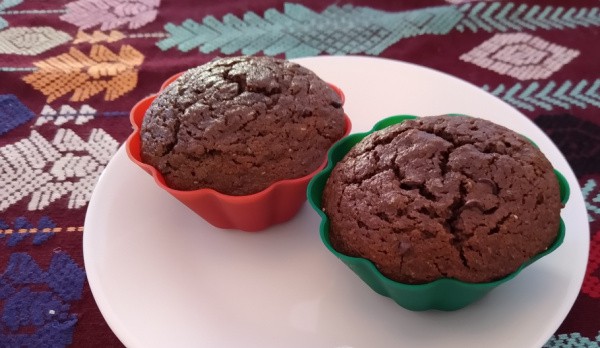 Nancy says: "A rainy day and a yearning for anything peppermint caused the following successful experiment!" These delicious chocolate mint muffins are gluten free, grain free, dairy free, tree nut free, and paleo.
Additional Time
15 minutes
Ingredients
1/4 cup cocoa powder 
1/4 tsp salt
1/2 tsp baking soda
2 Tbsp chia seeds
3 eggs 
1/2 cup non-dairy milk of choice
2 Tbsp avocado oil or coconut oil, melted
1/4 cup + 1 Tbsp honey
2 tsp peppermint extract
1/2 cup non-dairy chocolate chips
Instructions
Preheat oven to 350F degrees.
Combine all the dry ingredients in a large bowl.
Combine wet ingredients in a medium bowl and mix well.
Pour the wet ingredients into the dry ingredients and mix thoroughly. Fold in the chocolate chips.
Fill muffin cups 3/4 full. I used lightly oiled silicone muffin cups placed on a cookie sheet.
Bake for 25 to 30 minutes or until a toothpick inserted in the center comes out clean.
Remove from the oven and allow to cool completely before serving.
Today's MMM Prizes
All giveaways are now closed. Thanks to all who participated!
~ Cookbooks
~ New Keto: Dinner in 30: Super Easy and Affordable Recipes for a Healthier Lifestyle (one winner; sponsored by Page Street Publishing)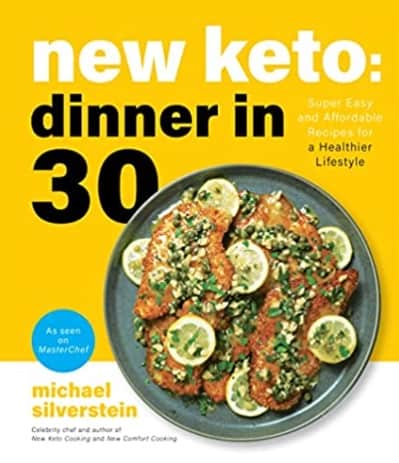 I'm not familiar with Michael Silverstein, the author of this cookbook, but apparently, he's a Tik Tok star, former Master Chef competitor, and currently an executive chef in an L.A. restaurant. This book is another one that is full of stunning photos of recipes that you'll likely want to make immediately. And the recipes do get raves in Amazon reviews. Recipes like 15-Minute Heavenly Steak Bites, Succulent Spanish Garlic Shrimp, Firecracker Chicken Meatballs, No-Frilly Weeknight Chili, The Ultimate Blackened Chicken Caesar Salad, Boozy Margarita Mug Cake, and Chewy Ginger Almond Butter Cookies.
Almost all the recipes in this cookbook are labeled gluten free (via the no-grain symbol). The problem is that many of these recipes contain ingredients like soy sauce, Worcestershire sauce, and pork rinds and there's no note that the gluten-free reader must use gluten-free versions or verify that such ingredients are gluten free. Some recipes use gluten-full low-carb tortillas. Appropriately, those recipes do not have the gluten-free symbol. The bottom line is that all of the recipes in this cookbook can easily be made gluten free by using gluten-free soy sauce (or coconut aminos), gluten-free Worcestershire sauce, etc. but this book serves as another reminder that keto does not necessarily equate to gluten free. Be careful out there, folks!
~ A Simple Guide to the Paleo Autoimmune Protocol (one winner; sponsored by gfe)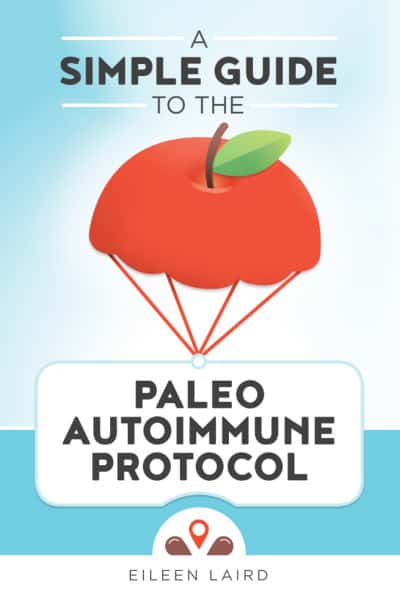 The author of this resource book is Eileen Laird, who is also the author of the site Phoenix Rising. It's a simple and encouraging introduction to the Autoimmune Protocol (AIP), which is similar to the paleo lifestyle but goes far beyond it. It's 146 pages, a quick read, and a handy reference guide for AIP basics, which will be appreciated by most. We don't always need a hefty comprehensive guide, one which we might not be able to even bear the thought of sitting down to read. AIP has been life-changing for some folks who have not found the gluten-free diet, paleo, or another special diet to be helpful to their health.
Eileen says that her guide is intended to be written like a conversation between friends, giving you essential information in a book small enough to be thrown into your purse or backpack for easy reference. She shares her personally story and a that of several others (in very brief write-ups) but focuses on AIP basics for the most part. Although I personally do not follow the AIP, I have found this book helpful and inspirational.
~ Baking/Cooking Ingredient
~ Better Body Foods Organic Chia Seeds (32 ounces) (one winner; sponsored by gfe)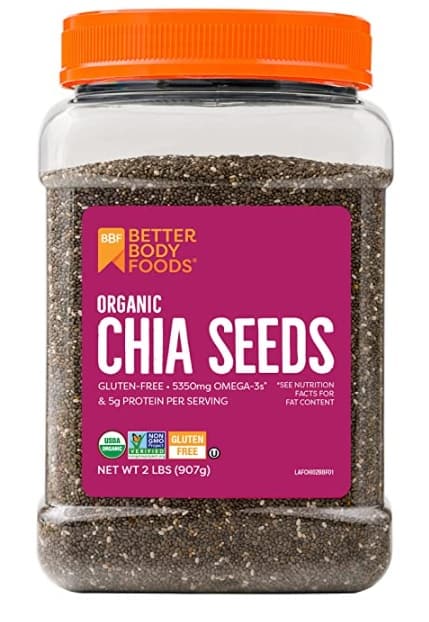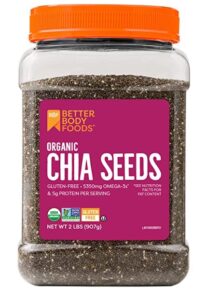 There are so many great uses for chia seeds, which are considered nutritional powerhouses despite their size. Adding them for extra protein, adding them for extra binding, using them in place of eggs (chia gel eggs—made from ground chia—are very successful in creating egg-free recipes), subbing them for poppy seeds, and more.
Grand Prize Giveaway
All giveaways are now closed. Thanks to all who participated!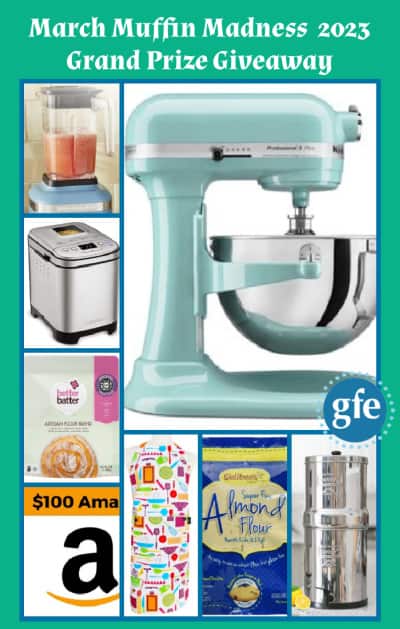 a Rafflecopter giveaway
Originally published April 1, 2023; updated April 8, 2023.