For affiliate links and as an Amazon Associate I earn from qualifying purchases.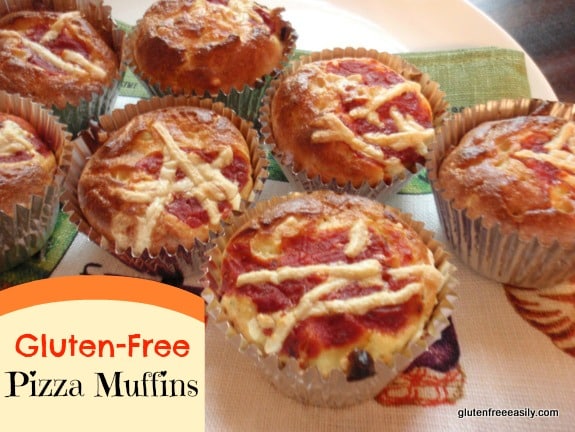 In my last post I kicked off the Gluten-Free Pizza Party with Part 1:  Over 30 of the Best Gluten-Free Pizza Crusts. Part 2 will feature Over 20 Alternatives to Traditional Pizza Crust and Other Tasty Ways to Satisfy Your Pizza Cravings. I thought I'd give you a bit of a preview today with a recipe from the gfe archives that will be included in that post. Pizza Muffins! I'm also entering this Pizza Muffins recipe in the So Delicious Dairy Free 3 Course Recipe Contest, which is co-hosted/co-sponsored by So Delicious and Go Dairy Free.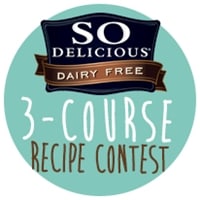 I think these Pizza Muffins are a perfect entry for the Appetizer category of the So Delicious Dairy-Free 3-Course Recipe Contest. They'd also be a great addition to your menu for the upcoming Super Bowl or any time you need a tasty appetizer or meal. Most of us love a meal that we can grab and go. These are especially great for lunchboxes. Bonus … whenever you decide to enjoy them, you will be getting a very tasty pizza fix at the same time!
Ingredients
4 large eggs
½ cup So Delicious Dairy-Free Unsweetened Cultured Coconut Milk] "yogurt" (or [So Delicious Vanilla Cultured Coconut Milk, if you prefer; see notes)
1/3 cup toasted almond flour (see instructions)
1 cup almond flour
1 tbsp coconut flour
1 heaping tsp baking powder
¼ tsp sea salt
1 to 2 tsp pizza seasoning (or equivalent combined amount of herbs/seasonings such as onion powder, garlic powder, oregano, basil, and parsley)
about ½ cup dairy-free pepperoni slices or pieces (optional; precooked and cut into smaller pieces with kitchen shears (see instructions); see notes for vegetarian alternatives)
¾ cup vegan mozzarella shreds (I used Daiya mozzarella style cheese shreds)
About ¾ cup pizza sauce in total (amount as desired to top each muffin)
About 1/3 cup of additional vegan mozzarella shreds (amount as desired to top each muffin: I used Daiya)
Instructions
Turn on broiler. Spread 1/3 cup almond flour on ungreased baking sheet. Broil for about a minute and a half, stirring twice, until most of the almond flour is lightly browned. (Do not walk away from the broiler during this time as the almond flour can get scorched pretty quickly.) Remove baking sheet from oven and set aside momentarily to cool.
Spread pepperoni slices on microwave-safe plate lined with two paper towels and topped with a paper towel. Microwave on HI about 30 to 45 seconds. Remove from microwave and use top paper towel to blot grease from pepperoni slices. Use kitchen shears to cut into smaller pieces; irregular pieces are fine. Set aside.
Reduce oven temperature to 400 degrees Fahrenheit.
Grease 12 muffin cups well or line with cupcake liners, spraying each lightly with non-stick spray or oil.
Add eggs to a medium-sized bowl; whisk.
Add in So Delicious Dairy-Free Unsweetened Cultured Coconut Milk. Whisk.
Add in almond flour (toasted and "untoasted"), coconut flour, baking powder, sea salt, pizza seasoning, vegan cheese, and pepperoni. Whisk all to mix.
Scoop batter into muffin tins until about ¾ full. (I use an ice cream scoop.)
Spoon about a tablespoon of pizza sauce on top of the batter in each muffin cup. Sprinkle a few mozzarella shreds on top of the pizza sauce in each muffin cup.
Bake about 22 minutes. Check with a toothpick for doneness.
Serve. Store any remaining muffins covered in refrigerator.
Notes
I always use Honeyville Almond Flour. This recipe is also soy free and even refined sugar free if you use a refined sugar-free pizza sauce or substitute tomato sauce for the pizza sauce. (Blot tomato sauce with paper towel to remove extra liquid.) If you normally enjoy a pizza crust with a little sweetness in the crust, you might want to use So Delicious Vanilla Cultured Coconut Milk as your "yogurt" in this recipe.For a vegetarian option, pepperoni may be omitted or replaced with another ingredient like spinach or zucchini. Be sure to wring out all excess liquid before adding to batter. Really you could add just about any ingredient that you enjoy on any pizza!Recipe adapted from Kalyn's Kitchen.