For affiliate links and as an Amazon Associate I earn from qualifying purchases.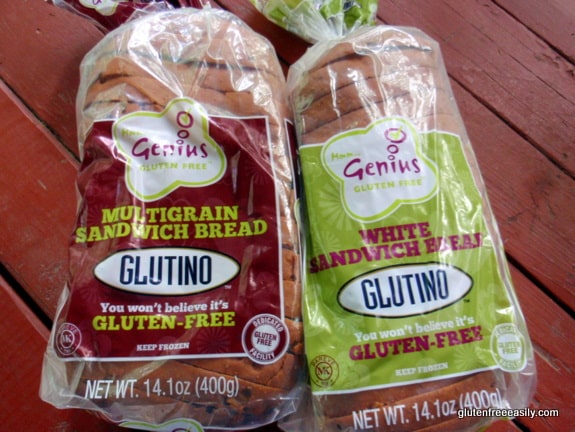 Full disclosure:  Complimentary loaves of Genius bread were provided for this review and giveaway from Glutino. However, this is an uncompensated review and the opinions expressed here are totally my own.
UPDATE: This giveaway is now closed. Winners have been notified. Thanks to all who entered!
Part I
"This summer, Glutino, the trusted pioneer in convenient gluten-free living, is bringing the UK's most popular gluten-free bread to the United States by introducing Genius Bread by Glutino to its line of more than 100 gluten-free products.   The new bread is great-tasting and features a full-sized loaf which makes it ideal for sandwich making. Available in white and multigrain varieties, Genius Bread by Glutino will be available on www.glutenfree.com starting in mid-July and in your freezer aisle nationwide by the end of this summer."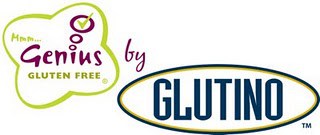 That was the info in the email I received from a marketing representative speaking on behalf of Glutino. I've been hearing about Genius bread, which originated in the UK, for a while now. The reviews have always been great, so I readily agreed to review their multigrain and white sandwich breads. Going from a life that features bread at every meal to gluten-free living with gluten-free bread—bread that by all accounts is substantially different from gluten-full bread—seems to be a difficult challenge for most. I don't often eat bread and really don't miss it. Still, the idea of being able to sample and share a great new bread product, and the potential to share something that readers would truly find helpful, was exciting.
Genius Bread was created by Lucinda Bruce-Gardyne, a mother of children with food allergies/intolerances. Bruce-Gardyne is a trained chef. She co-authored the award-winning Leith's Techniques Bible ("all the information taught during the year-long diploma course at Leith's School of Food and Wine," where she both trained and instructed) and wrote the best-selling cookbook How to Cook for Food Allergies. According to the Genius bread site, Bruce-Gardyne said 'I knew I could improve on the gluten-free loaves that were already on the market, but that wasn't enough. I was determined to create a loaf that everyone would want to eat – whether they had gluten intolerance or not. It took me three years to perfect Genius Gluten-Free Bread and my children would often come home from school to find 14 different loaves of bread waiting for them to try. I even broke my oven. But finally I got there."
Let's look at the Genius bread that's being produced by Glutino.
First, what are the ingredients in the two types of bread?
Multigrain Bread Ingredients: Water, potato starch, canola oil, corn starch, tapioca starch, dried egg whites, rice bran, molasses, cellulose powder, yeast, inverted sugar, sugar, modified cellulose, sugar beet fibre, salt, xanthan gum, calcium sulfate, enzymes.
White Bread Ingredients: Water, potato starch, corn starch, canola oil, tapioca starch, dried egg whites, rice bran, cellulose powder, yeast, inverted sugar, sugar, salt, modified cellulose, xanthan gum, calcium sulfate, enzymes.
From what I can determine from my reading online, calcium sulfate is a common laboratory and industrial chemical used as a dessicant, which is a drying agent. "The Codex General Standard for Food Additives reports that calcium sulfate is often used in foods as a preservative, anti-caking agent and anti-foaming agent." It's also known as gypsum and seems to be used in bread making a lot. In breadmaking, it's considered a "dough conditioner." Modified cellulose is plant fiber that has been modified to be more digestible and gives structure and integrity to food products. Modified cellulose and cellulose powder can absorb many times their weight in liquid and can retain moisture through absorption, which can lead to extended shelf life for products.
Glutino's website states that: "Genius by Glutino is the first gluten-free bread that really cuts the mustard! With these White and Multigrain sandwich breads, you are bound to forget that what you're eating is gluten free! They are delightfully soft and fluffy, full size, and ready right out of the bag. With breads this delicious, soon enough you're going to be saying "what toaster?"
So let's see if the reality matched Glutino's description. The bread was shipped frozen, but of course by the time it arrived it had thawed. I wanted to try the multigrain loaf first so I left that out and re-froze the white bread. (That might be a "no-no" from Glutino's perspective, but I sincerely don't believe that refreezing altered the bread in any way.) As far as storage and shelf life, I was told that the loaves would last for a week on the counter.
The first package of Genius bread I opened was the multigrain loaf. I sampled it several ways. First, I ate a slice right out of the bag. I liked the standard size slice. The bread was soft, and the taste was light. It actually reminded me of diet/"light" gluten-full bread that I ate many years ago (when I ate such products) in both its texture and dryness.
So while I agree that this bread is soft and light, to me it was also very dry. In fact, every time I ate the Genius bread I felt like I couldn't drink enough water with it and I'd end up coughing and with a scratchy throat. (I'm guessing that could be due to the cellulose ingredients, but not sure.) Again, the bread does appear to be full/standard size. (That's a big plus for many, although smaller sandwiches aren't a bad thing in my book.) Here's a photo below showing the exact measurement of a slice of bread. I didn't have gluten-full bread to compare this bread for size, but the Genius bread slices do look pretty comparable in size. While I ate the first piece right out of the bag with no problem, slices that I used later seemed much drier and more fragile. Toasting seemed to help. Some slices also had numerous holes. I had taken some slices to work in a Ziploc bag, but then ended up eating something else that day. When I pulled the slices from the Ziploc bag two days later (day five of the expected week-long shelf life), there were tiny dots of mold on the slices. In the trash they went. However, the slices remaining in the bag were fine. So sealing the bread in an airtight container must be detrimental to its shelf life; it may needs to breathe.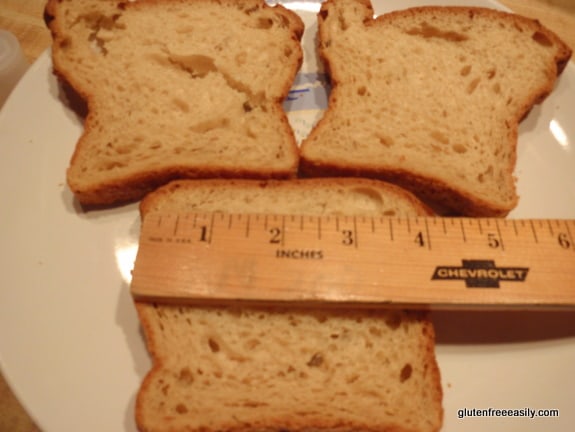 I gave Son half of my bread to take home and sample on his own schedule. Overall, he gave Glutino's Genius Bread a rating of 5 out of 10. When I asked for more information, he said that Genius Bread fell apart too easily and the taste was okay. He said the white bread tasted a little better and held up better than the multigrain. He recommended toasting either kind. His final statement: "I like Udi's bread better." Note that Son has never tried Rudi's bread or Canyon Bakehouse bread (he's only enjoyed the latter's hamburger rolls), so Udi's bread and another gluten-free bread that we used to rely on have been the only ones he's eaten other than my homemade grain-free bread (a variation of this recipe that I'll be sharing in the near future).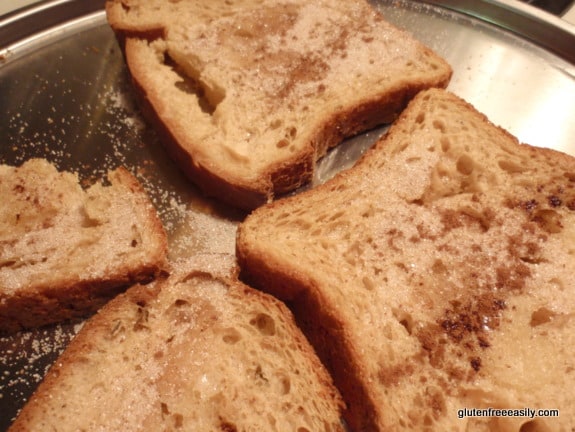 Finally, I shared the Genius white bread with my support group members. I had just thawed it out that afternoon, so I did not toast it (as based on my earlier experience, the bread was fine for eating right out of the bag after thawing). I have a group of real food lovers, but they still enjoy their bread occasionally. Yet about half of the slices of bread remained when all the other food had been eaten. Most folks were not impressed, stating that they liked other brands of gluten-free breads better. One person stated that he did like the Genius bread. Another family who hates for anything to go to waste said that they'd take the bread home and use it to make French toast. Their feedback was very positive; they reported that the Genius bread "made great French toast!"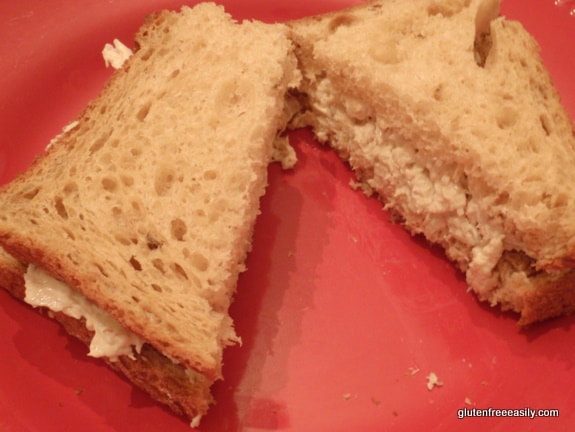 Part II
What was a bit puzzling about the Genius bread being made by Glutino was that "the word on the street" was that it was different from the Genius bread being made in the UK. So I put the question to the Glutino rep to see why and how the bread being made here in the U.S. by Glutino is different from the original bread. Her response was: "With regards to the difference from UK to North America there are a couple of points, the biggest difference is that Genius bread in the UK is sold fresh.  Genius by Glutino is sold frozen, like other gluten free breads in North America and therefore requires some recipe modifications to adapt to frozen distribution.  And, as with all baking, there are variations from oven to oven which require process and recipe modifications to accommodate our bakery." The representative discerned that I hadn't been overly pleased with my sampling to date and stated that the Genius bread was being improved on an ongoing basis and offered to send me another loaf to review. Once I determined that the bread available to the public was being made from the same improved recipe, I agreed.
Two days later, a loaf of the "new and improved" white Genius bread arrived. Once again I opened the loaf and tasted it immediately out of the bag. The taste and texture were slightly better than the previous loaves. There was more flavor and the slice was not quite as dry. It also seemed more "whole." (Sorry, I don't have any photos to share of the "new and improved" Genius bread.) I tested out a few more slices over the next couple of days. The new Genius bread tasted better toasted, made into a sandwich, or even dipped. I note the latter because one Facebook friend had asked for feedback on how the Genius bread held up when dipping. I dipped my toasted Genius bread in a mixture of honey and butter, which is an old-fashioned "comfort food" breakfast in my family.  Notably, the "new and improved" Genius bread didn't fall apart when dipped.
I had received the new white bread on Wednesday afternoon. When I went to use some of the bread again on Sunday morning (day 6), there was mold on all of the remaining slices. Remember the bread is supposed to last a week on the counter. Admittedly, we keep our house warmer than many do during the summer months. But despite Glutino's guidance on shelf life, I really think the best bet for storing Genius bread is to keep it frozen until ready to use.  In summary, it seems like Glutino is working hard to improve its Genius bread. Right now, to answer the question I posed in my post title, I don't think this bread merits the name Genius. Personally, I feel that currently there are better options for gluten-free bread already on the market. Options with better taste, texture, freshness, and healthier ingredients in my opinion. But with future improvements from Glutino and at the rate these improvements are being made, who knows? If you're looking for a better sliced bread option, I'd say you'd want to check these two kinds of Genius bread out now and form your own opinion. If you feel they fall short now, then you may want to stay abreast of Glutino's improvements and try them again later.
Do you want to try the "new and improved" Genius bread and decide for yourself? Glutino is offering one gfe reader four loaves of Genius bread (two loaves of multigrain bread, two loaves of white bread) to try. The giveaway will end Sunday, August 14, at midnight (Eastern). The following are the ways that you can enter:
~ Leave a comment on your favorite way or favorite recipe that uses sliced bread.

~ Tweet the giveaway using @Shirleygfe in your tweet. Leave another comment.

~ Share the giveaway on Facebook tagging gfe if possible. Leave another comment.
Read other Genius Bread reviews:
Allergy Free and Cheap Like Me
Last, please don't forget to read my review of Stephanie O'Dea's Totally Together: Shortcuts to an Organized Life and enter that giveaway. I'm giving away five copies of her new book  here! (Yep, I'm still celebrating my birthday so I'm not done with the giveaways yet.)