For affiliate links and as an Amazon Associate I earn from qualifying purchases.
Hello. Remember me? Since around mid-July, I've been fairly "scarce" here on gfe and social media. I've been off dealing with an illness called Ehrlichiosis that hit me in mid-July and took me down soon thereafter. Almost fully down.
It turns out that I was very ill, what I now think of as "tick sick." I know that sounds kind of disgusting if you don't like ticks—and really who does?
My actual tickborne illness was a bacterial illness known as Ehrlichiosis. Ehrlichiosis is primarily carried by the Lone Star Tick. (Note that this particular type of tick can also carry other tickborne illnesses as well.)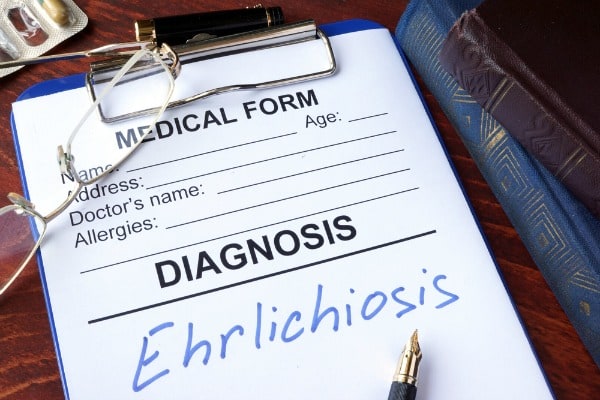 After 2 weeks of being very ill and having no clue what was happening to me, I spent 5 days in the hospital in early August. With insurance companies often requiring very short hospital stays, 5 days in the hospital these days is a long stay. It definitely seemed like a very long stay.
I was so very fortunate that I was assigned an outstanding Infectious Disease Specialist as soon as I was admitted to the hospital. I pretty much feel that this doctor, Dr. Ali, walks on water, because I know he saved my life.
He told me almost immediately after assessing me that I was "very, very ill." Hearing those words from a very serious-faced specialist is sobering to say the least. This continued to be true when he repeated this assessment numerous times in the hospital and even repeated it when I had my follow-up appointment with him last week.
The really good news is that my follow-up appointment and accompanying lab work last week showed that I'm fully healed from Ehrlichiosis now. I was so thankful to get that news from Dr. Ali!
"Fully healed" does not mean fully recovered though. I'm still working to regain my strength and stamina. Plus, I still have some momentary brain fog and a seemingly shorter attention span at times than I did previously.
Sleeping is also still a challenge. I still need a nap during the day to be able to function, but sleeping restfully at night can be difficult. Forcing myself to stay awake during the day does not result in sleeping well at night. It means that I get no sleep during the day and I still toss and turn after a few hours in bed at night, which just makes for a more tired me overall.
But, overall, every few days I can visibly see that I'm making progress and getting closer to being back to "normal."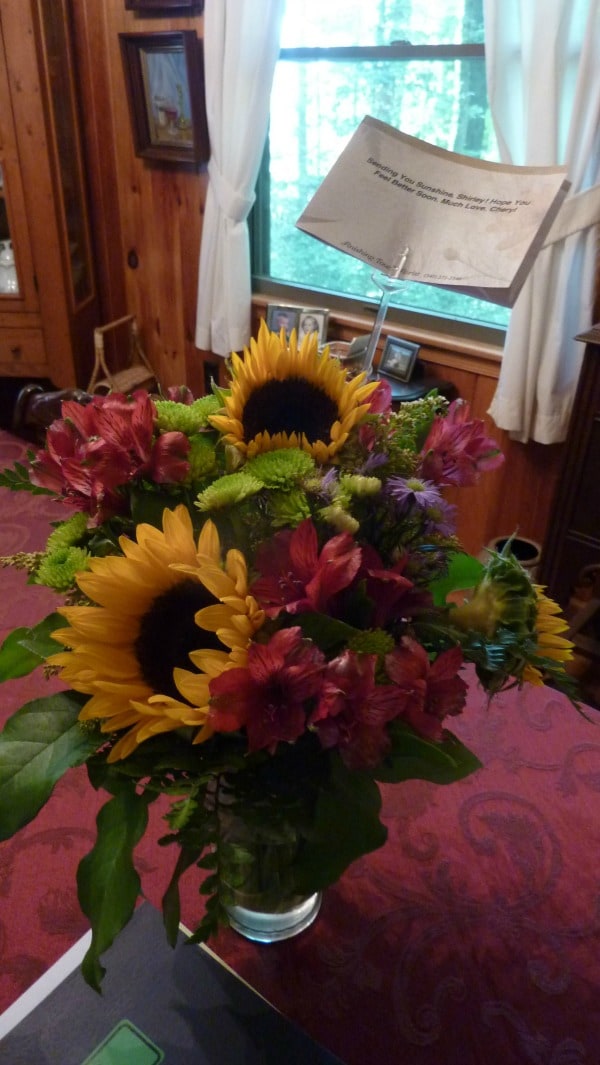 Here's my Ehrlichiosis story (with way too many words, per my usual style!). I'll cut to the chase a bit though and urge you to seek immediate medical help if you ever suspect you have Ehrlichiosis. My illness could have been far, far worse. Before I get to the nitty gritty details on all, here's some simple advice from Dr. Ali:
Shower after any outdoor activities during tick season to help prevent tickborne illnesses.
Showering is an easy thing to do, of course, and you're far more likely to discover a tick immediately—which is key—if you follow this advice.
How I Went Down and the "Complications" That Kept Me from Seeking Proper Help
Shortly after my birthday in mid-July, I started a downward health trend. It started while we were on a quick road trip. At first, I thought I'd been glutened because I did start feeling somewhat better after resorting to my usual remedies.
However, that week after we returned home from our trip, I continued to feel up and down. Some days I felt like I couldn't function at all and other days, I felt well enough to leave the house with Mr. GFE for short periods of time and felt fairly normal. On those days, I was really hoping that whatever I was dealing with, would soon be behind me.
I suspected that my ongoing symptoms were because my doctors were adjusting my medications and I was adjusting my diet as well. It seemed like my additional food sensitivities to corn and soy were flaring. At one point, I also thought that I was reacting to nightshades.
Two of my medications actually contained corn. I made an ill-advised decision to start weaning myself from one of those medications, my hormone replacement therapy (HRT). In hindsight, a better option would have been to have immediately sought a compounded version of that medication (with no problematic fillers).
Eventually, I was spending whole days in bed or on the sofa, but I naively thought that the HRT factor was the cause. I even read online about how others had reacted just as severely to weaning themselves from HRT. I called my gynecologist and a compounded version of my HRT was prescribed. I figured that once I started taking the corn-free meds, I would return to my usual self pretty quickly. That did not happen.
With each day, I was feeling worse and worse. I had no appetite and I literally felt like I'd been beaten up.
One particular weekend I stayed in bed the entire weekend. It was a hot summer weekend, but I alternated from being completely under the covers and then on top of the covers, going from hot to cold over and over and suffering the worst muscle and joint pain that I could ever remember.
I checked my temperature several times at home during my illness but it always registered well below 98.6, which is pretty common for me as someone who is hypothyroid. With a normal temperature, but still feeling "waves" of heat, that also made me think that it was simply hormone issues at play.
A constant headache also plagued me. It seemed like a sinus headache, but the usual over-the-counter meds didn't get rid of it for long.
I thought of all the medical events that I'd experienced in my lifetime and felt certain that even considering childbirth, a tonsillectomy as an adult, gall bladder removal because of gall bladder attacks, and a hysterectomy, this was truly the worst I'd ever felt in my life. (By the way, all those surgeries—and the illnesses that preceded them—were before I went gluten free and, in fact, were early signs of my gluten issues.)
I was eating less and less. Mostly I was taking in water and tea. I would occasionally take a few sips from a mug of broth or a simple soup, but that was all I could manage to eat. Even though I was constantly drinking, I never felt like I got enough liquids. I felt dehydrated. My throat was so dry and sore, that it felt like it would crack.
Despite my time in the prone position, I was not really sleeping much either. I did think about going to a doctor, but I could barely move, so I couldn't imagine making it to a doctor's office. Plus, I didn't really know which kind of doctor to see. I had talked to two of my regular doctors on the phone, but those conversations were all focused on something being amiss with my meds.
Finally, on Friday evening after the second week of me not functioning, Mr. GFE told me that he was taking me to the hospital the next morning. I protested because I thought what I was going through was nothing that the hospital would be helpful with, but at that point, I was protesting very weakly. First, because I had no energy to protest and, second, because I knew that I really did need medical help.
I spent another very miserable night trying to get some rest. By the next morning, I could not tell Mr. GFE my social security number when he asked in preparation for going to the hospital. I tried, but I simply couldn't summon it from memory.
The truth was I could barely talk—and when I spoke I was not speaking coherently. I also could not walk on my own at that point. Mr. GFE had to even help me get dressed.
Once admitted to the ER, the hospital staff kept saying that I had aphasia and they always said it with what appeared to be alarm. Later I learned that aphasia is a "loss of ability to understand or express speech, caused by brain damage." Yikes. Thankfully, I only had a vague idea of what aphasia meant when they used the term.
All these scary symptoms did help me get immediate attention in the emergency room and, ultimately, the right diagnosis.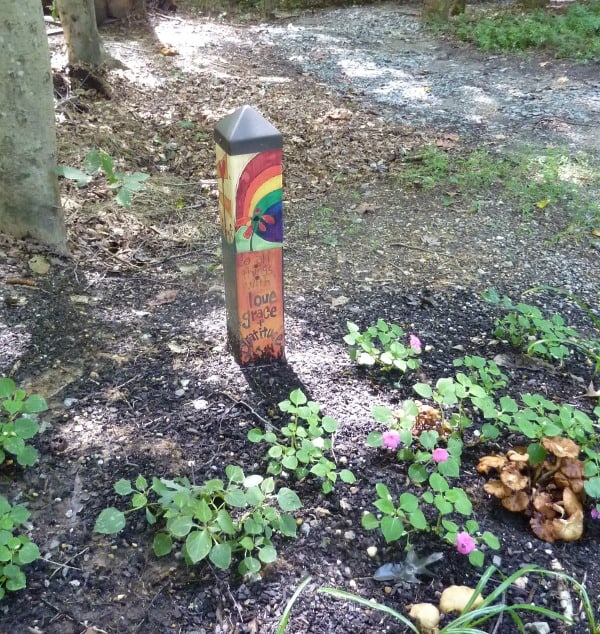 Symptoms of Ehrlichiosis
The following information is compiled from several medical sites, such as the Mayo Clinic and the Center for Disease Control (CDC).
In some ways, this list of Ehrlichiosis' basic symptoms does not really sound that bad. The symptoms sound like ones might experience with the flu or a virus and while usually unpleasant—sometimes very unpleasant—one usually lives through them fairly well. But I'll repeat that for me, the symptoms I experienced when I had Ehrlichiosis were far worse than anything else I've ever experienced with my health.
Basic Symptoms of Ehrlichiosis
One does not have to have all of these to have Ehrlichiosis. You can see which ones I had from my notes.
~ Fever
(Upon admission to the ER, my temperature was 101, which is very high for someone whose temperature is typically under the norm.)
~Headache
(Check.)
~ Chills
(Check.)
~ Malaise (Weakness/fatigue)
(Malaise was actually listed on my doctor's report as one of my symptoms. Basically, you don't feel well at all, you feel weak, tired, and uninterested in life, and you don't have any idea why. That definitely described what I was experiencing.)
~ Nausea/Vomiting/Diarrhea/Pain in abdominal area
(Surprisingly, after the travel episode where I thought I'd been glutened, I only had some mild nausea and no other typical GI symptoms. I did have pain in my abdominal area on the left side and in my lower back, which made me think I had a UTI. I did not.)
~ Loss of appetite / Weight loss
(I had zero appetite. I forced myself to eat chicken broth and simple soup, but not much sustenance was getting through. I lost at least 15 pounds during the time I was ill. I don't weigh myself on a regular basis, but over a week after being home from the hospital I weighed myself and that's how much I was down. I was really surprised and as I'd been eating normally again for a good while, I wondered how much weight I had actually lost during my illness. When one is living in pajamas, weight loss can be more difficult to recognize.)
~ Confusion
(My confusion and "aphasia" was what initially alarmed the ER and hospital staff the most. Not only could I not remember my social security number, but I couldn't figure out other simple things. For example, I was focusing very, very hard on finding my sister's phone number in my phone's "Contacts" after being admitted to the hospital, but just couldn't figure it out. So I ultimately called my niece, her daughter, instead. In my confused mind, I couldn't get beyond seeing my niece's name as my sister's. On some level, I knew that I was confused, but I couldn't get it past my confusion to find my sister's name in my Contacts list.)
~ Muscle aches
(Check.)
~ Joint pain
(Check.)
~ Red eyes
(I have seasonal blepharitis so my eyes are frequently red. I don't' really know if Ehrlichiosis affected them further.)
~ Rash (in up to 60% of children, less than 30% of adults)
~ Cough
Advanced Symptoms of Ehrlichiosis
As Ehrlichiosis progresses untreated, there can be other more serious symptoms, such as:
~ Kidney failure
(The infectious disease specialist was keeping a close eye on my kidneys because that area was very tender each time he examined me, plus, I had persistent lower back pain.)
~ Respiratory issues like shortness of breath
(I actually did not realize that I had been experiencing shortness of breath, until it was brought to my attention in the hospital. To me, the shortness of breath was just one more facet of me feeling awful. Any exertion felt like I was climbing Mount Everest, so having trouble breathing seemed like part of the whole deal. I was asked if I normally had shortness of breath. No, it was not normal for me. I received oxygen the whole time I was in the hospital and it really helped me feel so much better.)
~ Sore throat
(Check.)
~ Stiffness of the neck
(Check.)
~ Abnormal sensitivity to light
~ Neurological abnormalities beyond confusion
~ Abnormalities in blood clotting
All kinds of testing were done immediately when I was admitted to the hospital—so many tests that I don't even remember them all. Tests for strokes, blood clots, and much more were conducted.
I also received intravenous (IV) antibiotics from the moment I was admitted to the hospital, a treatment that is reserved for more severe cases of Ehrlichiosis. So, as you can see, I had most of the basic symptoms of Ehrlichiosis, but also some of the more advanced symptoms.
"The diagnosis of ehrlichiosis must be made based on clinical signs and symptoms, and can later be confirmed using specialized confirmatory laboratory tests. Treatment should never be delayed pending the receipt of laboratory test results, or be withheld on the basis of an initial negative laboratory result."
Although knowledgeable doctors test immediately for Ehrlichiosis (and other tickborne illnesses), positive confirmation can take days. (There can also be false positives and false negatives for some tickborne illnesses, but that is not applicable to my case.)
Our local hospital sends its testing results to the Mayo Clinic for validation. I was tested on my hospital admission day, a Saturday, and the Mayo Clinic returned its confirmation that I had Ehrlichiosis on the following Wednesday.
Time is of the essence in administering treatment that will provide a full recovery, so physicians rely on the clinical indicators via lab work, the patient's symptoms, and the patient's answers to their questions, which help further "define" their symptoms. As you can see from my timetable on getting confirmation of the Ehrlichiosis diagnosis, waiting could considerably delay treatment—and impede a complete recovery.
The clinical indicators for Ehrlichiosis include an abnormal decrease in white blood cells (known as leukopenia), a low number of circulating blood platelets (which is known as thrombocytopenia), and/or an abnormal increase in the level of certain liver enzymes (referenced as hepatic transaminases). I had all three of these clinical indicators.
I was quizzed extensively and repeatedly on my activities and symptoms while I was in the ER and later after I was actually admitted to the hospital.
A few of the key questions that I was asked were:
What have your activities been the last several weeks? Where have you traveled recently? Our quick road trip had been to North Carolina. Before that, we had camped for four weekends straight at our mountain property on the Shenandoah River.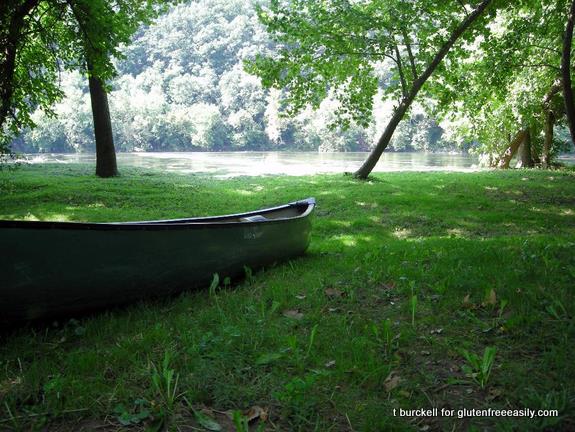 Do you smoke or have you ever smoked? Do you normally have shortness of breath at home or use oxygen on a regular basis? My answers were "no" and "no." They were looking for another explanation for my shortness of breath. There was none.
Do you do recreational drugs? Again, the answer was "no." They were looking for an explanation for my aphasia/confusion. There was no explanation other than my illness.
It seems pretty obvious now that my doctor keyed in on the fact that we'd been camping and that none of the symptoms I was experiencing were normal for me. Those answers and my lab results pointed to Ehrlichiosis, so I was treated for Erhlichiosis. Immediately.
"Ehrlichiosis is a serious illness that can be fatal if not treated correctly, even in previously healthy people. Severe clinical presentations may include difficulty breathing, or bleeding disorders. The estimated case fatality rate (i.e. the proportion of persons who die as a result of their infection) is 1.8%. Patients who are treated early may recover quickly on outpatient medication, while those who experience a more severe course may require intravenous antibiotics, prolonged hospitalization or intensive care."
Treatment of Ehrlichiosis
Doxycycline is considered the required antibiotic to treat Ehrlichiosis. (Only pregnant women are given an alternative because this medication can be harmful to the fetus.) Doxycycline has always done a number on my gut, but the infectious disease specialist made it clear that I had to take it to eradicate the Ehrlichiosis. Hence, in the hospital, I was given higher dosage of Immodium (than the over-the-counter remedy) as well as doxycycline.
Once home and on oral doxycycline, I relied on VLS#3, a probiotic medical food by description. Boy, did the VSL#3 work! Having tried probiotics to combat the woes of taking antibiotics too many times in the past, I was amazed at how well VSL#3 worked. (Remember that whenever you're taking probiotics in conjunction with antibiotics, you take the probiotics several hours apart from when you take the antibiotics.)
The typical course of Doxycycline for Ehrlichiosis is 10 days, or longer if you are more severely ill. I was on it for 15 days.
Because I was also severely dehydrated, I was on a sodium chloride IV the entire time I was in the hospital. I was also supplemented with potassium, both via IV and via special orange-flavored potassium drinks that I drank every day.
Incidentally, I'm one who normally has plump veins, which phlebotomists love, but that was not true while I was dehydrated, of course. The nurses had to move my IV numerous times during my stay. I still have a bruise from where the last one was located, even though it's been a month since it was removed. (Needless to say, I now have a better understanding of and more heartfelt empathy for folks with small veins and compromised veins.)
What I Knew About Ehrlichiosis Before Getting My Diagnosis
I knew of this tickborne illness because our last collie, Sonny, actually had Ehrlichiosis and other tickborne illnesses, including Lyme. He was treated with antibiotics for that illness and other tickborne illnesses. His treatment was also Doxycycline.
I also had a personal friend who had Ehrlichiosis—and a very serious case of it. She and I don't see each other that often and aren't connected via social media. Therefore, I wasn't around her or aware of what was going on when she was actually experiencing her illness. (I wish I had been, so I could have helped her family more as she also happens to be gluten free.)
Months later, when she was fully recovered and told me and other friends about her own Ehrlichiosis experience, I really did not fully "take in" what she had gone through or, frankly (and rather sadly), even remember her particular diagnosis.
Her husband, who is also a longtime friend, reached out to me via Facebook after he read about my Ehrlichiosis diagnosis on Facebook. As bad as my own experience was, his wife's case of Ehrlichiosis, was far, far worse than mine. I ended up spending 5 days in the hospital—in a regular room. In contrast, she spent 7 days in the intensive care unit (ICU) at our local hospital and then 5 more days in a regular room. She remembers little of her time in the hospital.
Clearly, Ehrlichiosis should never be taken lightly.
As shared above, Ehrlichiosis does, in fact, kill people—about 2 % of them in fact. That might seem like a very small number unless you're one of the folks severely affected by Ehrlichiosis—or one of the 1 % with celiac disease. To be clear, Ehrlichiosis and celiac are in no way related, but when you already know you "hit the lottery" with celiac and are "very, very ill" with Ehrlichiosis, you begin to wonder about your ability to beat the odds.
And, again, "very, very ill" were the words that I kept being told by Dr. Ali. Goodness knows, I felt very, very ill.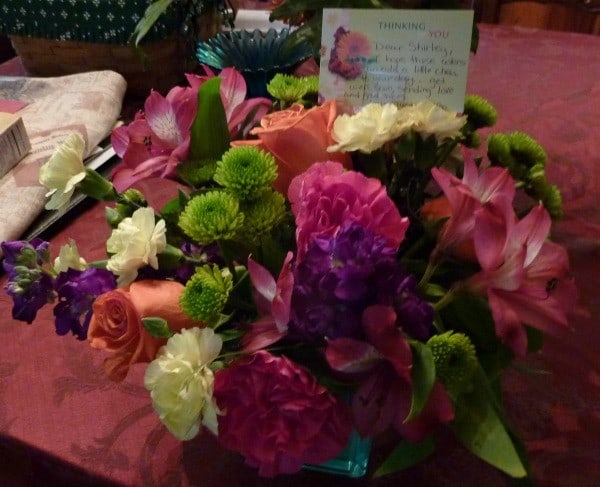 Do I Remember a Tick Bite?
I do remember pulling a tick off of me on one of those camping trips and throwing it into our campfire and then washing my hands with dish detergent. The tick was not very attached. When I told Dr. Ali that, he said that specific tick may or may not have been the instigator of my illness.
He stated that typically ticks must be attached much longer (at least 24 hours) to cause health issues. Admittedly, that factor is baffling to me as I am hyper-vigilant about checking for ticks when outdoors and after being outdoors. I simply can't imagine having a tick on me for that long.
Can I Get Ehrlichiosis Again?
Yes, one can get Ehrichiosis more than once, if you are infected by another tick carrying Ehrlichiosis bacteria. Having had Ehrlichiosis previously does not offer you any immunity to future exposures.
On the positive side of that equation though, if you've been healed of Ehrlichiosis from one exposure, you cannot have a return or "flare-up" from that initial exposure. That's why my current lab reading of "normal" for my liver enzymes is so very important.
My Past Negative Experiences with Doctors Also Kept Me from Seeking Help Earlier
I spent so many years going from clueless doctor to clueless doctor before I got my gluten diagnosis, that I now find myself very skeptical of the "expertise" of many doctors. When there are complicating factors like additional food sensitivities and hormones impacting my health, I'm even more reluctant to go to any doctor who hasn't earned my trust and doesn't know my health history.
I typically know my body well and actually can figure out what's behind odd symptoms most of the time. Case in point, a few years ago after a 24-hour hospital stay for chest pains and a complete cardio workup (all checked out fine), I was the one who figured out that I'm in the 2% of women who get chest pains from natural progesterone. Go figure. (Note that 1% to 2% range again. Obviously, I am very special. Ha!)
I think my cautionary feelings are understandable given my personal medical history, but perhaps I might not have suffered as much if I'd sought medical help earlier. Of course, it's also possible that I could have sought help and not encountered my Infectious Disease Specialist/Miracle Doc, Dr. Ali, and been sent away with an incorrect diagnosis of a flu or a virus. That scenario would have likely led to a very bad outcome.
The fact that the Ehrlichiosis had progressed so far by the time I did go to the ER helped ensure that I got immediate and proper care. I don't really recommend this course of action though. Take these symptoms seriously and seek medical treatment until you get answers and treatment.
Gratitude
I can obviously never thank my Infectious Disease Specialist, Dr. Ali, enough. For his wealth of knowledge and lack of hesitation. The fact that he is also a very kind and gracious man with a gentle bedside manner helped a tough diagnosis and treatment go much more smoothly. Dr. Ali is from Ethiopia. I am so very grateful that he is here at my local hospital.
Mr. GFE did so much when I was ill. He quickly became reacquainted with the washing machine, dryer, dishwasher, and vacuum cleaner, and, also, took care of me (to the point of being ultra "buggy" LOL) and our dog. Really, he was awesome, and I know that I wasn't a very good patient.
Son also came home the moment that he learned I was in the hospital (despite my protests) and stayed until I was back home and doing fairly well. Having him home was truly wonderful. He even made homemade chicken soup for me once I was back home. It was fabulous and it's true that homemade chicken soup really does make everything better!
Even though Son eventually had to go back home and back to work, he's checked in with me every single day since. He's an exceptional "kid."
My mother and sister were at the hospital every day after I was admitted and fed us the first week after I was discharged. And fed us well, I should add. My mother would show up with her apron still on, a cooler, a slow cooker, and many other containers of food–all hot and ready to eat. Mr. GFE very happily gained 5 pounds while she was looking out for us and I felt much better eating a decent amount of healthy and delicious food.
More recently a bunch of gluten-free friends came for a long-planned visit knowing that I would not be able to perform my typical hosting duties. They did everything—and I do mean everything. They shopped when they arrived and then cooked and baked during their whole stay. All I had to do was eat their amazing food creations. They also brought special gifts. I was completely pampered! Plus, the time with them gave me a big emotional boost, of course—which always helps with healing. One friend even did all the laundry before she left. Again, I was totally pampered!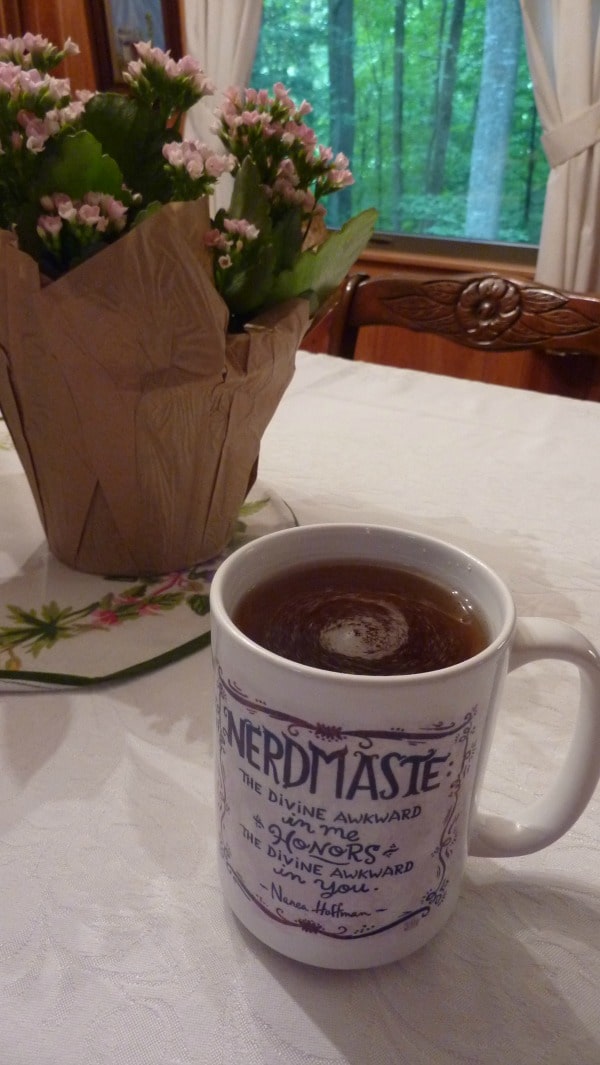 The risk of issuing even semi-specific thanks is that you always miss someone. I don't want to do that. The truth is that so many friends, family members, and gfe readers sent me words of encouragement, cards, flowers, and other thoughtful gifts (even homegrown vegetables!), and checked on me throughout this ordeal. All of you helped me get through this challenging period and I am so grateful to each of you!
Going Forward
Every little step forward still seems like a victory these days. Going up and down the stairs multiple times. Doing laundry (that's why I go up and down the stairs multiple times!). Walking the dog. (I just took this duty back from our very helpful neighbor who had been walking our Sandy with her miniature dachshund each morning.) Driving anywhere. Preparing and cooking full meals. Standing a lot—especially standing in one place—still really tires me out. The kitchen stool has come in handy!
Plus, I'll repeat that I still sleep a lot. After having major difficulty sleeping when I was ill and even 2 weeks after I came home from the hospital, I'm making up for it now. My body won't let me stay up too late. Lying down to rest any time means quickly falling asleep.
I am still wearing pajamas slightly more than usual. Putting on "real clothes" still feels somewhat special. (Yes, I do wear real clothes for going out in public.)
And, of course, any time one's life is disrupted by illness, recovering and getting back to real life makes one appreciate all the "little things" in life that one might have taken for granted before. It sounds cheesy, I know, but it is a reality.
Similarly, going through such an experience also makes one re-focus on what's important in life and what's helpful to others. That includes this blog, gfe. I hope to get back to sharing what I consider the really important stuff with you all soon.
When I started blogging, my main goal was to truly help gluten-free individuals live Gluten Free Easily, the gfe way. My mission has always included helping those with gluten issues get diagnosed with celiac or non-celiac gluten sensitivity—or help individuals get on the gluten-free path when a diagnosis is not an option. My day-to-day goal is to share how to live gfe via focusing on real food that's naturally gluten free, some mainstream foods that happen to be gluten free (and totally safe), and eating very few gluten-free specialty products (those foods labeled "gluten free" and made with special ingredients that tend to cost a lot and more and more have a questionable gluten-free status). I also share recipes—mine and others'—that I think you and your families will love.
I'm mentally ready to get back to it all, but considering how long it took me to write this post, it might take me a while to get back in the flow of regular posts, even when they're normal length posts. Please be patient with me!
Originally published September 6, 2017; updated August 25, 2020.