For affiliate links and as an Amazon Associate I earn from qualifying purchases.
Do you think it's time to put away everything summery and pull out everything pumpkin-y and fall-ish? I say, "not quite yet!" While summer is almost officially gone, there's still time to enjoy what we usually think of as summer food. Like blueberries. In this fabulous gluten-free Blueberry Streusel Coffee Cake! Today's recipe is actually one that can be enjoyed all year long because it uses frozen blueberries—although fresh blueberries will work fine as well in this cake.
If you love coffee cakes as much as I do, you'll definitely want to put autumnal treats aside for a moment and make this coffee cake. I really love these sweet comfort food recipes. I also love
quick breads
 that I can treat like coffee cake.
There's something lovely about a quiet morning when you can linger with a slice of something sweet with your favorite mug of a warming beverage. And this gluten-free Blueberry Streusel Coffee Cake is truly perfect for pairing with a cup of coffee or hot tea.
But please don't limit yourself to serving this coffee cake during mornings only. Mr. GFE has been thoroughly enjoying it for dessert after dinner this week and as a mid-afternoon treat when I've packed a slice in his lunch.
This recipe comes from Joanna Schulz of Pikanik bakery. I was recently "introduced" to Johnna and her Canadian bakery in South Surry, British Columbia. Pikanik is a gluten-free, allergy-friendly bakery, which Joanna opened in October 2012.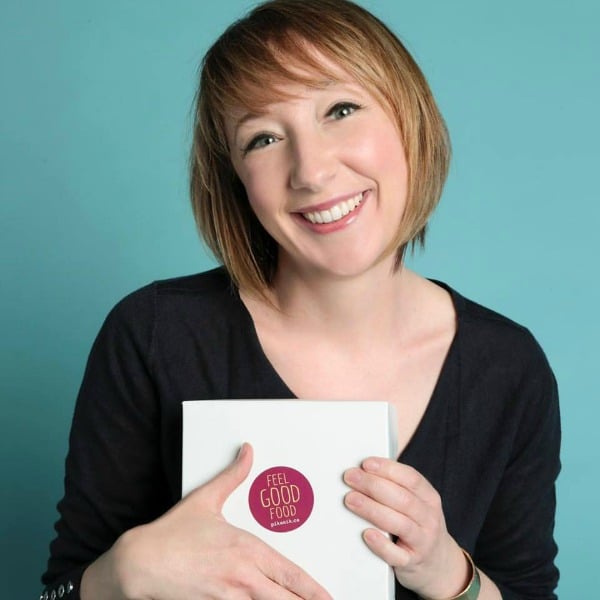 The best gluten-free bakeries, in my opinion, are the ones that are owned and operated by folks who have a personal, vested interest in serving the gluten-free community. Joanna's daughter had gone gluten free and dairy free, and Johnna wanted to create a space where people with multiple and often life-threatening allergies could come and enjoy something delicious—and worry free.
All of us who are gluten free know how important the "worry-free" part is but, yes, we absolutely want our worry-free food to be delicious, too. Judging by how wonderful this gluten-free Blueberry Streusel Coffee Cake is, that part of the equation is most definitely covered at Pikanik!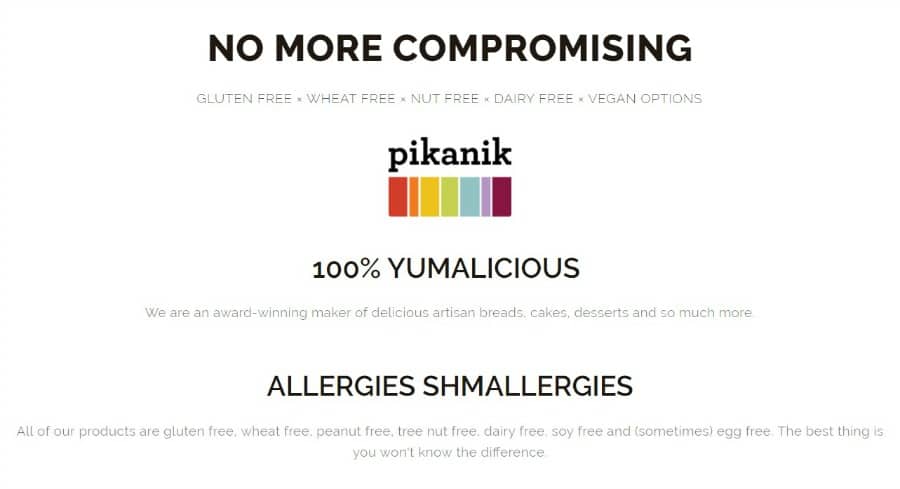 Pikanik's baked goods are all gluten free, wheat free, nut free, and dairy free, and there are offerings that are egg free and vegan, as well. The baked goods include breads, cookies, cakes, and so much more. You can see their creations on their site, Twitter, and Facebook. (Note that delivery is only available to those in Pikanik's local area.)
Brown rice flour, potato starch, and tapioca flour are the ingredients that Joanna uses most often in her recipes. Those ingredients are used in this coffee cake as well.
As most of you know, I prefer using my Two-Ingredient Gluten-Free Flour Mix in place of gluten-free flour mixes and individual gluten-free flours and starches (when I'm not baking grain free). In this recipe, I used my flour mix in place of both the brown rice flour and potato starch, but kept the tapioca flour per the recipe. I like tapioca flour, tolerate it fine, and it gives a nice bit of binding and a delightful texture to this coffee cake.
The streusel factor in this cake makes it especially lovely in my opinion. There's streusel in the center of this coffee cake and in the topping (along with blueberries).
I have to confess that I almost always cheat when it comes to making streusel. Typically, you use a pastry blender or a knife and fork to work the butter into the flour and other ingredients. Instead, I melt the butter and then mix all the ingredients together. I was very pleased with the results of using that method in this cake recipe.
Now let's sit down for some gluten-free Blueberry Streusel Coffee Cake, shall we? (I also have some more gluten-free blueberry recipes and gluten-free coffee cake recipes for you to check out if you like.)
More Gluten-Free Blueberry and Coffee Cake Recipes
~ Grain-Free Apple-Spice Coffee Cake
~ Coconut Blueberry Pound Cupcakes
~ No-Bake Blueberry Pie with Honey Whipped Cream
~ Paleo Orange Blueberry Muffins
~ Peach Coffee Cake with Cinnamon Streusel
Gluten-Free Blueberry Streusel Coffee Cake Recipe
Yield: 15 slices
Gluten-Free Blueberry Streusel Coffee Cake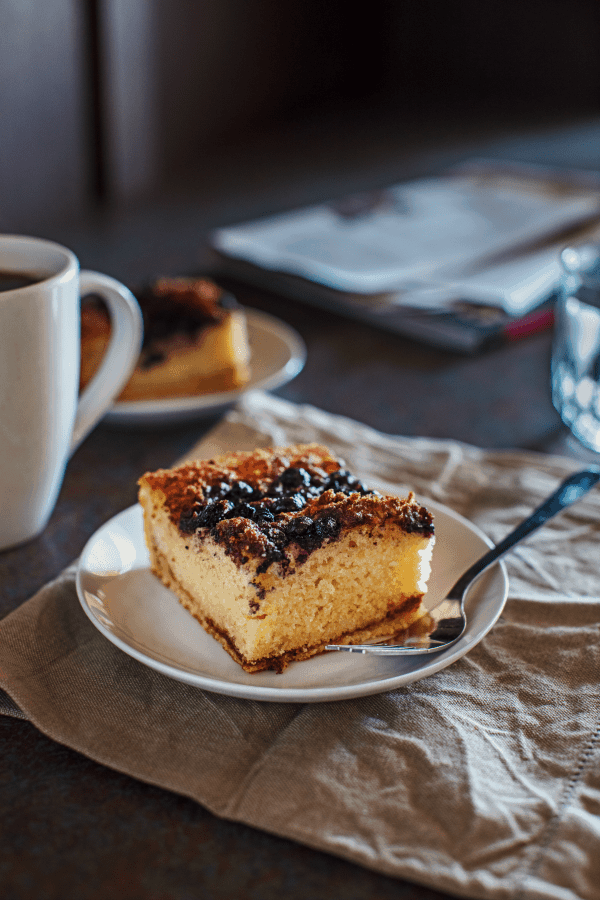 Joanna says:  "Yes, it's gluten-free and vegan. But that's beside the point. All you need to know is this cake is shockingly moist and delicious, it stays fresh wrapped in plastic wrap for 3 days, and it freezes and thaws beautifully when sliced and stored in a covered plastic container." 
Total Time
1 hour
5 minutes
Instructions
Preheat oven to 350°F. Grease 9 x 13 baking pan (see notes).
Mix the dry streusel ingredients in a small bowl. Using a fork or a pastry blender, work the margarine into the flour mix until the complete mixture is in pea-sized pieces. Set aside.
In another small bowl, mix together the applesauce and 1 teaspoon of the baking powder. Set aside.
In a large mixing bowl, combine the brown rice flour, potato starch, tapioca flour, remaining baking powder, salt, xanthan gum, and sugar. Add the applesauce and baking powder mixture, margarine, yogurt, milk, and vanilla extract. Mix until smooth.
Spread one-third of the batter into prepared baking pan. Sprinkle half the streusel mixture on top of the batter.
Spread the remaining two-thirds of the batter over the streusel mixture.
Sprinkle the frozen blueberries and remaining streusel over the top.
Bake for 40-50 minutes or until a toothpick comes out clean.
Allow cake to cool in pan for at least 15 minutes.
Slice and serve whenever you're ready after cooling, while still warm or completely cool.
Notes
Makes one 9 x 13-inch cake.
We love this coffee cake served warm!
In addition to greasing her pan, Joanna also lines it with parchment paper. If you go that route and wish to remove the whole coffee cake from the pan at once, I recommend cutting the parchment paper so that you will have extra on each side to use as "handles" for lifting the cake out of the pan after the cooling time is complete.
If you eat dairy and are not vegan, butter or a non-vegan should work fine as a substitute for vegan margarine.
Originally published September 19, 2017.