For affiliate links and as an Amazon Associate I earn from qualifying purchases.
We're full in holiday season now and most of us are purchasing and/or making gifts for friends and family. I always make a few of my gifts and I know that my food gifts are always well received. Gifts like today's gluten-free Cinnamon Swirl Coffee Cake recipe for example.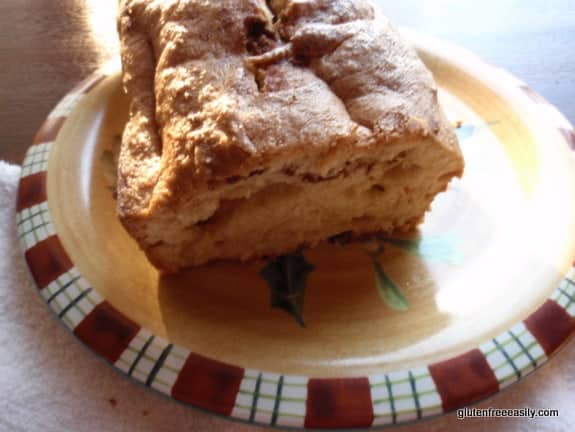 We all have to eat, right? And food gifts are wonderful, "no-clutter" gifts. Like this Perfect Pumpkin Bread shown below.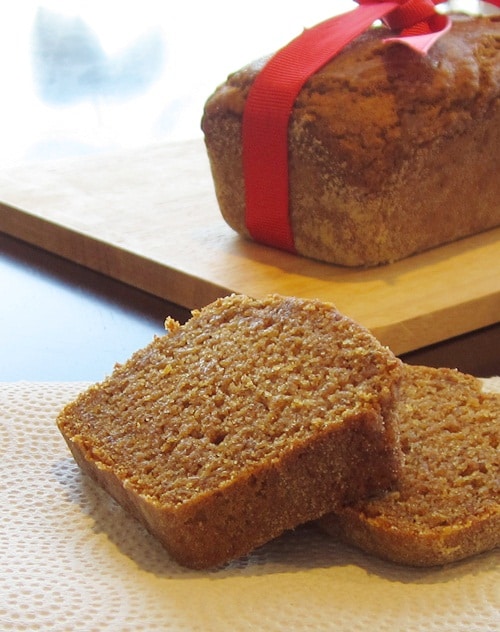 Many food gifts can even be frozen and pulled out once the abundance of the holidays has passed, when homemade treats will really stand out and be fully appreciated—because they don't have as much competition.
This gluten-free Cinnamon Swirl Coffee Cake is one such recipe. Pull it out of the freezer shortly after Christmas and enjoy it with your beloved hot beverage of choice as the snow flies outside!
This coffee cake is one of those "necessity is the mother of invention" type recipes. One simple substitution and some tiny tweaks to an existing favorite recipe—a standby recipe, in fact—and one ends up with a marvelous new recipe!
In that way, today's recipe is much like my Magic Oat Bars. In that situation, I decided to substitute oats for graham crackers because gluten-free graham crackers are not something I keep on hand (or really want to dish out money for; I prefer the healthier oats).
With this Coffee Cake, I originally set out to make my
Perfect Pound Cake
, but had run out of granulated sugar. I use granulated sugar so rarely these days, but it turned out that I was also out of coconut sugar.
Coconut sugar has been my fallback sweetener of late. So I decided to use brown sugar, but a lesser amount, to create a coffee cake. I also sprinkled a cinnamon-sugar mixture (which I keep on hand for cinnamon toast) in my loaf pans and a little more on my loaves before I baked them.
The resulting coffee cake was wonderful! It definitely had a coffee cake texture and flavor.
In fact, it reminded me of the Amish Friendship Bread from my gluten-full days. However, it contained neither yeast nor vanilla pudding, both of which Friendship Bread typically requires.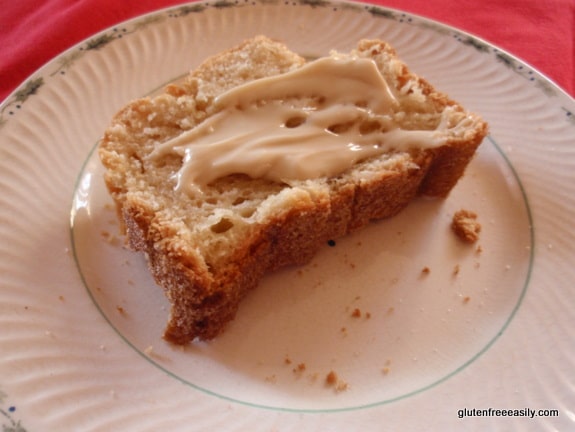 The second time I made this coffee cake, I also went for a cinnamon swirl effect. The cinnamon-sugar mixture swirled throughout the cake made the coffee cake even more delicious.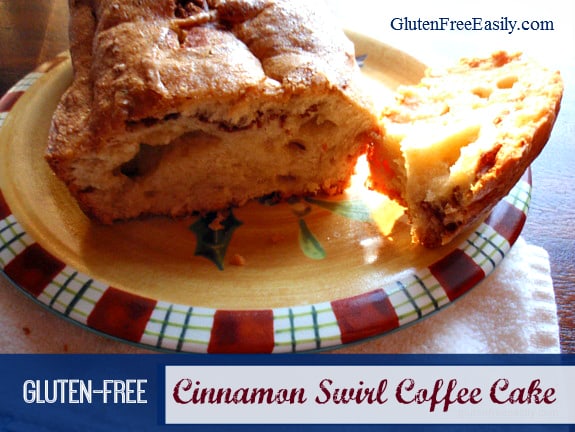 It did take away a little from the Friendship Bread effect—that sort of dense middle that looks like it might need to cook a bit longer (but actually doesn't)—but the cinnamon-sugar "infusion" effect is lovely in both taste and appearance.
This coffee cake also has a few little air pockets, which just add to this coffee cake's charm and homemade "artisan" effect in my opinion.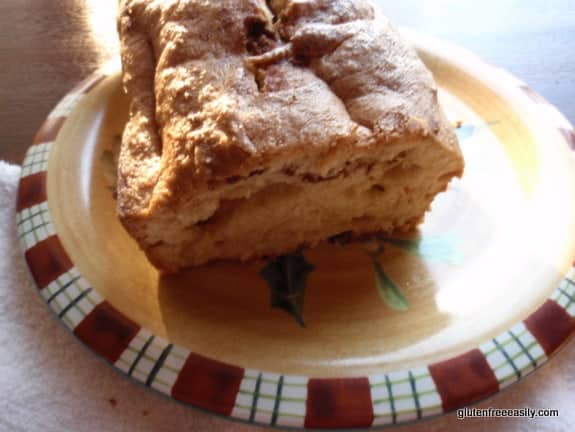 The recipe makes two loaves, so you can keep one and gift one if you like. Note that you'll see both versions of this coffee cake (with and without cinnamon swirl) in the photos.
You can also use a Bundt pan if you prefer. You will obviously only get one cake—one larger cake!—if you take that route, but it will be a very lovely presentation.
Bake a few loaves of this Cinnamon Swirl Coffee Cake, cool, wrap, and tie with a ribbon and you'll have some very lovely holiday gifts that are sure to be appreciated.
Add some favorite coffee or tea for an extra special gift! Or package with a small jar of one of the butter recipes shown below.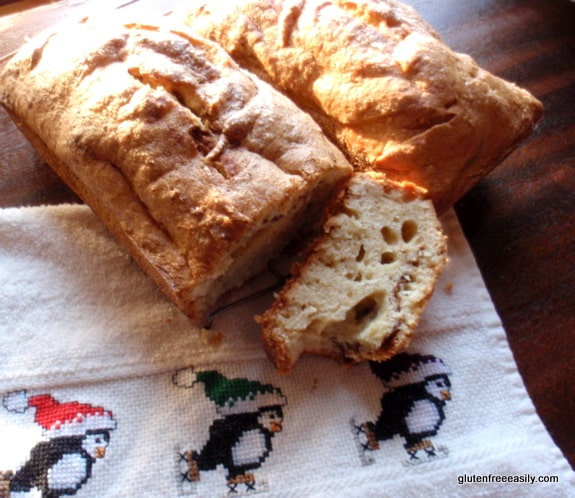 More Last-Minute Gluten-Free Food Gift Ideas
Here are some other edible holiday gifts that you can still make … right up to Christmas morning!
~ Favorite Quick Breads or Pound Cakes
Other gluten-free quick breads/cakes like Classic Pumpkin Bread, Classic Zucchini Bread, and Chocolate Zucchini Bread (I like to keep grated zucchini from summer harvests in my freezer in case there's no zucchini available locally after summer passes) or the aforementioned Perfect Pound Cake.
Actually, if you have pound cake lovers on your gift list, you have several fantastic gluten-free options here on gfe! There's not only Perfect Pound Cake but also Plain Good Vanilla Pound Cake, Banana Chocolate Chunk Pound Cake, and Cream Cheese Pound Cake with Streusel Filling.
Wrap your breads or cakes in plastic wrap or aluminum foil and wrap a pretty ribbon and/or stick a Christmas tag on your delicious loaf of choice.
~ Homemade Vanilla Extract ~ Okay, I know this suggestion will surprise you! Made of only vodka and vanilla beans, it's true that if you give this recipe without having had several weeks for the vodka to extract the vanilla, it won't be vanilla extract yet. But your gift recipients are likely to appreciate this gift just as much as they would have if it were ready to use on Day One.
It's a lot of fun to see the extraction process take place with the vanilla darkening each day. Kids can be given the assignment of shaking the jar each day. Maybe you'll even inspire your recipients to make their own vanilla extract next year!
~
Honey Butter
~ Exactly what it sounds like. Easy to make. If you are a recycler—like I am—you probably have some small jars saved that will be just right for storing this gift.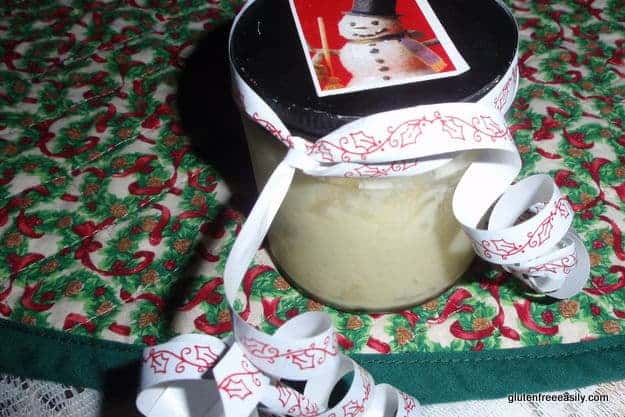 ~ Maple Butter or Agave Butter ~ Use the same technique as you did with honey butter, just sub out maple syrup or agave nectar for the honey. Adjust amounts to preferred sweetness.
~ Pumpkin Butter ~ This recipe actually cooks while you are sleeping, if you like anyway. If you're really behind on your Christmas gift, you can place the ingredients in your slow cooker as your turn in on Christmas Eve. Then transfer your beautiful and delicious pumpkin butter to small jars first thing on Christmas morning.
Some lucky ducks may even get your pumpkin butter while it's still warm … now that's an amazing present!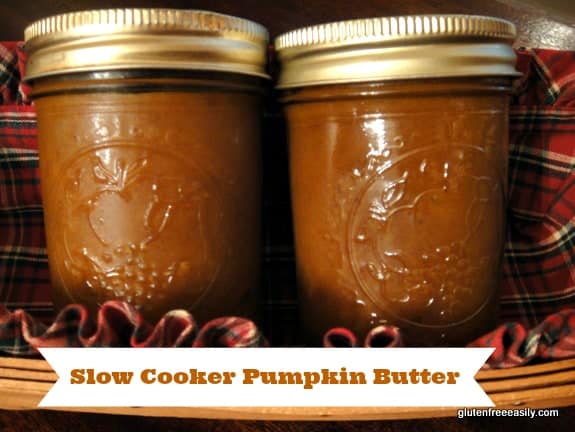 ~ Homemade Turtles ~ Do you have someone on your gift list who loves Pecan Turtles? Pick up some of the small gluten-free pretzel twists, Rolos, and pecan halves. In about a total of 5 minutes (the baking of these treats takes 2 minutes tops!), you have an impressive little gift of "homemade" chocolates.
Have you been saving those little jewelry boxes? The ones that earrings, bracelets, and necklaces come in. Now is the time to pull them out, wipe the inside, and line them with some pretty tissue paper before filling them with a few of your beautiful turtles. You can get quite a few impressive gifts from this one recipe!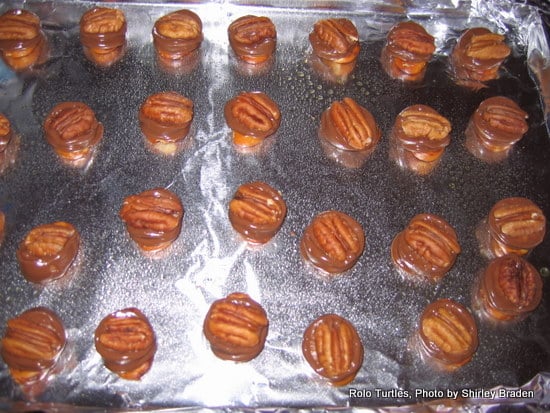 ~ Snack Mixes—Classic Spicy Snack Mix and/or Sweet and Spicy Snack Mix ~ Do you already have a Christmas tin left over from one of your early holiday gifts? You can package both mixes in the same tin if you make a divider. Measure the height and interior width of the tin, and cut two pieces of cardboard to match. Make notches in the center of each strip of cardboard, so the pieces will fit together to form an X.
Or perhaps you have an excess of other containers that would work for your "assortment" of snack mix. Glass jars taped together with clear packing tape and then wrapped with wide ribbon tied into a bow?
Update: After trying gluten-free Chex when they first came out, I personally won't use General Mills "gluten-free" products, in part because of their refusal to make "gluten-free" Cheerios safe. I recommend that you make this snack mix with a similar size/style certified gluten-free cereal made by a company that ensures all gluten-free consumers are fed safely.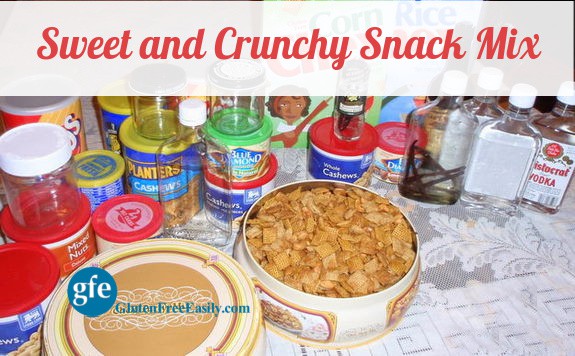 ~ The Gift of the Food That You Already Know They LOVE ~ Do you have a friend or relative who absolutely loves one particular recipe of yours? Surprise them by making it just for them for their holiday gift.
As I've shared previously, Christmas lists are required on Mr. GFE's side of the family. The lists get placed on my mother-in-law's refrigerator right after Thanksgiving. It delighted me to see "Shirley's Coconut Pie" on my nephew's Christmas list a few years ago.
I gladly complied with that wish. He beamed when he opened his very own Coconut Pie, and somehow he made it last a full week. For a 16-year old boy, that's quite a feat! Too cute. So easy to answer such a Christmas wish!
Gluten-Free Cinnamon Swirl Coffee Cake Recipe
Ready to make your gluten-free Cinnamon Swirl Coffee Cake. Perhaps for you and someone else you love? Here you go. Enjoy!
Yield: 8 slices
Gluten-Free Cinnamon Swirl Coffee Cake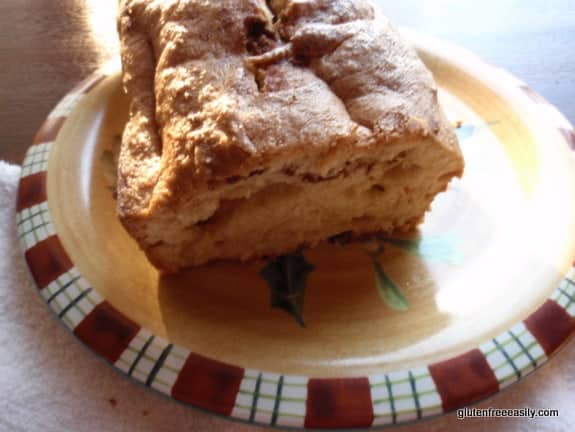 This gluten-free Cinnamon Swirl Coffee Cake reminds me of Amish Friendship Bread, which seems appropriate as it's great to give to or share with your best buddies.
Ingredients
Coffee Cake Main Ingredients
Cinnamon Swirl Mix for Coating or "Filling"
Instructions
Preheat oven to 350F degrees. (See notes.)
Grease pans and then sprinkle with cinnamon-sugar coating, tilting pans again and again until well coated. Set aside.
Combine flour, xanthan gum, sea salt, and baking powder in an extra large measuring cup or separate bowl. Set aside.
Pour olive oil into large bowl, and slowly mix in sugar and vanilla extract.
Add eggs one at a time, stirring after each addition.
Add milk. Mix 2 minutes. Gradually add dry ingredients into wet ingredients, mixing well.
Spoon or pour a little of the batter into two prepared loaf pans. Sprinkle cinnamon swirl filling over all. (See notes for further directions/variations.) Top with remaining batter.
Bake for about 40 – 45 minutes.
Test for doneness with a toothpick. (As mentioned earlier, the cake may not look done in the center when you slice it, so don't skip this step.) I like my coffee cake crisper on the edges, so I turn the oven off when my coffee cake tests done, but I leave my coffee cake in a few minutes longer. Sometimes I leave the oven door open for this final step, just to ensure that I don't overcook my cake.
Notes
I used about half of the cinnamon-sugar mix to coat the pan and half as my filling. Feel free to make more of the mix and use more for coating or filling as you like. Also feel free to up the sugar amount for the coating if you want that crusted sugar effect more than a cinnamon look.
Coconut oil works in this recipe, but the cake is not as moist and flavorful as it is when light olive oil is used.
Pans can be greased with whichever oil you use.
Two loaf pans are what the original recipe calls for and what I used. Don't worry too much over the size of the pans, although you may have to adjust cooking times. The original recipe called for 6 3/4" x 3 1/2" x 2" loaf pans. I used 8 1/2" x 4 1/2" x 2 5/8" pans.
You can also use a Bundt pan to create a single cake. Baking time will be the same as for the two loaf pans.
There is no coconut flavor in this recipe from the coconut milk. However, if coconut oil is used, there is a slight coconut tone (unless you use expeller pressed coconut oil, which really has almost no coconut taste).
Last, I love the crunchy edges of this coffee cake recipe. Just like with my pound cake, the end pieces are my absolute favorite.
Reader notes:  One gfe reader lives at a higher altitude---6600 ft---she adjusts the oven temperature on my Perfect Pound Cake (the basis of this recipe) to 375F degrees, so I imagine that adjustment would work for this recipe as well.
Originally published December 21, 2011; updated October 14, 2023.