For affiliate links and as an Amazon Associate I earn from qualifying purchases.
I admit it. I am in love. With Seasonello (gluten free). Its official name is Seasonello Bologna Aromatic Herbal Salt.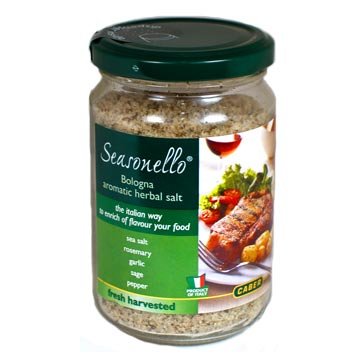 Labeled "the Italian way to enrich your food with more flavor and less sodium," this product delivers. In the most delicious way possible!
Yes, Bologna references that Bologna across the pond.
A recent study, which was published in the New England Journal of Medicine,  showed that getting too little salt can be dangerous for most people. I am not sharing this product because of its low sodium factor, but rather because I think it's fantastic! Read on for more details.
My recent purchase of Seasonello Bologna Aromatic Herbal Salt was pretty much happenstance. My gluten-free girlfriends (bloggers and non-bloggers) have been visiting the last several days.
Oh my goodness have we had fun and eaten like royalty—gluten-free royalty! All that is true despite us being a mix of folks who are gluten free and vegan, gluten free and mostly paleo, and gluten free and much more free (e.g., soy free, egg free, corn free). A love of good food with neither pre-set parameters on dishes nor judgment on foods eaten are the keys to success in this area, but that's a post for another day.
So the other day we were in this wonderful store called Taste in downtown Fredericksburg (Virginia). The store features oils, vinegars, and spices. You get to sample tons of flavored olive oils and flavored balsamic vinegars using tiny little cups. No gluten-full bread used in sampling, thank goodness!
Heather of Gluten-Free Cat picked up a jar and said something to the effect of, "This Seasonello is fantastic stuff." She shared that she especially loved it on roasted veggies.
Hmmm, my taste buds perked up. I do love roasted veggies and, of course, fabulous seasoning mixes that take the guess work out of getting just that right combination.
I picked up a jar of Seasonello Bologna Aromatic Herbal Salt and read the ingredients.
Sea salt, rosemary, garlic, sage, black pepper.
Sold! I added it to the items I already had in hand (a bottle of Wild Mushroom and Sage Olive Oil and a single piece of Butter Pecan Fudge, which was made with Taste's Olive Oil).
Once back at my house and all in cooking mode again, we used the Seasonello several times and I loved the flavor it imparted each time. The first time we used it on one of my favorite recipes from Kalyn's Kitchen, Roasted Green Beans and Red Bell Pepper with Garlic and Ginger.
The recipe calls for salt and black pepper to taste and we simply added Seasonello instead. Everyone fell in love with this green bean recipe and agreed that the Seasonello was a perfect addition!
Linda of Gluten-Free Homemaker made my Venison Sausage recipe but instead of using the spicy blend that my recipe calls for she simply added one teaspoon of Seasonello to each pound of ground venison. The results were absolutely perfect!
Initially, the sausage tasted too salty to Linda, but after the flavors melded and we ate the sausage together, she was really pleased with the results. I ate some leftovers of the Venison Sausage with Kalyn's Roasted Green Beans and my friend Cheryl's (Gluten-Free Goodness and Harris Whole Health) roasted potatoes for breakfast this morning. What a lovely way to start my day!
I even added some Seasonello instead of salt to the crust for this pizza. Wonderful!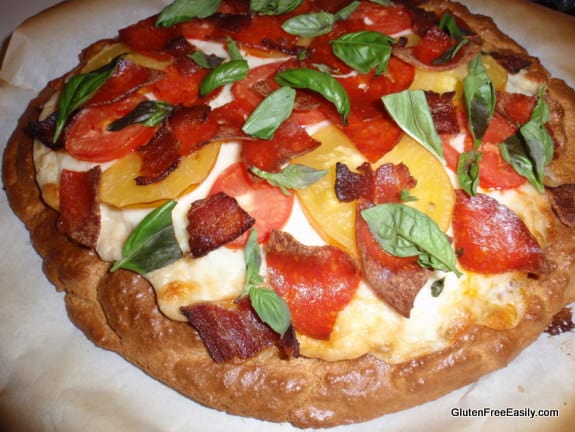 So if you're looking for a blend that will make seasoning savory dishes much easier and will offer truly delicious results, check out Seasonello Bologna Aromatic Herbal Salt!
Note:  This product is gluten free by ingredients and is shown in the "gluten free" category when sold online by different purveyors, but there is no additional info on the maker's—Modena Fine Foods—website. I feel comfortable using this product and have had no adverse results to date. But please use your own judgment before using this product and always check ingredient labels and know your own body and its reactions, because product formulations can change and likelihood of cross contamination with other gluten-full products can also change.
Originally published August 26, 2014; updated September 5, 2018.