This post may contain affiliate links. If you purchase through them, your cost will stay the same, but gfe will receive a few cents for every dollar spent. Thanks for supporting gfe!
Yesterday was National Black Forest Cake Day so I decided to share gluten-free Black Forest Cake recipes from our contributors. If you're not familiar with Black Forest Cake, here's one dictionary definition below. It's a definition that encompasses the original version and what Black Forest cake has become today.
Noun, German Cookery,  rich chocolate cake, sometimes Kirsch flavored, with a cream filling, containing and often decorated with candied or sour cherries.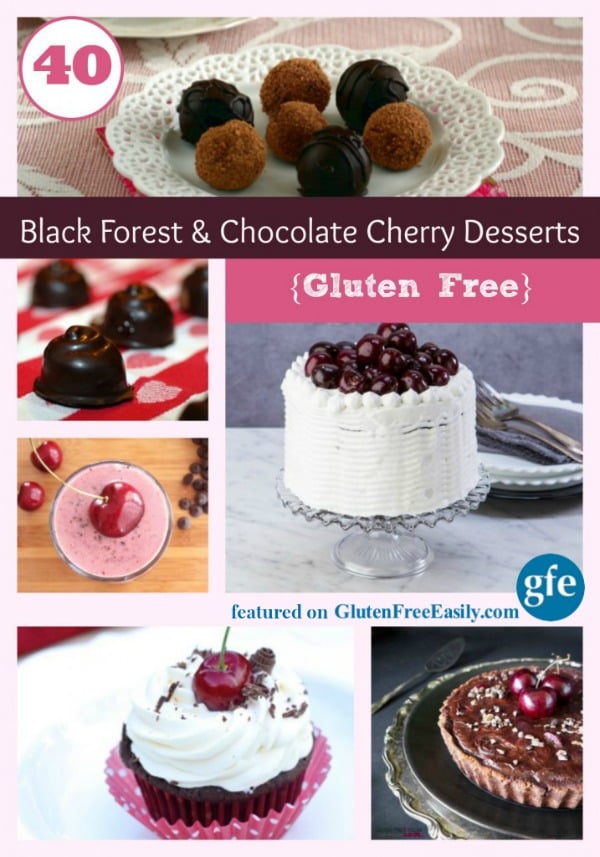 I went beyond the dictionary entry and decided to check out several classic Black Forest Cake recipes and read a bit more about this much loved cake.
I came across one recipe that was created by a native of Germany.  The recipe creator said that the original Black Forest cake is not meant to be very sweet, but instead is a dessert with deep rich flavors.
She noted that this dessert, with its alcoholic factor from Kirsch,  is intended for adults. She was appalled at the use of cherry pie filling and how sweet many versions of Black Forest Cake are. How interesting.
However, I think I'm one who likes all kinds of Black Forest recipes as well as recipes that simply feature that always terrific chocolate-cherry combination, even when cherry pie filling is involved. I hope you are, too, because here are 40 gluten-free Black Forest cake and chocolate cherry dessert recipes for you!
Gluten-Free Black Forest Cake Recipes
~ Black Forest Cake (or Cupcakes) from Unconventional Baker ~ gluten free, dairy free, egg free, vegan
Black Forest Cupcakes with Whipped Cream Frosting from Against All Grain ~ gluten free, grain free, dairy free, paleo, primal
Black Forest Hearts from The Gluten and Dairy-Free Bakehouse ~ gluten free, dairy free, vegetarian
Non-Cake Ways to Get Your Gluten-Free Black Forest Fix
Black Forest Cheesecake Brownies from Faithfully Gluten Free ~ gluten free, vegetarian
Black Forest Cookie Dough Truffles from Ricki Heller ~ gluten free, dairy free, egg free, vegan
Black Forest Blender Ice Cream from Chocolate-Covered Katie ~ gluten free (be sure to choose special dark cocoa option, which is the gluten-free option) , dairy free, egg free, sugar free, vegan
Black Forest Pancakes from The Big Man's World ~ gluten free, vegetarian, with dairy-free, vegan option
Black Forest Smoothie from Laura's Gluten-Free Pantry ~ gluten free, egg free, with dairy-free, refined sugar-free, vegan options
Chocolate Cherry Coconut Cookies from The Gluten- and Dairy-Free Bakehouse ~ gluten free, grain free, dairy free, egg free, vegetarian, vegan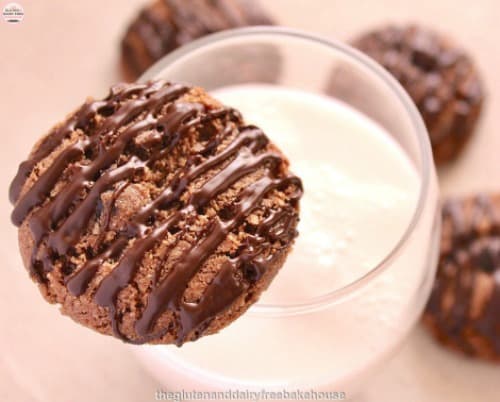 Chocolate Cherry Cupcakes with Cherry Mash Surprise with Chocolate Ganache and Kirsch Cherries from In Johnna's Kitchen ~ gluten free, vegetarian
More Gluten-Free Chocolate Cherry Dessert Love
Cashew Cherry Chocolate Energy Snack Bars from Celiac Family ~ gluten free, egg free, with dairy-free, vegan options
Cheerful Cherry Chocolate Chip Shake from Go Dairy Free ~ gluten free, dairy free, egg free, vegan, with refined sugar-free, and nut-free options
Cherry Chocolate Black Bean Brownie Bites from Gluten-Free Homemaker ~ gluten free, dairy free, refined sugar free, vegetarian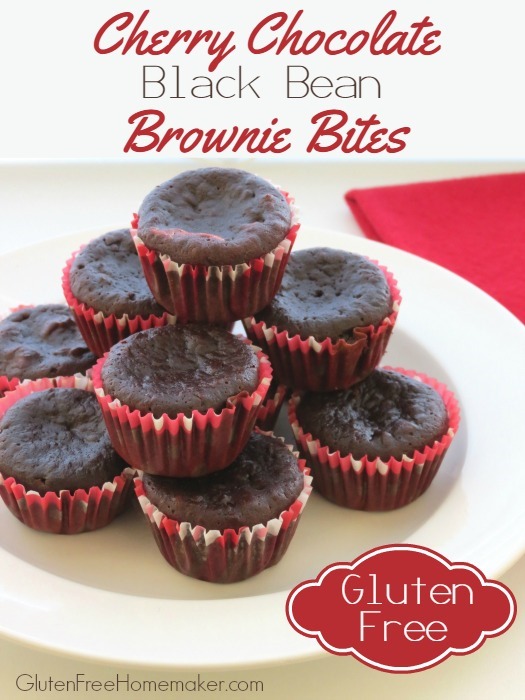 Cherry Chocolate Cake from Gluten-Free Homemaker ~ gluten free, dairy free, vegetarian
Cherry Chocolate Cupcakes from Gluten-Free Homemaker ~ gluten free, dairy free, vegetarian
Cherry Chocolate No-Bake Donut Holes from In Johnna's Kitchen ~ gluten free, grain free, dairy free, egg free, vegan, paleo
Chocolate Cherry Ripe Bliss Balls from The Gluten- and Dairy-Free Bakehouse ~ gluten free, grain free, dairy free, egg free, vegetarian, vegan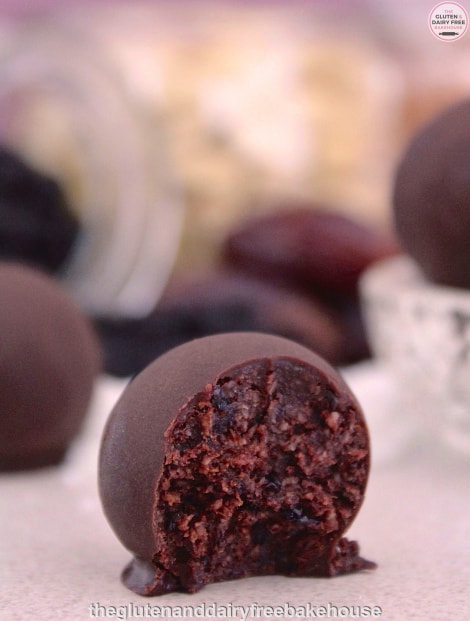 Chewy Chocolate Cherry Cookies from Tasty Eats at Home ~ gluten free, grain free, dairy free, egg free, refined sugar free, vegan, paleo
Chocolate Black Cherry Tart from Unconventional Baker ~ gluten free, grain free, dairy free, egg free, refined sugar free, vegan, paleo, primal
Chocolate Cherry Cashew Granola Bars (Homemade Kind Bars) from Love & Zest via Go Dairy Free ~ gluten free, dairy free, egg free, vegan
Chocolate Cherry Chia Power Treats from Daily Bites ~ gluten free, dairy free, egg free, refined sugar free, vegan, paleo, primal
Chocolate Cherry Cheesecake Bites from The Gluten- and Dairy-Free Bakehouse ~ gluten free, grain free, dairy free, vegan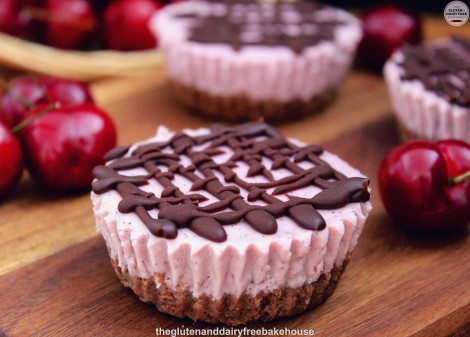 Chocolate Cherry Milkshake from Gluten Free Easily ~ gluten free, grain free, dairy free, egg free, sugar free, vegan, raw, paleo, primal
Chocolate Cherry Pie from Civilized Caveman Cooking Creations ~ gluten free, grain free, dairy free, egg free, refined sugar free, paleo, primal
Chocolate Chip Cherry Garcia Frozen Yogurt from Chocolate-Covered Katie ~ gluten free, egg free, with dairy free, refined sugar-free, vegan options
Chocolate-Covered Cherries from Chocolate-Covered Katie ~ gluten free, grain free, dairy free, egg free, vegan, with refined sugar-free, paleo options
Chocolate-Covered Cherries from Elana's Pantry ~ gluten free, grain free, dairy free, egg free, with vegan, refined sugar-free, paleo options
Chocolate-Covered Cherries from A Girl Worth Saving ~ gluten free, grain free, dairy free, egg free, vegetarian, paleo, primal
Chocolate-Covered Cherries from Tasty Eats At Home ~ gluten free, egg free, vegetarian, with dairy-free, vegan options
Chocolate-Covered Cherry Cookies from Paleo Parents ~ gluten free, grain free, dairy free, egg free, vegetarian, paleo, primal, with vegan option
Dark Chocolate Cherry Cookie Dough Bites from Sarah Bakes Gluten-Free ~ gluten free, dairy free, egg free, refined sugar free, vegan
Dark Chocolate Cherry Galette from Spabettie ~ gluten free, dairy free, egg free, vegan
Dark Chocolate Cherry Granola Bars from Lynn's Kitchen Adventures ~ gluten free (be sure to follow all gluten-free options, including using gluten-free granola), egg free, vegetarian
Double Chocolate Cherry Cookies from Elana's Pantry ~ gluten free, grain free, dairy free, egg free, vegan
Double Chocolate Cherry Ice Cream from Spabettie ~ gluten free, dairy free, egg free, vegan
Paleo Chocolate Cherry Muffins from Against All Grain ~ gluten free, grain free, dairy free, refined sugar free, vegetarian, paleo, primal
Paleo Dark Chocolate Cherry Chunk Espresso Brownies from Life As a Plate ~ gluten free, grain free, dairy free, vegetarian, paleo, primal
Raw Chocolate Cherry Pie from Gluten-Free Cat ~ gluten free, grain free, dairy free, egg free, vegan, paleo, primal, raw
Three-Ingredient Chocolate Cherry Dump Cake from A Year of Slow Cooking ~ gluten free, egg free, vegetarian
Triple Chocolate Cherry Pie from The Mommy Bowl ~ gluten free, grain free, dairy free, egg free, vegan