For affiliate links and as an Amazon Associate I earn from qualifying purchases.
Full disclosure: This is an uncompensated review and the opinions expressed within are strictly my own. The products shared in this review and giveaway were provided free of charge from Gia Brands.
UPDATE: This giveaway is now closed. Congratulations to susitravl (Mad for Mexican Food)! Please stay tuned. Note that you can subscribe via email or reader/RSS feed to keep up with gfe.
Several weeks back, I received the following in a news release from the public relations company for Gia Brands regarding the debut of several new gluten-free barbeque sauces and salsas from Food Network TV chef Guy Fieri: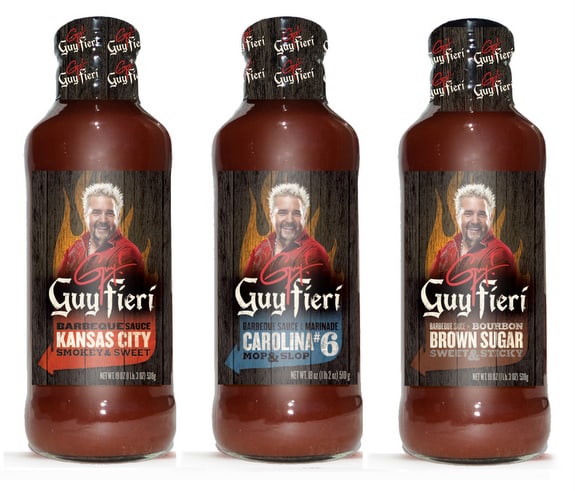 Photo courtesy of Gia Brands
CELEBRITY CHEF GUY FIERI LAUNCHES NEW LINE OF GLUTEN-FREE BARBEQUE SAUCES & SALSAS 

Chef Guy Fieri, star of Food Network shows "Diners, Drive-ins and Dives" and "Guy's Big Bite" has introduced his first-ever line of three gluten-free barbeque sauces – along with a line of new gluten-free salsas. From Bourbon Brown Sugar Barbeque Sauce to 7 Pepper Salsa, the chef, restaurateur and bestselling author is bringing his rockin' flavors to thousands of supermarkets across America, as well as serving them up in his restaurants Johnny Garlic's California Pasta Grill and Tex Wasabi's Rock-n-Roll Sushi BBQ. 

The three gluten-free Guy Fieri barbeque sauces contain no fat, cholesterol or high fructose corn syrup. "I've eaten barbeque all over the country, so when I developed these sauces, I drew inspiration from coast to coast," says Fieri, the barbeque enthusiast and author of the new book, New York Times best-seller Guy Fieri Food. "These sauces add big, off da hook flavor, whether you're craving a smoky, sweet, or tangy twist."
(Note that Guy Fieri and Gia like the terms "barbeque" and "BBQ," while my preference is "barbecue" so you'll see those spellings and abbreviations intermingled throughout this review.)
I loved hearing there was no high fructose corn syrup in the barbecue sauces, but I was still skeptical about other possible ingredients. It had nothing to do with Gia or Guy … that's just the way I usually am when being contacted about products. It's my job to make sure that any products that I am going to review fit the gfe approach, not just for me, but for you. It's not just gluten and HFCS that I want to steer clear of … there's MSG and several more ingredients. 
So that was my first question to the folks at Gia, "hey, what are the specific ingredients in these products?" The representative immediately sent me comprehensive fact sheets describing the sauces and salsas and providing all the specifications.  A quick scan of the label of the barbecue sauces revealed real ingredients like water (yes, that's actually the first ingredient of the Carolina #6 Mop & Slop Sauce), tomato puree, cider vinegar, sugar, molasses, chili pepper, onion powder, and pineapple juice. Yippee! Love real food ingredients with nothing hidden under "natural flavors" umbrellas! 
Three of Guy Fieri's barbecue sauces are gluten free. Specifically, that's the Carolina #6 Mop & Slop Sauce that I just mentioned, Kansas City BBQ Sauce, and Bourbon Brown Sugar BBQ Sauce. The fourth, Pacific Rim Wok & Sauce, is not gluten free because it contains soy sauce that contains gluten. Boo hiss! Gia and companies everywhere, hear us now, if your product is gluten free except for the inclusion of soy sauce, please use gluten-free soy sauce and make the product gluten free! (Note: I'm not a fan of soy, but I do eat small amounts occasionally.) You'd be making your gluten-free consumers happy, and you should know that we're a very loyal bunch of consumers. FYI to all: The Carolina #6 Mop & Slop sauce also contains soy, but the sauce is still gluten free. 
Here are the descriptions of the products with the gfe input right below. 
• Bourbon Brown Sugar Barbeque Sauce: Sweet & Sticky – Guy's sweet, sticky Bourbon Brown Sugar BBQ Sauce rocks on just about anything. Smoky bourbon, sweet brown sugar and a hint of spicy black pepper create off-the-hook flavor that's a perfect complement to everything from beef to chicken, pork and seafood.
Review:  This sauce was the first one I wanted to try. The name alone was pushing all my buttons—the good buttons! I used the bottle on five pounds of chicken wings (made in two batches). With Son and three other hungry young men camping with us, these wings became a much enjoyed appetizer. There were just enough left for a late night snack later for Son.
• Kansas City Barbeque Sauce: Smoky & Sweet – Guy's Kansas City BBQ Sauce is your traditional, go-to sauce that you'll dig on just about everything. Sweet, smoky molasses, a hint of apple cider vinegar and a little black pepper heat will rock everything from beef brisket to chicken wings or anything else you can throw on a grill. 
Review:  This barbecue sauce that also sounded yummy—with sweet, smoky, and peppery used in its description—was used on boneless chicken breasts. Barbecued until there were succulent little bits of caramelized chicken on their tips, the chicken breasts were totally delicious, lasting only a few minutes longer than the wings. 
• Carolina #6 Barbeque Sauce & Marinade: Mop & Slop – Guy's Carolina #6 BBQ Sauce & Marinade is the perfectly tangy and versatile "mop & slop" sauce. Apple cider vinegar, sweet brown sugar and a little bit of cayenne pepper heat is a rockin' combination to be slopped right on pulled pork or used as a marinade or baste for any grilled meat.
Review:  I'm not always crazy about North Carolina style barbecue as the vinegar taste can be a bit strong even for me a vinegar lover (forgive me, NC friends!). This sauce is balanced by a lot of sweetness though. I used this sauce as the fourth step of grilling a venison tenderloin in a foil packet. (Step 1 was marinating the tenderloin in Five Star Meat Marinade. Step 2 was applying a barbecue dry rub. Step 3 was cutting slits into the tenderloin and inserting onion slices and garlic. Step 4 was gingerly "dousing" the tenderloin with this sauce. Oh, and I guess there was a Step 5 … topping with three pieces of bacon. Bacon and venison go together so well.) Results for this application: awesome! When leftovers had lost some of their moisture the next day, I just added a bit more of this sauce before serving—that worked very nicely. 

As a big-time chile pepper fan, Fieri has also created four varieties of salsa in his signature style. All of them are gluten-free: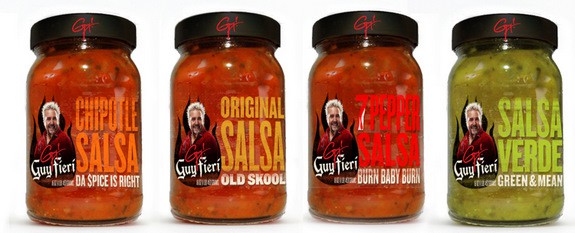 • 7 Pepper Salsa: Burn Baby Burn – Guy's 7 Pepper Salsa is rockin' big pepper flavor from red bell to habanero and finishes it all off with a balance of tomato, lime, garlic and cilantro. • 7 Pepper Salsa: Burn Baby Burn – Guy's 7 Pepper Salsa is rockin' big pepper flavor from red bell to habanero and finishes it all off with a balance of tomato, lime, garlic and cilantro. Hot 
Review:  I'm not a huge fan of super heat when it comes to salsa or anything else. This one had really good flavor though. My tongue would be on fire after eating a tortilla chip dipped in this one, but then I'd go back for more a few minutes later. I guess that's why I ended up drinking so much of the Top Shelf Mixers' Pomegranate Martini mixer with the vodka on July 4th weekend. (I had originally proclaimed this particular mixer more fruit juice flavored than pomegranate specifically, but it tasted awfully good with this hot salsa.) For the record, Son and his friends didn't think this salsa merited the "Burn Baby Burn" distinction. 
• Chipotle Salsa: Da $pice Is Right – Guy's Chipotle Salsa is full of smoky chipotle and the super salsa flavors of tomato, garlic, lime and a touch of jalapeño pepper! Medium 
Review:  This salsa is the one my blogging friends grabbed and opened first after a long hot day of our misadventures. We proclaimed it grand. It had just the right amount of heat and that wonderful depth of flavor that chipotle brings to dishes.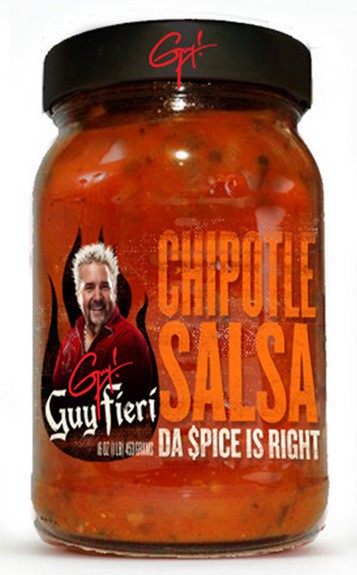 Our favorite

• Original Salsa: Old Skool – Guy's original salsa is his go-to signature salsa, full of big tomato flavor, cilantro and zesty lime with a touch of hot pasilla pepper … it's off da hook! Medium 
Review:  This salsa seemed like your average salsa. It didn't wow any of us, but we still ate half a jar with tortilla chips  in the classic manner. 
• Salsa Verde: Green & Mean – Guy's Salsa Verde is servin' up fire roasted poblano and green peppers and backin' it up with zesty lime and pinch of cumin, this salsa is so "money" it's green! Mild
Review:  This one didn't overly impress me or my blogging friends either. We all agreed that it would be great for making a chicken recipe though. And that's exactly what I did a few weeks later when I made my version of AndreAnna's stuffed peppers. In fact, I used a mixture of this salsa verde and the 7 Pepper Salsa. When combined with chicken and cheese, it made the perfect filling for red bell peppers.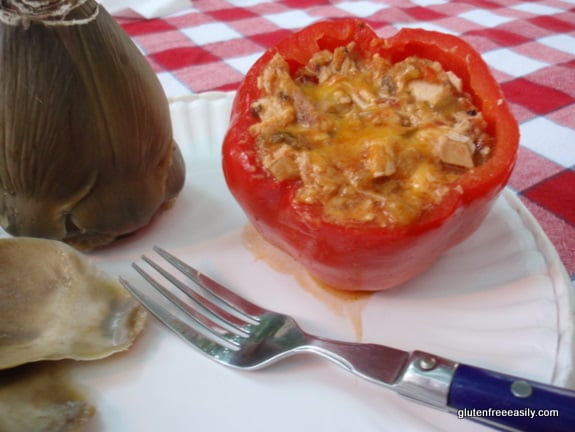 Guy Fieri barbeque sauces are available in 19-ounce bottles for a suggested retail price of $4.29. Fieri's salsas are available in 16-ounce jars for a suggested retail price of $4.79. 
Note: We also liked that the salsa jars had wide enough mouths that we could just dip our tortilla chips right in.
Finally, the really important question … are these sauces and salsas safe for gluten-free individuals to eat, given the fact that gluten-containing products are made on the same lines?
Gia's quality assurance personnel responded via email:
"All ingredients containing gluten are segregated from those that do not.  During the processing of the ingredients, clean totes are used in the manufacture. This is to prevent accidental cross contamination. During batching and filling operations, if the product line had a gluten product before going to a non-gluten product, it would be completely broken down and cleaned prior to moving on.  When this process is complete, the first jar off of the product line will be tested for gluten using the ELISA Technologies EZ Gluten Test. If the product comes up negative on the check, the product is safe for release. If not, it is destroyed. "The test is only accurate to 10 ppm or greater. If the product tests positive for gluten in a concentration >10 ppm, the product is destroyed. At this time, our cleaning methods are fairly sufficient that we have not destroyed any batches of product."
While I still prefer products that are certified gluten free by third-party organizations like the Gluten-Free Certification Organization, I appreciate the testing and methods used by Gia and will enjoy some of these products from time to time.
If you'd like to try these barbecue sauces and salsas, please enter the giveaway to win a package of one of each of these same products. The giveaway ends Saturday, July 30, at midnight Eastern. There are several ways to enter, but a separate comment must be left for each entry. 

~ Tell us which product you would like to try most in a comment here. 

~ Tweet the giveaway with @Shirleygfe in your tweet. Leave a separate comment here saying you did. 

~ Share the giveaway on Facebook, tagging gfe when you do (if possible; I know FB can be flaky). Leave a separate comment here saying you did. 
Grillin' or salsa and chip eatin' … either way you are keeping the heat out of the kitchen—that's critical for some of us right now!