For affiliate links and as an Amazon Associate I earn from qualifying purchases.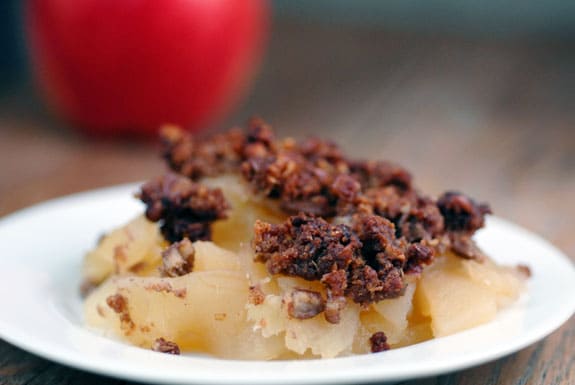 Update:  Oooops, it was only Day 12 … see our the holidays can throw us a bit off balance! Embarrrrrrassing, but funny, nonetheless.  I think I need to revisit Cheryl's (Gluten Free Goodness) December Sanity Challenge! It's the 13th day of our Home for the Holidays … Gluten-Free Style event! I hope you're not superstitious. Well, it's not Friday the 13th, so I still think we're okay. And really, there's nothing the least bit scary about my good friend Elana's (Elana's Pantry) lovely recipe today. Gingerbread Apple Crisp. Home. Holidays. Comfort. Warmth. That's what Elana's recipe says to me and that's by the name alone. Take a look at the ingredients and Elana's photo and you can see that this recipe is simple and satisfying—the very hallmark of Elana's recipes. Although Elana's recipes have evolved a bit over time as far as what ingredients she chooses to use; that very simplicity and ease of making her recipes—plus the fact that all of her recipes are delicious—has not changed. Those of us who follow her blog and use her cookbooks, The Gluten-Free Almond Flour Cookbook and Gluten-Free Cupcakes know this, don't we? This Gingerbread Apple Crisp is gluten free, dairy free, refined sugar free, paleo, primal, and vegetarian (and could easily be made vegan) but is lacking of nothing. The special touch for this one in my opinion is the crunchy topping made by combining almond flour, shortening, honey, vanilla, and pecans. Add this recipe to your holiday menu for sure. Well, hey, why not make it this weekend? We're in the holiday season now, right? But let's move on to Elana's giveaway. Time's a wasting as the saying goes.
Cooking for Isaiah ~ Elana is giving away one copy of Silvana Nardone's Cooking for Isaiah. Written as a collection of all the kid-friendly recipes that she created when her son went gluten free and dairy free, Silvana's cookbook is a very popular one … with all ages. It merits 4 ½ stars on Amazon and many say it's their favorite for family-pleasing recipes! You can see my review and adaptation of Silvana's Carrot Pineapple Muffins here. Elana also reviewed Silvana's cookbook earlier and made a version of her Mousse Cloud Pie.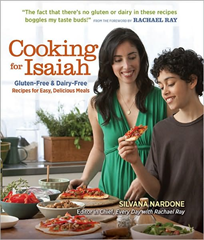 Paleo Comfort Foods ~ I talked a lot (all good!) about Julie and Charles Mayfield's brand new paleo comfort food cooking primer just a few days ago when Paleo Parents had the privilege of giving away the first copy. Since then I had my copy out at my support group meeting and members were loving the simple, beautiful dishes shown in this cookbook. In fact, one member checked out the copy and others vowed to purchase their own so they, too, could make the Basic Bread Loaf and much more. You can see my review here. This cookbook is another one that Elana has reviewed as well. Read her positive thoughts on this book and see the Paleo Spiced Nuts recipe that she was inspired to make. Elana is giving away two copies of Paleo Comfort Foods!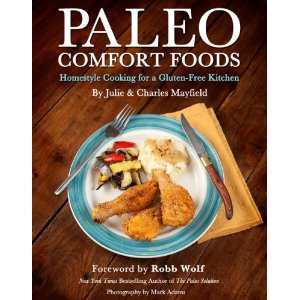 Now head over to Elana's Pantry to enter the giveaway. Important: Comments on this post do not count as entries. Hurry over to Elana's … her giveaway of these two great books ends tonight, December 9th, at midnight. There will be three winners in all. One of them could be you. Enter at Elana's blog here. Oh, and don't forget that every single entry in our holiday event is also an entry for the final prizes from Caveman Cookies, Free From Gluten, and Vitamix! (Note that Elana's Gingerbread Apple Crisp is in a separate post here.)
Tomorrow we have Kelly from The Spunky Coconut sharing her holiday post. Yesterday Brittany of Real Sustenance wowed us with Cinnamon Chocolate Babka Bread. (p.s. Brittany's giveaway is open until tomorrow, Saturday, December 10th, at 10:00 am PST.