For affiliate links and as an Amazon Associate I earn from qualifying purchases.
Well, we've passed into November and the next big holiday in just a few short weeks is Thanksgiving. To help all of us out with this very important holiday, we're sharing our best gluten-free Thanksgiving recipes for Gluten-Free Recipe Fix.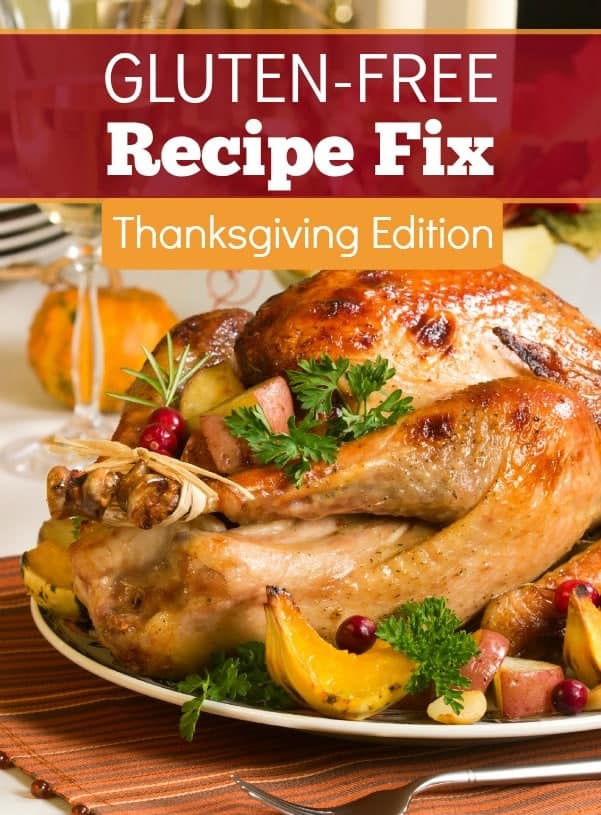 I love Thanksgiving so it's no surprise to me that it's always the biggest travel time of the year. Everyone wants to travel to family or other loved ones and will get there however they can—by plane, train, or automobile. They know that they'll not only enjoy festive time with family, but they'll also get to savor a very special meal together. I love all of it! Family time, delicious and abundant food (sometimes dishes that we enjoy only on Thanksgiving), and the opportunity to focus on one's blessings. Speaking of counting one's blessing, thank you all for being here at gfe. I truly appreciate you!
Despite all the goodness of Thanksgiving, admittedly, it can be a stressful time for those of us who eat strictly gluten free. This can be true whether one is newly gluten free or a gluten-free veteran. Some of us live in our safe gluten-free "bubble," which is largely under our control most of the year, but when the big holidays arrive, we often have to navigate a potential minefield. With that in mind, please read 5 Tips for a Gluten-Free Thanksgiving (or Any Group Event) and my They Just Don't Understand series. The first gives you practical tips for staying safe when eating a shared meal and the latter tells you how to deal with family members and friends who might be less than supportive and uneducated on the requirements of living gluten free.
My Best Gluten-Free Thanksgiving Recipes
This week I'm sharing three of my best gluten-free Thanksgiving recipes—including two gfe reader favorites—that are ideal for your holiday table!
~ Crockpot Special Zesty Turkey Breast ~ This slow cooker recipe has two names because first of all it is zesty—very flavorful—and because of its zestiness and unique ingredients, Son and Mr. GFE have always called it Special Turkey Breast. This recipe has only a few ingredients and, again, people are usually surprised by ingredients (one ingredient in particular) but, trust me, you need to make this turkey breast! Everyone who makes this recipe seriously loves it! One gfe reader, my friend Mary, shared: "Still my favorite way to cook a turkey breast—been doing it this way since you gave me this recipe years and years ago!!! Thanks again, Shirley!"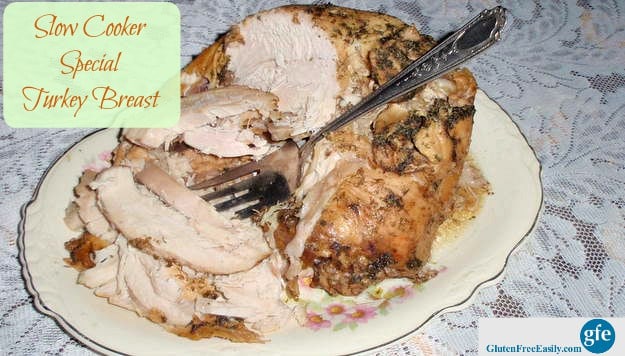 ~ Easy Crustless Pecan Pie ~ This classic pie just got a whole lot easier for you. No crust required and absolutely no one will miss it, I promise you! Reader Cathy shared: "I made this for Thanksgiving and I must say, it was very easy to make and tasted AMAZING! Thanks so much for sharing this, and all your GF recipes. Much appreciated!"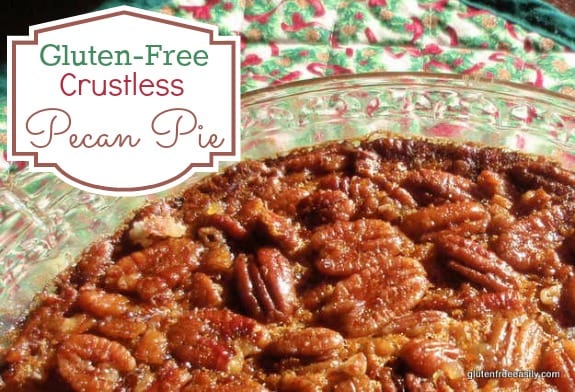 ~ Pumpkin Cheese Souffle ~ This recipe is brand new and perfect for your Thanksgiving meal. It tastes like the offspring of Best Pumpkin Pie Ever and Cheese Souffle!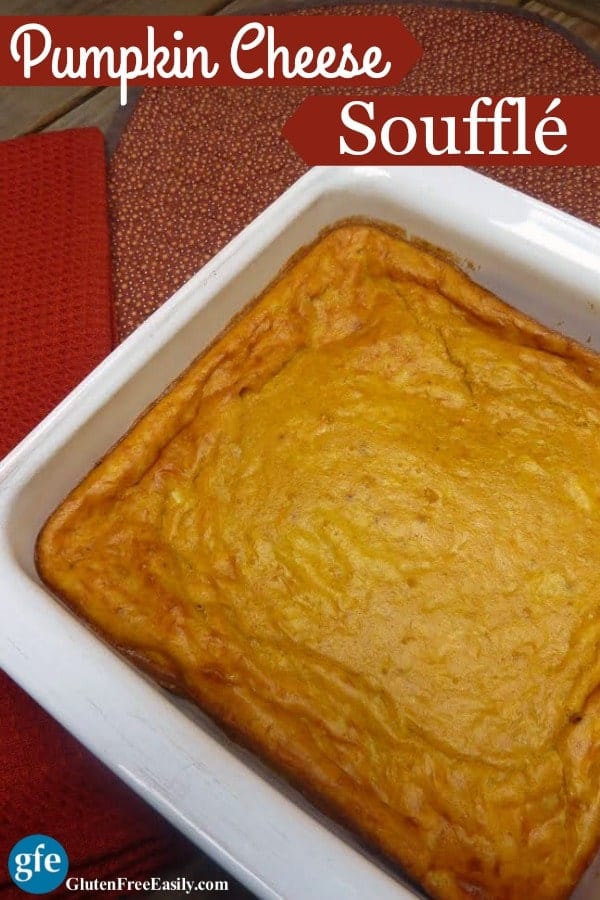 You can see even more Thanksgiving recipes here on gfe at Over 100 Gluten-Free Thanksgiving Recipes and A Gluten-Free, Vegan Thanksgiving.
Gluten-Free Recipe Fix Basics
Founded by Linda of Gluten-Free Homemaker, Gluten-Free Recipe Fix is a seasonal event for fellow bloggers to link up gluten-free recipes (only recipes). This time, I'm co-hosting with Linda and two other blogging friends. You can link up your recipes on any of our blogs and they'll show on all of our sites via the linky.
We'll all want to check back every few days because recipes will be added right through Thanksgiving Day!
Carnival Guidelines
All entries must be a gluten-free recipe.
If it is a recipe with gluten-free options, those options must be listed in the recipe ingredients, not simply elsewhere in the text of the post.
Entries should fit within theme of the carnival (Gluten-Free Thanksgiving Recipes).
Please Read
Linking up indicates you are giving permission for us to share your submitted photo and your link via social media. While all of the links in this carnival should contain gluten-free ingredients, please verify that for yourself. In particular, people have differing opinions on what brands they consider safe. Please keep this guidance in mind as you view the recipes.
Best Gluten-Free Thanksgiving Recipes
Originally published November 2, 2016; updated November 27, 2022.