For affiliate links and as an Amazon Associate I earn from qualifying purchases.
One of my dear friends Therese and I share a love of food—simple food, really good food. Years ago she told me about Jacques Pepin's Cheese Soufflé, sharing that it is one of her family's favorites. She said that Jacques' soufflé alone often graced their dinner table. She waxed poetic about how easy it was to make and also about loving Jacques and reading his cookbooks for enjoyment. When she visited recently, we chatted again about Jacques' wonderful Cheese Soufflé. She shared the recipe with me and almost immediately I decided that I wanted to turn it into a gluten-free Pumpkin Cheese Soufflé.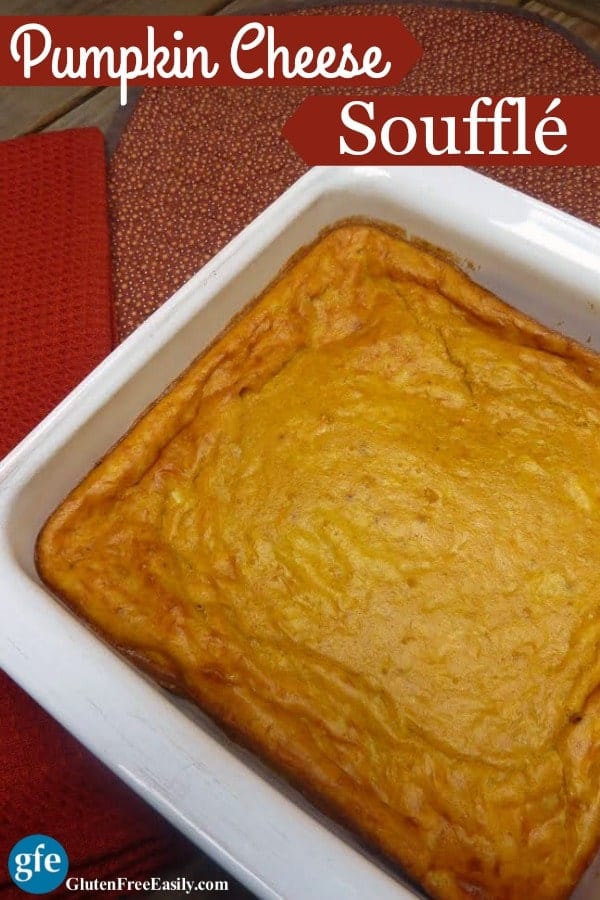 One of the reasons that I thought about making Jacques' recipe is that it does not require that you separate the eggs. If you're a regular reader, you know that I'm not really into separating eggs. I'll do it on occasion for a really good reason (like this or this) but more often than not, I'll pass on a recipe that requires separating eggs.
The fact that Jacques' recipe doesn't require separating the eggs was a bit of an accident. You see Jacques' mother actually created this recipe, which is appropriately called Maman's Cheese Soufflé. She was a newlywed at 17 and had little cooking experience.
The story goes that a friend told her that a cheese soufflé required a white sauce, cheese, and eggs. However, her friend failed to mention that the eggs should be separated with the yolks added to the sauce and the whites whipped and then folded in later for the airy effect of the classic soufflé.
But guess what! Her version worked! It rose high enough and although it wasn't quite as light and airy as the typical cheese soufflé, it was still quite wonderful.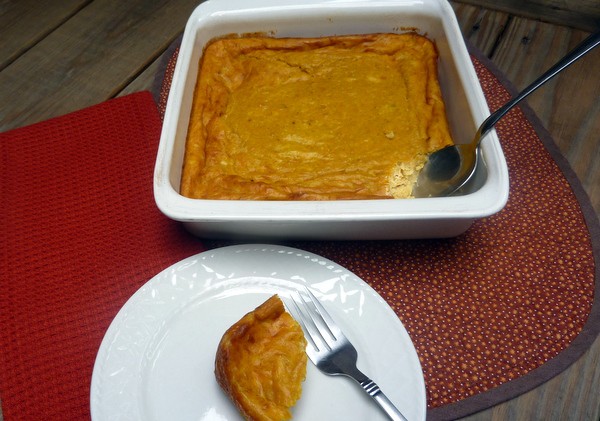 I wanted to turn Maman's recipe into Pumpkin Cheese Soufflé because while I have plenty of sweet pumpkin recipes here on gfe, before this recipe I had only two savory pumpkin recipes. (Velvety Pumpkin Soup and Pumpkin Butter Salsa Chicken.) Now I have three!
Plus, the combination of flavors just sounded really good. I think I was also remembering that Mr. GFE had gotten gluten-full Pumpkin Cheese Ravioli when we were dining out a while back and he was surprised and delighted by the combination of flavors.
I adapted Jacques' recipe by substituting my gluten-free flour mix for the gluten-full all-purpose flour, substituting pumpkin puree for part of the milk, using full-fat coconut milk instead of regular milk, using large eggs versus extra large eggs, using slightly less Swiss cheese so that the pumpkin flavor would come through a bit more and, finally, adding pumpkin pie spice and cayenne pepper while omitting the black pepper and chives.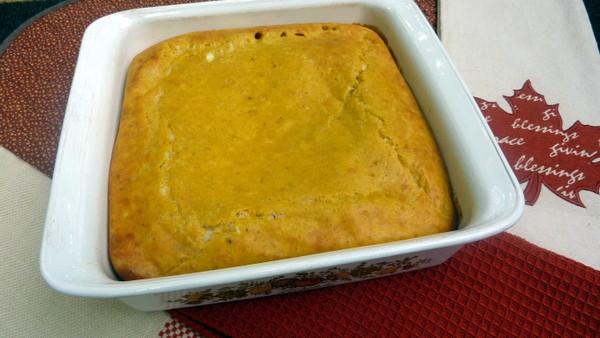 You can see what this Pumpkin Cheese Souffle looks like, but how does it taste? Well, if a Pumpkin Pie and a Cheese Soufflé got married, I think this Pumpkin Cheese Soufflé would be their baby!
It's got the sweetness and a subtle pumpkin pie flavor, but also the cheesy pudding factor. Mr. GFE loved it and said that it tastes like Pumpkin Spoonbread. He's sort of right on that. Spoonbread also includes eggs and milk and has the consistency of a pudding.
We really enjoyed this as a side dish—even after refrigerating and reheating! Jacques said that his maman's version was best served immediately (after cooling a few minutes), but we haven't found a way that we don't like it.
Hot, cold, lukewarm; it's all good! I plan to serve it for Thanksgiving. And now I'm wondering what this soufflé would taste like with some crab meat added. One good recipe always leads to another! Until my next adaptation, please enjoy this lovely fall recipe!
Gluten-Free Pumpkin Cheese Souffle Recipe
Yield: 6 to 9 servings
Gluten-Free Pumpkin Cheese Souffle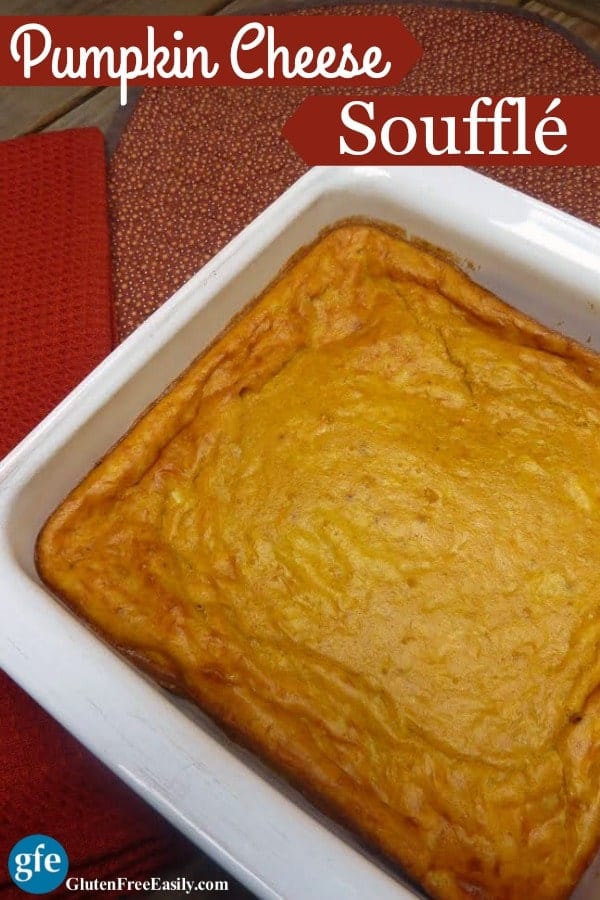 What do you get when a pumpkin pie and a cheese souffle get together and have a baby? This delicious gluten-free Pumpkin Cheese Souffle!

Cook Time 30 minutes

Total Time 30 minutes
Ingredients
6 tbsp butter (dairy or non-dairy)
¾ cup gluten-free flour mix (I used my Two-Ingredient Flour Mix)
1 ½ cups canned full-fat coconut milk, chilled (see notes)
½ cup pumpkin puree
½ tsp sea salt
½ tsp pumpkin pie spice
1/8 tsp cayenne pepper (use more if you would like more "bite")
6 large eggs
2 cups grated Swiss cheese
Instructions
Preheat oven to 400F.
Spray baking dish. (Jacques Pepin actually uses what he calls a gratin pan (also called an au gratin pan), which has low sides versus a classic soufflé dish with high sides because his recipe is not a traditional soufflé and does not rise quite as high. I used a vintage Corningware square casserole dish with low sides as you can see. An 8-inch square baking dish should also work fine.)
In a large saucepan (one large enough to eventually hold all the ingredients), melt butter over medium low heat.
Add gluten-free flour mix and whisk until fully incorporated.
Cook for a several seconds, whisking the whole time.
Add coconut milk all at once and stir in with whisk. Continue cooking and stirring with the whisk until the mixture comes to a boil. You may have to increase heat some to get the mixture to boil. This process will take a few minutes. Note that the mixture will thicken, but not look completely smooth.
Remove from heat. Stir in salt, pumpkin pie spice, and cayenne pepper. Cool for about 10 minutes.
Meanwhile, break the eggs into a large bowl and beat well. Add pumpkin puree and cheese. Mix well.
Add the eggs, cheese, and pumpkin mixture to the cooled sauce, incorporating all ingredients well.
Pour soufflé batter into the greased baking dish.
Bake for 30 to 40 minutes uncovered until the soufflé is puffy and golden brown on top. (You can test with a toothpick if needed.)
Notes
The soufflé will stay puffy for some time, but eventually, it will deflate some. It will still look pretty and be delicious, of course. I've only tried this recipe with full-fat coconut milk, but regular milk or another non-dairy milk should work. The results may not be as rich though.

When using the full-fat coconut milk, chill the milk for an hour or so beforehand. Chilling for too long will solidify the coconut milk, bringing the "cream" to the top. You don't want that for this recipe. If you're pressed for time, you can cool the white sauce in your refrigerator or even your freezer, but be careful. Don't chill the sauce too much. You simply want it cool enough so that the eggs in the recipe won't cook immediately when the egg mixture is added to the white sauce.

Adapted from Jacques Pepin's Maman's Cheese Soufflé recipe.

Originally published November 1, 2016; updated December 2, 2021.