For affiliate links and as an Amazon Associate I earn from qualifying purchases.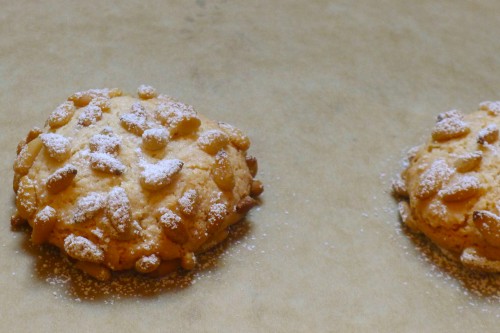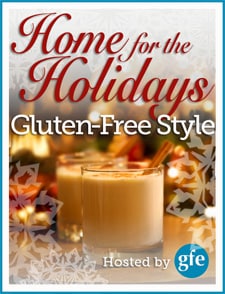 Day 18 of our Home for the Holidays … Gluten-Free Style event has brought us Silvana Nardone (Silvana's Kitchen and Easy Eats magazine) and her Italian Pine Nut Cookies. Also known as Pignoli Cookies, Pine Nut Cookies are well loved by those of Italian heritage and many more it seems. Silvana's Pine Nut Cookies are gluten free and dairy free, and because Silvana had difficulty finding almond paste that was gluten free, she made her own! Of course, she tells you how in her post. She says that making almond paste "was fast, easy and more affordable than the canned or tubed varieties."
I was fortunate to meet Silvana when we were both presenting at the Gluten-Free and Allergen-Free Expo this past May. The night before the Expo, Silvana and I were both guests of Rudi's Gluten-Free Bakery for a very special gluten-free dinner at Wildfire Restaurant in Chicago. I called out to Silvana in the hotel lobby when I recognized her as she walked by. We quickly got acquainted while waiting in the hotel lobby and on our hour-long shuttle ride into the city. Plus, we had a few more opportunities to "visit" with each other in between Expo events.
As you can imagine, there was a lot of talking about food, gluten-free recipes, dealing with children (especially teenaged boys) and the gluten-free diet, and more. Silvana's website is Silvana's Kitchen and her very popular, very successful gluten-free, dairy-free cookbook is Cooking for Isaiah. However, these days she's keeping herself plenty busy with her newly launched Easy Eats, the all-digital food and lifestyle gluten-free magazine. (Update: Easy Eats is no longer in publication.) Have you checked it out yet? It's a gorgeous and amazing magazine, but I can't describe Easy Eats and its mission any better than Silvana and the other folks at Easy Eats do on their home page:
"Easy Eats … challenges the traditional approach of what it means to be gluten free, looking at life through a positive lens.

We want to make your life easier with our conversational, positive voice on all things gluten free. Our bright, lively design captures our energy and the feeling of possibility, happiness and an overall sense of well-being. Our practical and authoritative, yet accessible community-tested recipes and expert advice inspire confidence.

Gluten free or not, reading and interacting with our magazine is like having someone standing by your side in the kitchen—and in life—every step of the way.

All of our personal stories and recipes—and now yours—make Easy Eats come to life. Join us in proving that it's "good to be gluten free!"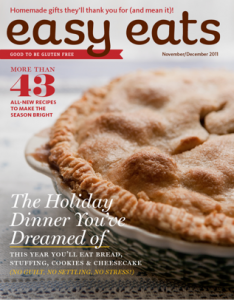 In addition to sharing her recipe for Pine Nut Cookies and Almond Paste, Silvana also is offering a giveaway of three more wonderful cookbooks. Three cookbooks. Three winners.
The Gluten-Free Almond Flour Cookbook ~ Elana (Elana's Pantry) freshman effort still wows her longtime fans, but new readers are discovering this cookbook every day. You can read my earlier review here.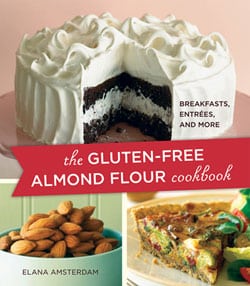 Gluten-Free Makeovers ~ I talked about Beth Hillson's first cookbook effort (after years of being at the forefront of offering gluten-free products and recipes, and also gluten-free advocacy) yesterday.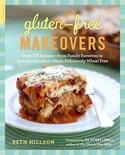 Gluten-Free in Five Minutes ~ This cookbook is for those who use their microwave ovens and want tasty recipes in a flash. You can read my review and get the recipe for author Robin Ryberg's Cornmeal Pizza Crust here.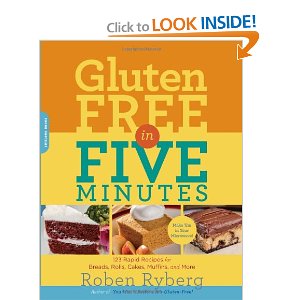 Remember that all entries also qualify you for special giveaways as well as the final giveaways (Caveman Cookie gift packages of $89 vaue; Free From Gluten $150 shopping spree, and a Vitamix—the 5200 Super Healthy Lifestyle package of $550 value). Just today, I awarded thee products from Jules—her cookie mix, her graham cracker/gingerbread mix, and her flour— mentioning them on my Facebook page. You can see the complete blogger line-up here. Jules (Jules Gluten-Free Life) shared her Grandma's Cinnamon Sticky Buns yesterday. Tomorrow we'll have Heather of Gluten-Free Cat sharing her holiday recipe with another giveaway. Check out Silvana's Pine Nut Cookies Italian Pine Nut Cookies.
Originally published December 15, 2011; updated April 18, 2020.