For affiliate links and as an Amazon Associate I earn from qualifying purchases.
I'm delighted to share these gluten-free Orange Honey Chocolate Chip Muffins with you today. Admittedly, I am not always crazy about orange-flavored foods unless there's another complementary flavor. Like rosemary in the Orange Rosemary Pecans from Hail Merry. (Update: It seems that Hail Merry no longer makes this product.) Or like cranberry. As in Orange Cranberry Muffins or Orange Cranberry Granola. Or like chocolate.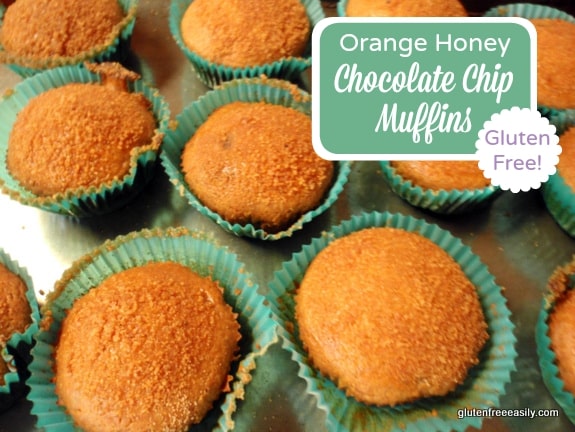 Orange and chocolate definitely go together very well. I have enjoyed orange and chocolate together in candies for years and especially love truffles made with Grand Marnier. But my favorite orange chocolate combo is Double Chocolate Clementine Cake, another flourless creation here on gfe. Until now. The Double Chocolate Clementine Cake is a star without a doubt, but it's not the kind of treat you'd want to make often. It's a bit intense. It's a good kind of intensity, but still ideal only for an occasional indulgence.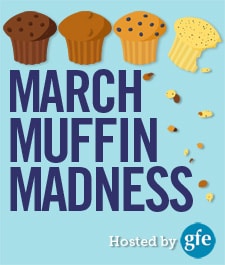 Today's entry for March Muffin Madness, these gluten-free Orange Honey Chocolate Chip Muffins, are another matter though. These muffins are light in texture and even in their orange flavor, which is nicely punctuated by the addition of chocolate chips. These would make for a lovely treat just about any time.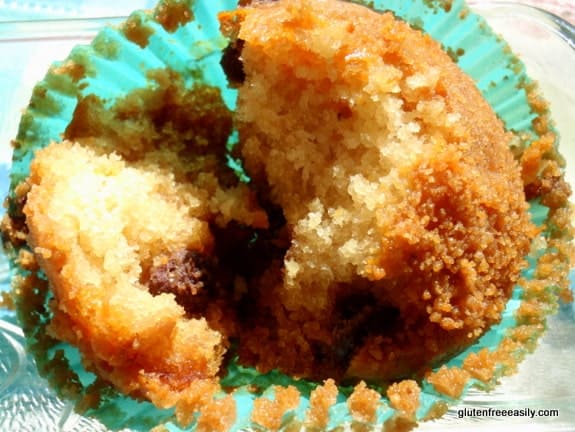 You can scroll down for more photos and the recipe, but let's talk about the giveaway that goes with Part 1 of the March Muffin Madness final. UPDATE: This giveaway is now closed. Congratulations to Shelly! Shelly's comment was: "I am sneaking in just under the wire! These muffins look amazing!"
I'll be back with Part 2 of the March Muffin Madness final later, but here's your recipe.
Gluten-Free Orange Honey Chocolate Chip Muffins Recipe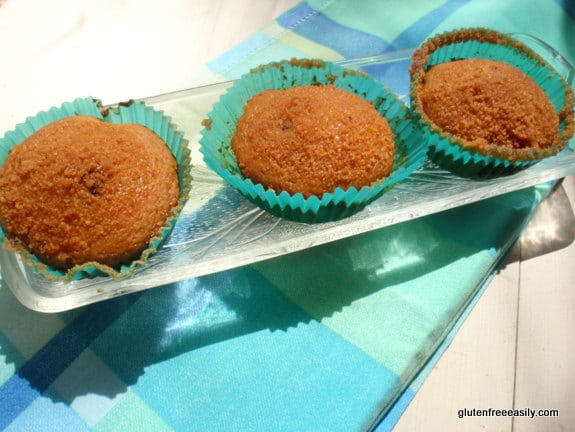 Yield: 12 muffins
Orange Honey Chocolate Chip Muffins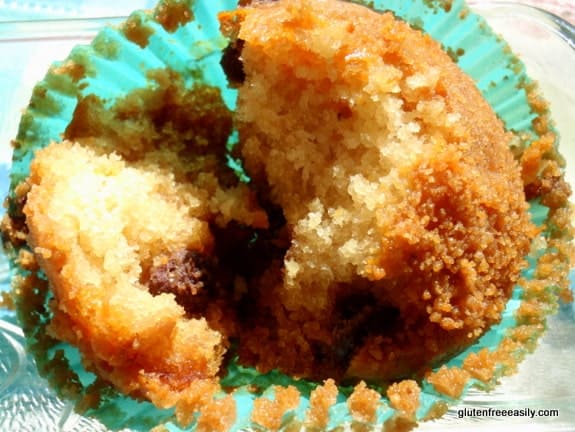 These delightful orange chocolate chip muffins are gluten free, dairy free, refined sugar free, and easily made vegan, if you wish. They're lovely and light with their orange flavor punctuated by chocolate chips.
Ingredients
Muffin Ingredients
Muffin Topping Ingredients
Instructions
Preheat oven to 375 degrees Fahrenheit. Grease muffin cups or line with cupcake liners.
In a large bowl, combine flour, baking powder, and baking soda. Stir in remaining ingredients, whisking if needed to break up any clumps of flour.
Fill muffin cups about 2/3 full. (Recipe makes 12 muffins.)
Bake at 375F until golden orange, about 15 to 20 minutes. Check doneness with a toothpick.
Let muffins cool about 5 minutes, just long enough to be able to handle them safely. Dip tops of hot muffins in coconut oil, then into coconut sugar. Serve warm or at room temperature.
Notes
For a more intense orange flavor, be sure to add the orange zest. You may also substitute part of the orange juice amount with orange juice concentrate as another way to create a more intense orange flavor if you'd like. I'd recommend one to two teaspoons of orange juice concentrate as part of the ½ cup measurement. (Add concentrate to measuring cup first and then fill with orange juice to ½ cup line.)
Inspired by Rodale's Orange-Honey Muffins recipe
You can see the complete muffin roundup here! If you're looking for additional gluten-free recipes that make the very best of orange flavor, check out the following!
~ Gluten-Free Copycat Panda Express Orange Chicken
~ Easy Chocolate Chip Orange Pecan Muffins
~ Grain-Free Double Chocolate Clementine Cake
Originally published April 2, 2012; updated January 9, 2021.