For affiliate links and as an Amazon Associate I earn from qualifying purchases.
Merry Christmas Eve Eve! I love saying that each year and today I'm saying it with this vegan Egg Nog Smoothie! And I love egg nog. Unfortunately, egg nog has not loved me back in quite a while. I can tolerate eggs in small amounts when baked but I can tolerate very little of them when they're not baked (and, truth be told, I can't tolerate a lot them even when they are baked). Hence, today's egg-free, vegan Egg Nog Smoothie.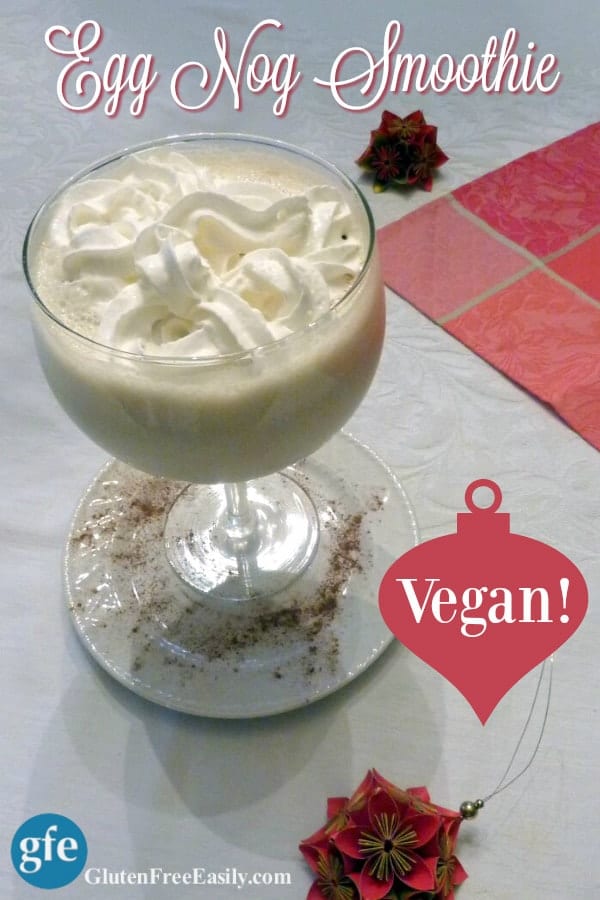 Maybe some of you have similar egg issues. This Vegan Egg Nog Smoothie will work for most of us—those with egg issues, those who are dairy free, those who are vegan, and those who consume regular egg nog just fine. In fact, you can use regular egg nog in this smoothie if you tolerate and enjoy eggs.
I added some additional ingredients to the egg nog to create a smoothie that has some thickness. This smoothie is creamy and delicious, but it's still not too heavy.
Heavy smoothies are often too much in my opinion. You finish one and then you don't want to move. Know what I mean? None of us need smoothie-induced lethargy during the busy holiday season!
You will see that I used "thickened full-fat coconut milk" in this recipe. If you're a reader who is dairy free, you probably know that you can place a can of full-fat coconut milk in the refrigerator and come back 24 to 48 hours later to scoop off the solid coconut "cream" at the top of the can to make your own dairy-free whipped cream.
Full-fat canned coconut milk is pretty magical stuff in my opinion. It can be used in the place of dairy-full whipping cream and when thickened it can also be the basis of amazing sauces in savory recipes (like this one). Because the coconut milk automatically thickens when refrigerated, I simply pulled out some leftover coconut milk which had already thickened in the refrigerator to add to this smoothie.
If you don't have any leftover coconut milk ready to go, you can leave an opened can of coconut milk in your refrigerator for a few hours until it thickens—or stick the open can in your freezer for a short while. Semi-frozen thickened coconut milk would be even better in this Vegan Egg Nog Smoothie!
There's also a new "wait-free" option for coconut cream—well, it's new to me—which I just learned about from Ali of Nourishing Meals. Native Forest, my favorite brand of coconut milk, also makes coconut cream by itself. Native Forest Organic Coconut Cream.
No prep time or waiting at all with that Native Forest product. It's ready to go when you open the can. That means instant coconut whipped cream is just a minute or two away! Who doesn't love that?
By the way, Native Forest also offers Coconut Milk Powder, which is a great substitute for dry milk powder and obviously an easy way to make your own coconut milk on demand. I picked up some the other day at my local organic market.
Whether you're observing Christmas, Hanukkah, Kwanzaa, and/or another celebration during this season, I hope you will have a very special time with your friends and family! I especially hope there will be plenty of delicious and safe gluten-free food for you to enjoy. (Please remember these tips when sharing meals with others.)
Share this Vegan Egg Nog Smoothie with your family members and guests or take a moment to enjoy a glass by yourself before things get busy and hectic.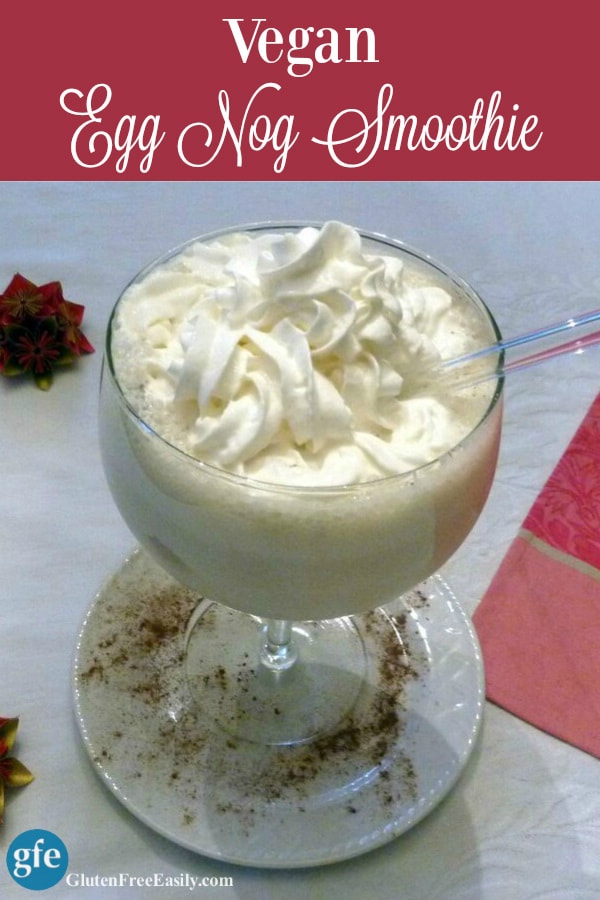 Yield: 4 servings
Vegan Egg Nog Smoothie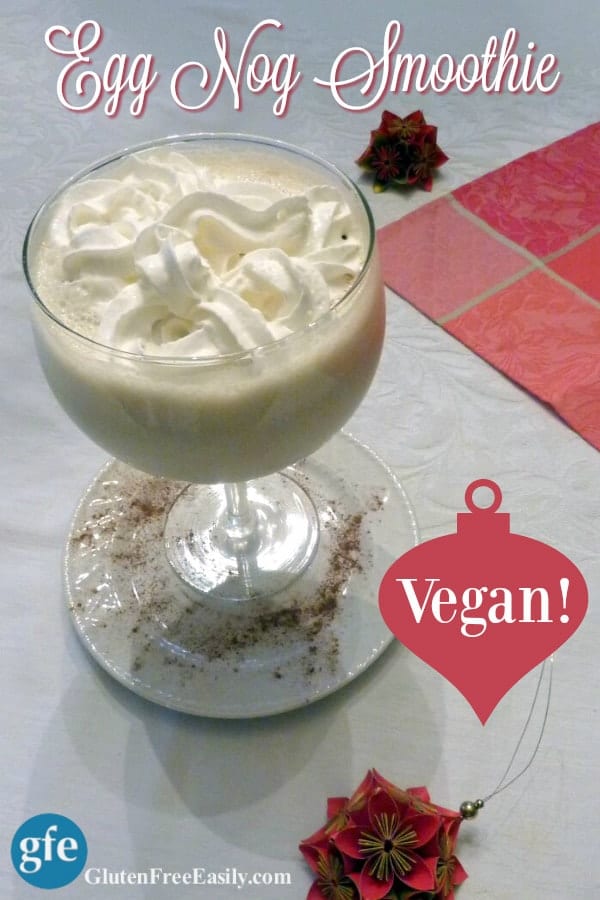 This vegan Egg Nog Smoothie, which is also naturally gluten free, is the perfect sweet solution for those who don't consume eggs and those who don't want the heaviness of the typical egg nog. 

Prep Time 5 minutes

Total Time 5 minutes
Instructions
Instructions
Add all ingredients to blender. Blend well.
Sprinkle with cinnamon or nutmeg and top with vegan whipped cream.
Notes
Notes
To create your slightly thickened coconut milk, leave an opened can of coconut milk in your refrigerator for a few hours until it thickens some---or you can place the open can in your freezer for a short while.
Originally published December 23, 2016; updated November 28, 2021.