For affiliate links and as an Amazon Associate I earn from qualifying purchases.
Chocolate Tamales for the holidays! Holiday food traditions can be so interesting and so delicious!
Many of us have pretty set menus for the holidays we celebrate. I know that my family does for Thanksgiving and Christmas, and even New Year's Eve and New Year's Day. They might be traditional menus based on our own heritage or perhaps in some cases menus that are based on pop culture or just our very favorite dishes.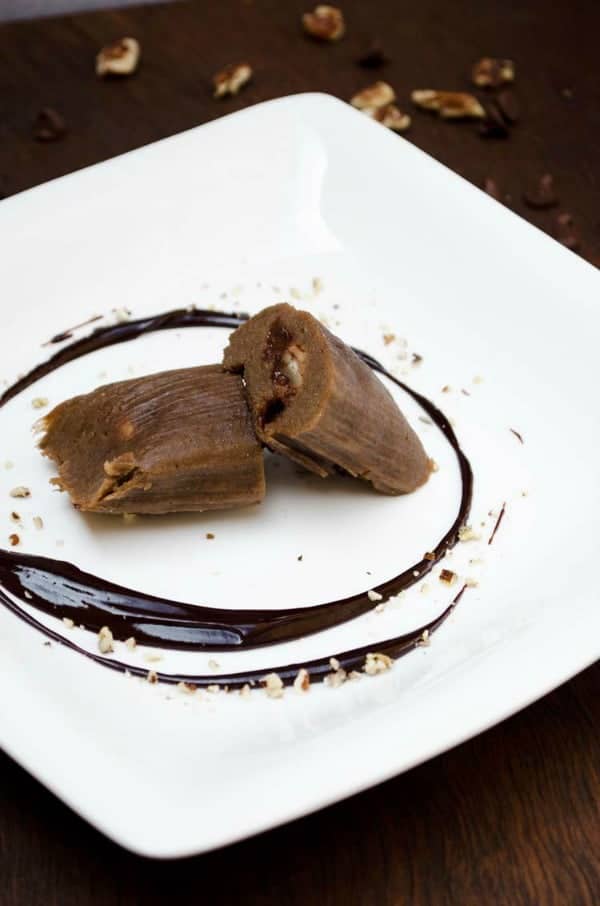 Our Thanksgiving menu here at gfe was pretty traditional—turkey, ham, crab casserole, deviled eggs, and pies (several pies!). Our Christmas menu is always focused on appetizers—crab ball, spicy meatballs, chicken wings, and the like.
Other families' holiday menus might include cheese fondue, Chinese food (from the classic Christmas movie), Italian dishes, and tamales. The latter might be a feast of classic tamales with savory fillings or tamales with sweet fillings such as today's Chocolate Tamales. Or maybe tamales with both types of fillings!
Routine during the holidays can be wonderful as so many of us look forward to dishes that we only enjoy during the holiday season, but adding in a new recipe or two can also be fun. If you don't want to introduce a new recipe on the official holidays or celebrations where you have always enjoyed tried and true recipes, consider making a new recipe at another time during the holidays. Make a new celebration out of your "testing"!
Today's recipe for Chocolate Tamales certainly inspires celebration. It comes from the new cookbook Vegan Tamales Unwrapped: A Step-by-Step Guide to Savory and Sweet Tamales by Dora Stone.
Dora is a Mexican chef and graduate of the Culinary Institute of America. She shares more of her wonderful plant-based recipes on her site, Dora's Table. All the recipes in Dora's cookbook are vegan as stated in the title and all of the recipes are gluten free as well.
Dora's cookbook truly is a step-to-step guide on making tamales. There are over 50 color photos to show you the process and the results. Making tamales is practically second nature to folks who grew up eating them.
They can take a little longer for a novice, but although making tamales is definitely a process, there's nothing difficult about the process and the results are simply delicious. Especially when one is making Chocolate Tamales!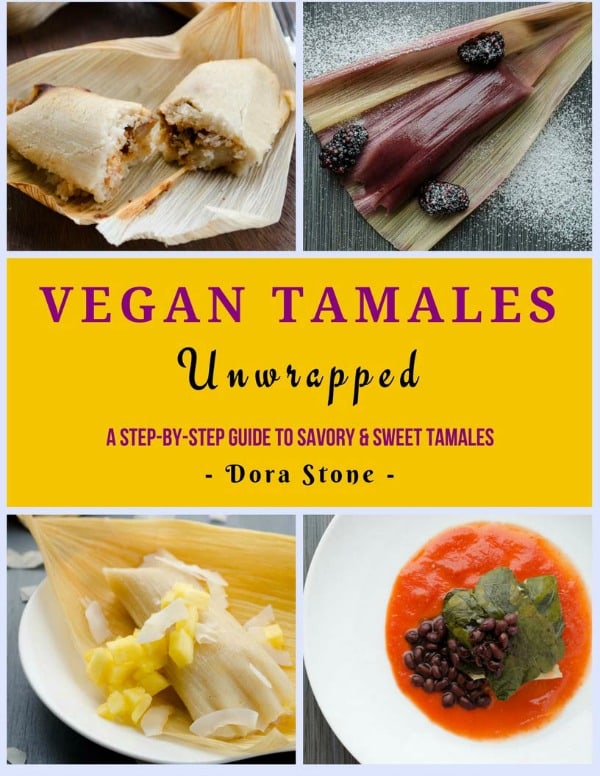 If you're up for a menu of new recipes sometime during this holiday season, I recommend making another one of the recipes from this cookbook Potato Adobo Tamales as your main course and today's Chocolate Tamales recipe as your dessert.
Perhaps enjoy some Sangria with your meal as well. That combo sounds like a perfectly festive meal to me! Check out Vegan Tamales Unwrapped: A Step-by-Step Guide to Savory and Sweet Tamales where you'll find many more options for your sampling of tamales.
Yield:
Chocolate Tamales (Gluten Free and Vegan)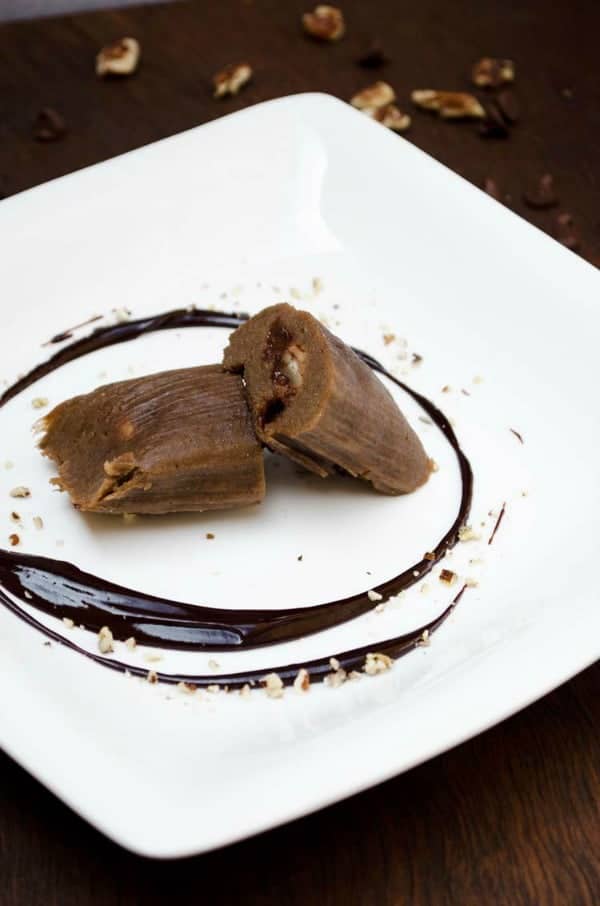 One of the many delicious tamales from Dora Stone's cookbook Vegan Tamales Unwrapped: A Step-by-Step Guide to Savory and Sweet Tamales. These can be eaten year round but they really take Christmas up a notch!

Prep Time 1 hour 10 minutes

Cook Time 50 minutes

Inactive Time 1 hour 10 minutes

Total Time 50 minutes
Ingredients
1 cup (8 oz.) vegan butter, room temperature
⅓ cup sugar, granulated
4 cups (1 lb. 2oz) masa harina
1 1/2 tsp. baking powder
1 tsp. salt
1 1/2 cups (9 oz) Mexican chocolate, ground
½ tsp ground cinnamon
2 cups almond milk, unsweetened, warm
2 cups water, warm
½ cup pecans, chopped
2 cups bittersweet chocolate chips
Instructions
Soak the corn husks in hot water, in a large pot or in your kitchen sink. Place a plate over them to weigh them down so they are completely submerged. Let them soak for at least an hour.
Chop the Mexican chocolate into small pieces and grind to a powder in the food processor. If you don't have a food processor, you can grate the chocolate with a standard kitchen grater.
Beat the butter and sugar, on medium-high speed, with an electric mixer, until the butter has doubled in size and is nice and fluffy, about 3 minutes. Add the Mexican chocolate, cinnamon, baking powder, salt, and beat for 1 minute to incorporate into the butter.
Add half of the masa harina then add the almond milk. After it is completely incorporated, add the other half of masa harina and water. Beat at low speed, until thoroughly mixed. It should have the consistency of a thick cake batter. If necessary add more water until you reach that consistency.
For lighter and fluffier tamales, let the dough rest for an hour in the refrigerator. Remove the dough from the fridge and rebeat it, adding enough liquid to get it to the consistency it had before.
Remove the corn husks from the water and set on paper towels.
To set up your steamer, fill the bottom with water making sure the water is not touching the steamer rack. Line the rack and sides of the steamer pot with corn husks. Set aside.
Pull 24 pencil-thin strips off of the corn husks and set aside. Take a husk and dry off the excess water on it with a paper towel. Place the husk in your hand with the tapered side away from you and the smooth side up. Using a spoon, spread 2-3 tbsp. of the dough (¼ inch thick) onto the corn husk, forming a 3 - 4 inch square. Leave a border of at least ¾ inch on each side of the square.
Place 5-10 chocolate chips, and a sprinkle of chopped pecans in the center of the dough. Bring the two long sides of the corn husk together, this will cause the masa to surround the filling, and roll them in the same direction around the tamal. (If the husk is too small, fold one of the long sides towards the center, and then fold the other long side on top.) Fold down the empty tapered section of the corn husk, forming a closed bottom. This will leave the top of the tamal open. Tie with a corn husk strip to secure the bottom of the tamal.
Place the tamal in the steamer vertically leaning against the side of the steamer, with the folded part of the tamal on the bottom. Repeat this process until you run out of dough and all the tamales are in the steamer. Cover them with a layer of corn husks. If the steamer is not full, fill the empty spaces with more corn husks. Cover the pot and bring the water to a boil. Turn heat down to medium and cook for 40 minutes. Check the tamales, when they separate easily from the corn husk it means they are done. If they are not done, steam for 10 more minutes and check again.
Remove steamer from the heat and let sit covered for 10 minutes. Uncover and let cool. Don't be alarmed if the tamales seem really soft. As they cool, they will firm up.
Notes
If you would like to make these with fresh masa, replace the masa harina with 2 lbs. of fresh masa.

You can also use 8 oz. of coconut oil or 8 oz of cooked, unsweetened pumpkin to replace the fat.

Originally published December 4, 2016; updated November 28, 2021.