For affiliate links and as an Amazon Associate I earn from qualifying purchases.
First, I have some important questions for you:
~ Do you have to buy safe gluten-free products for yourself or a gluten-free loved one?

~ Do you find it difficult to always know what is safe when purchasing products—even after reading the ingredients label?

~ Do you want ALL sources of gluten to be identified on product labels?

~ Do you want the FDA to ensure that product labeling allows us to know what's safe and what's not?

~ Are you willing to take a minute to tell the FDA how you feel by leaving a quick comment on its site?

~ Last, would you potentially like a reward for your efforts?
If you answered "Yes" to all those questions, please leave your comment on the FDA's draft regulations stating that they will NOT consider adding all gluten ingredients to the list of allergens on all food labels here on FDA's site and come back and tell me that you did so (let me know even if you already left a comment on their site BEFORE you read this post).

As a thank you for your support of our whole community, you will be entered in the great giveaway shown below! Do you need more details on the proposed draft regulations and what it means (TL;DR—they are closing a door for labeling of all gluten ingredients and the gluten-free community's right to petition them to do so)? Read this post or listen to this audio message from Gluten-Free Watchdog.
As I write this, 1.4K comments have been posted in response to the FDA. I'm grateful to all who have commented but that number still represents a tiny fraction of those who live gluten free for medical reasons. Also, included in those comments are ones seeking labeling of other non-gluten ingredients, such as corn.
Please take a moment right now (the comment period ends today, August 17, at midnight EDT) to add your comment to get that number up. It can be as simple as "I want all gluten ingredients shown on food product labels for all products." Or "I am a gluten-free consumer and I support the comments submitted by Gluten Free Watchdog."
We have literally millions of people who live gluten free for medical reasons. Let's make the total number of comments more reflective of our very large gluten-free community, a community which needs gluten—in all its forms, not just wheat—to be identified on every single food product by law.
Not as a voluntary matter, which is what products labeled gluten free are doing, so companies can choose whether they identify all gluten or not but as a legal, binding requirement. We all deserve that, right?
Click here to make your voice heard and stand up for yourself and the gluten-free community! Then come back and leave a comment here saying that you did so you'll be entered in this terrific giveaway! Want extra entries? Share on your personal Facebook (aka Meta page), your Facebook business page, or any other social media account (e.g., Instagram, Twitter), and leave a comment here EACH time you do so. That's a lot of extra entries and you'll be helping the gluten-free community by spreading the word and getting others to be inspired to leave a comment on the FDA site regarding this issue.
Again, the comment period ends today, August 17, at midnight EDT. That's just several hours away, folks. This giveaway will end at the same time, so you'll want to get your comment submitted to the FDA site and come back and tell me you did! Please support our gluten-free community!
Gluten-Free Baking Giveaway Prize (One Winner)
UPDATE: This giveaway is now closed. Congratulations to Cindy (cindy****@gmail.com)! Thanks to all who took the time to leave a comment in support of our community!
This giveaway ends today at midnight EDT, August 17. There will be one winner. That winner will be announced shortly after the giveaway ends.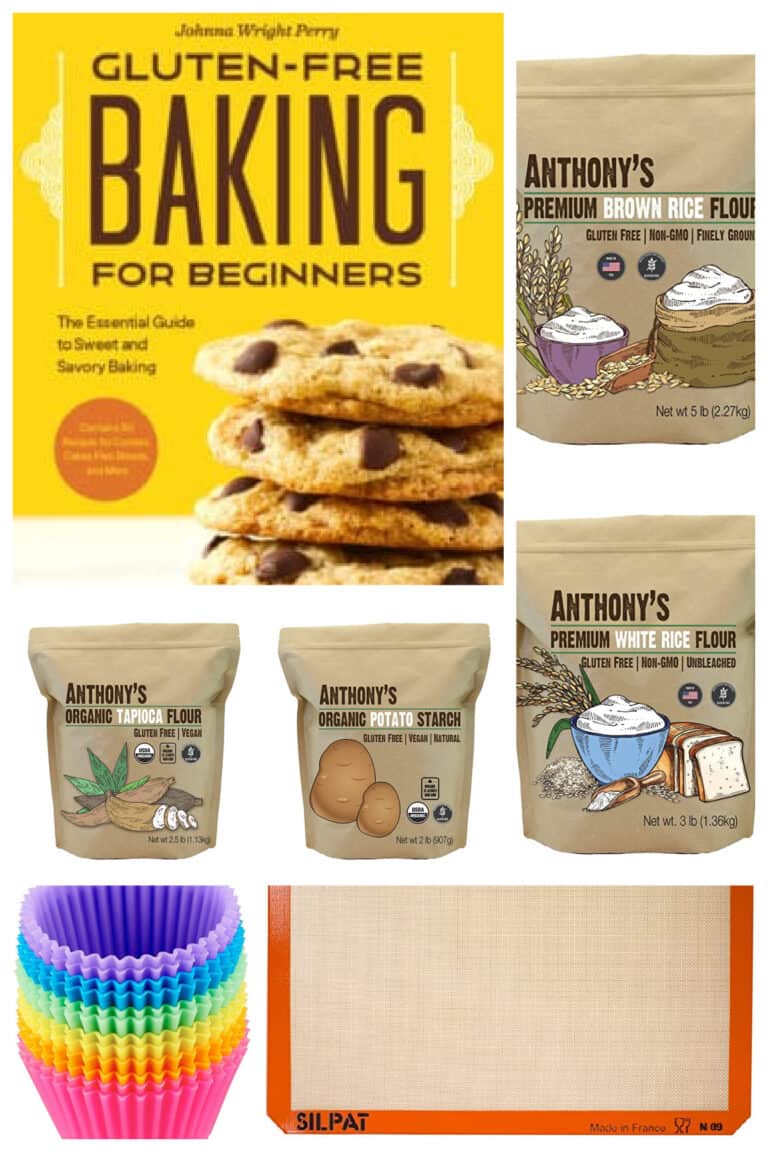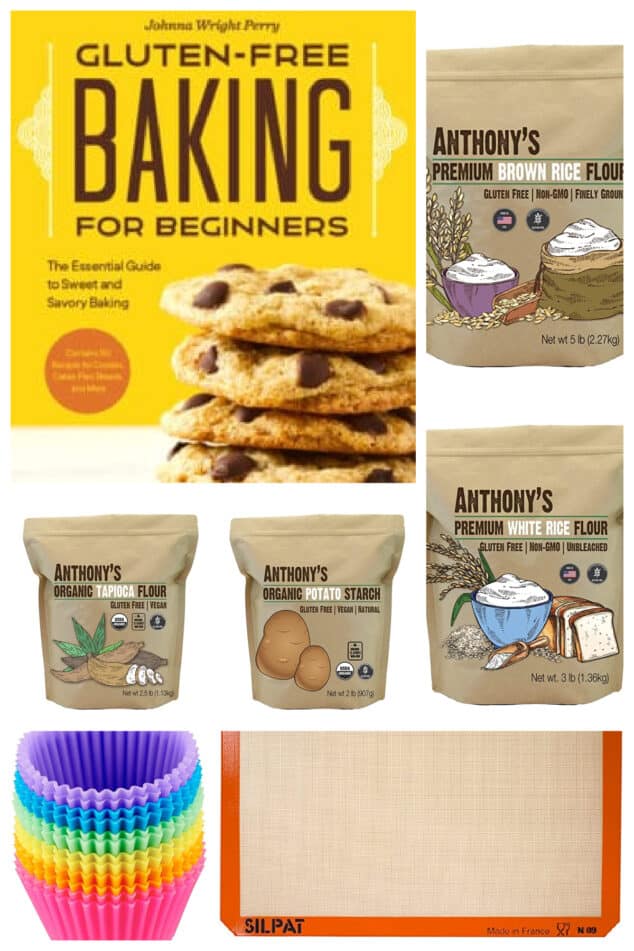 ~ Johnna Wright Perry's Gluten-Free Baking for Beginners cookbook. (You probably know Johnna from her In Johnna's Kitchen site, Instagram account, and Facebook page. You can read my earlier review of this great cookbook here. Don't be fooled by the name. Anyone who lives gluten free will love this cookbook!)
~ Anthony's Brown Rice Flour (5 lbs)
~ Anthony's White Rice Flour (3 lbs)
~ Anthony's Potato Starch (2 lbs)
~ Anthony's Tapioca Starch (also known as Tapioca Flour) (2.5 lbs)
~ Silpat Baking Mat (for use with a cookie sheet)
~ Silicone Baking Cups (for nonstick baking of cupcakes and muffins)
Note: All prizes are provided by Shirley/gfe.
Shirley
Not just gf, but gfe!
Originally published August 17, 2022; updated August 18, 2022.