For affiliate links and as an Amazon Associate I earn from qualifying purchases.
For Day 22 of March Muffin Madness (MMM)—which is the last day of new gluten-free muffins recipes—I'm sharing Gluten-Free Gimme S'More Muffins here on Gluten Free Easily.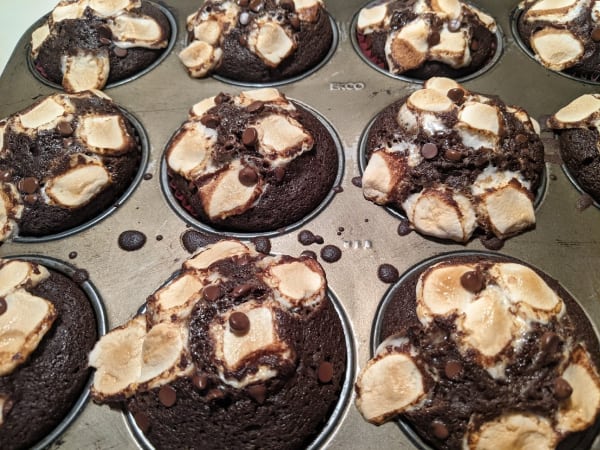 This recipe is actually the brilliant and scrumptious creation of dedicated gfe reader and friend Michelle Key. I received an email from her with the subject line of "New recipe" and the opening: "So I made a S'more muffin recipe that I wanted to send you."
She said: "I call them "Gimme S'More Muffins!" Lol. The marshmallows make them amazing."
Admittedly, they're a bit messy in their appearance but really, aren't "all things S'mores" that way? And they are decidedly delicious!
Michelle's muffins actually look prettier than mine. 😉 But they're all good!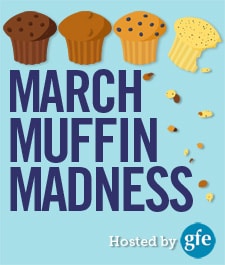 Back to Today's Gluten-Free Gimme S'more Muffins Recipe
Michelle often sends me emails with photos of gfe recipes that she's made, telling me the changes that she's made. She always makes changes!
Sometimes Michelle's changes are simply to make a recipe work for her family. Other times, her changes actually result in outstanding new recipes, which was the case with her Pumpkin Spice Apple Cider Cake (her adaptation of my Pumpkin Bread). And of course, today's Gimme S'More Muffins!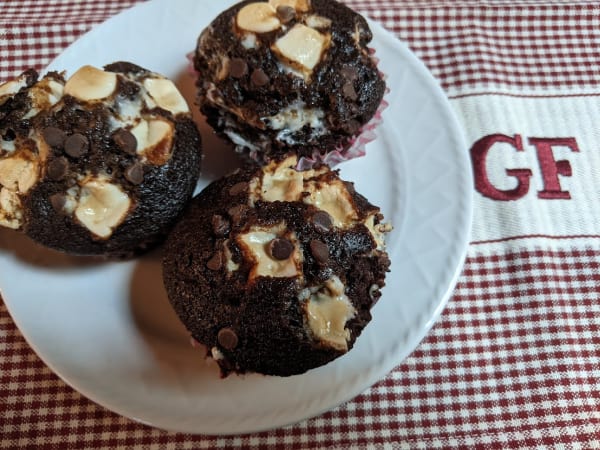 These muffins have a rich dark chocolate flavor. Devil's Food-ish. Which frankly, I love!
My family has always loved Devil's food treats. Especially my dad. I have fond memories of us enjoying Devil's food cookies together.
And then of course, there's the delightfully sweet and melty topping of the mini marshmallows and mini chocolate chips!
My favorite way to eat these Gluten-Free Gimme S'more Muffins is to pick off tasty little hunks bit by bit. They always seem like a truly decadent treat when you eat them that way.
For breakfast, a snack, or dessert, I remove the muffin liner and place the muffin on a small plate (or in a small bowl) and then use a dessert fork to dissect them. Again, delicious bite by delicious bite.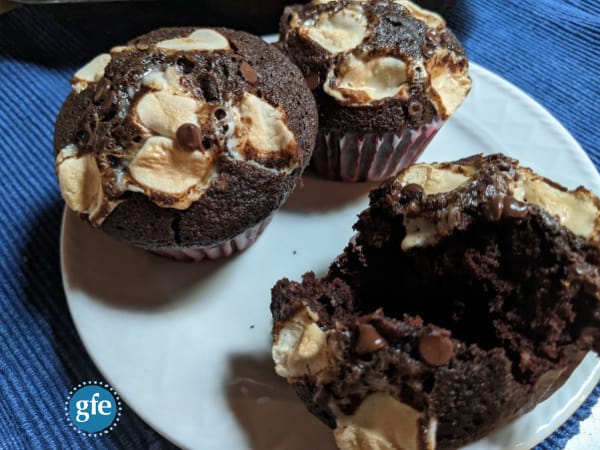 I always refrigerate any recipe that has a lot of moisture, so I like warming the chilled leftover muffins up for about 15 seconds in the microwave or maybe 8 minutes in the oven (350F degrees). Doing so re-softens both the marshmallows and the mini chocolate chips in these muffins.
Any recipe with S'more in the title always needs some extra gooeyness, right?
You may think these muffins need a graham cracker factor to have S'more in their name but really only chocolate and marshmallows with some type of base—in this case, delicious chocolate muffins—are all you need.
And now for the recipe. Thank you, Michelle!
Gluten-Free Gimme S'More Muffins Recipe
Yield: 12 muffins
Gluten-Free Gimme S'More Muffins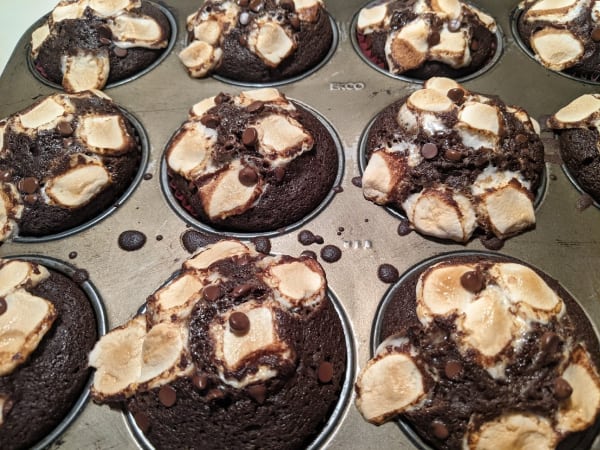 The beloved fireside chocolate-and-marshmallow treat becomes an equally delicious muffin. Gimme S'More Muffins!
Additional Time
10 minutes
Ingredients
½ cup cocoa powder (or raw cacao powder)
1 cup granulated sugar
½ teaspoon baking powder
1 teaspoon baking soda
¼ teaspoon salt
2 large eggs
1/3 cup butter, melted (or dairy-free equivalent; measure after melting)
1 cup milk (or dairy-free equivalent)
1/2 cup gluten-free mini chocolate chips (plus some more for sprinkling on top; use dairy-free mini chocolate chips, such as Enjoy Life Foods, for a dairy-free version)
1/2 cup mini marshmallows (I used Dandies brand)
Instructions
Preheat oven to 350F degrees. Line muffin tin with muffin liners or use greased silicone baking cups on a baking sheet.
In a large mixing bowl, add the flour mix, cocoa powder, sugar, baking powder, baking soda, and salt, stirring to combine. (I used a whisk.)
Add eggs, vanilla extract, butter, and milk to the dry ingredients and mix until fully incorporated.
Mix in mini chocolate chips.
Scoop the batter into baking cups lined/cooking sprayed muffin tin. (Use a greased 1/3 cup measure or a greased ice cream scoop. If you use a mixing bowl with a spout as I did for this recipe, you can actually pour the batter into the muffin liners.) Fill almost full. You want to leave some room to add your toppings.
Top batter with some mini marshmallows and mini chocolate chips.
Bake for 20 to 25 minutes. (See notes.) Use a toothpick to test for doneness.
Allow muffins to cool before serving.
Notes
Michelle adapted this recipe from Mama Knows Gluten Free.

This recipe does not require xanthan gum but if your gluten-free flour mix includes it; this recipe will still work fine.
If using jumbo muffin cups as Michelle did, you'll want to increase the baking time to 30 to 35 minutes.

You can even add chopped pecans or walnuts as an additional topping for more of a Rocky Road effect if you like.

Muffins will puff up and then go back to normal size after cooling.
Today's MMM Prizes
All giveaways are now closed. Thanks to all who participated!
~ Cookbooks
~ Eat Dairy Free: Your Essential Cookbook for Everyday Meals, Snacks, and Sweets (one winner; sponsored by Alisa Fleming)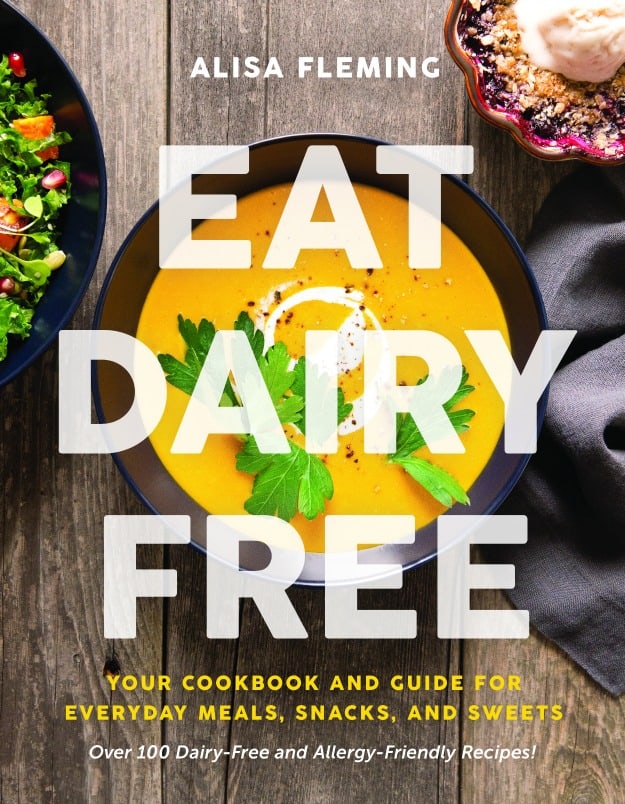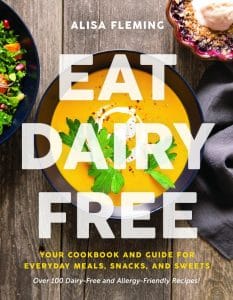 This cookbook comes from my good friend Alisa Fleming and shares over 100 dairy-free and allergy-friendly recipes. You may know Alisa from her Go Dairy Free website and her bestselling cookbook of the same name. A clever and delicious recipe from this cookbook, Chocolate Banana Split Muffins, was included in the last March Muffin Madness event. The info I shared about Eat Dairy Free then is worth repeating now.
"All recipes are—or have fully tested options for—gluten free, egg free, peanut free, and soy free. And 90% of the recipes are nut free. One of the things I really like about this cookbook is that no store-bought dairy substitutes are needed. As Alisa shares, "this is a cookbook that anyone can dive into whether experienced with dairy-free living or not. You do not need to seek out dairy-free cheese, sour cream, or other specialty alternatives. There's even a recipe for an easy homemade milk beverage!
Alisa says: "For millions of people, simply cutting out milk and other dairy products resolves most if not all of their symptoms and helps to reduce the risk of many common health concerns, including allergies, skin conditions, and even cancer. And it need not be daunting." Final note: Both of Alisa's books rate #8 in the Food Allergies category on Amazon!
~ Make It Paleo II: Over 175 New Grain-Free Recipes for the Primal Palate (one winner; sponsored by Victory Belt Publishing)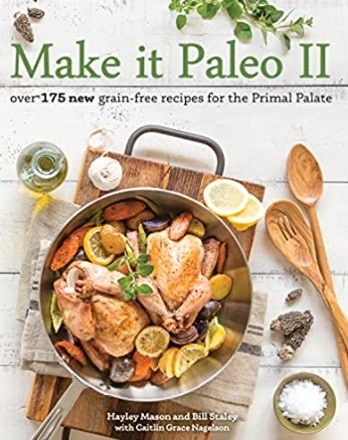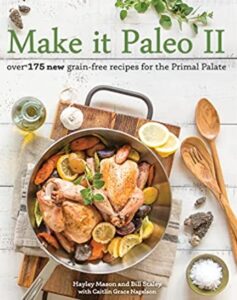 Several years after the publication of their bestselling Make It Paleo cookbook and two more successful paleo cookbooks before they were married, the husband-wife team of Haley Mason and Bill Staley decided that they wanted a do-over of sorts. The result was this equally popular gluten-free and paleo cookbook with recipes that include Breakfast Casserole, Honey Sesame Wings, Spinach and Artichoke Quiche, Lobster Fettucine Alfredo, Tomato Jam, Nightshade-Free Pizza, Blueberry Tart, and Stracciatella Gelato.
~ Baking/Cooking Ingredient
~ Dandies Marshmallows (one winner; sponsored by gfe)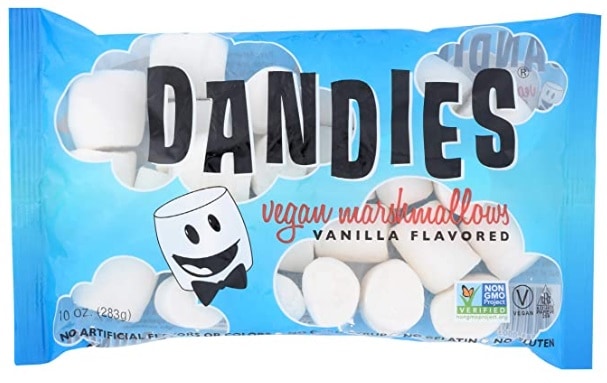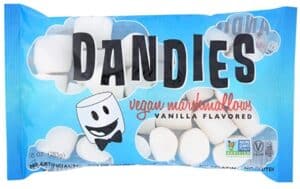 These vanilla marshmallows are not only vegan but they're also grain free. More importantly, they're so good! So much better than traditional marshmallows, which honestly seem fairly flavorless to me. I used the mini version of Dandies to top today's Gluten-Free Gimme S'more Muffins. So yummy!
Grand Prize Giveaway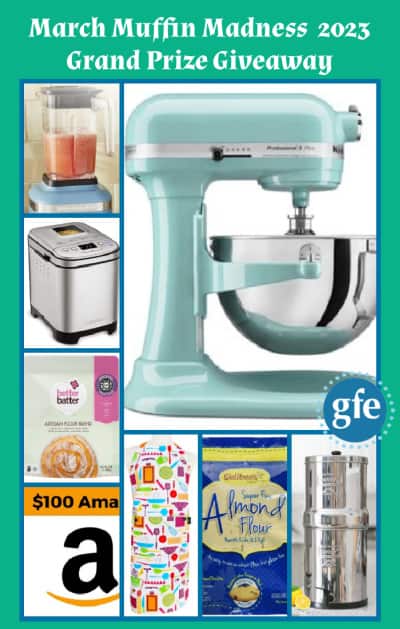 a Rafflecopter giveaway
Originally published April 3, 2023; updated April 8, 2023.