For affiliate links and as an Amazon Associate I earn from qualifying purchases.
This Hot Spinach Artichoke Dip is a super easy but wonderful recipe that I have been making for many years. I used to enjoy it with Mr. GFE.
But not often because he could enjoy Spinach Artichoke Dip when eating out and that was a fairly frequent order for him. Usually at Applebee's. Although this was long ago, as far as I know, their version of Spinach Artichoke Dip is still not gluten free—which was no problem for him as he did not need to eat gluten free.
If I wanted Spinach Artichoke Dip, however, I had to make my own. Fortunately, that's not hard to do at all with this recipe and the results are so delicious and satisfying!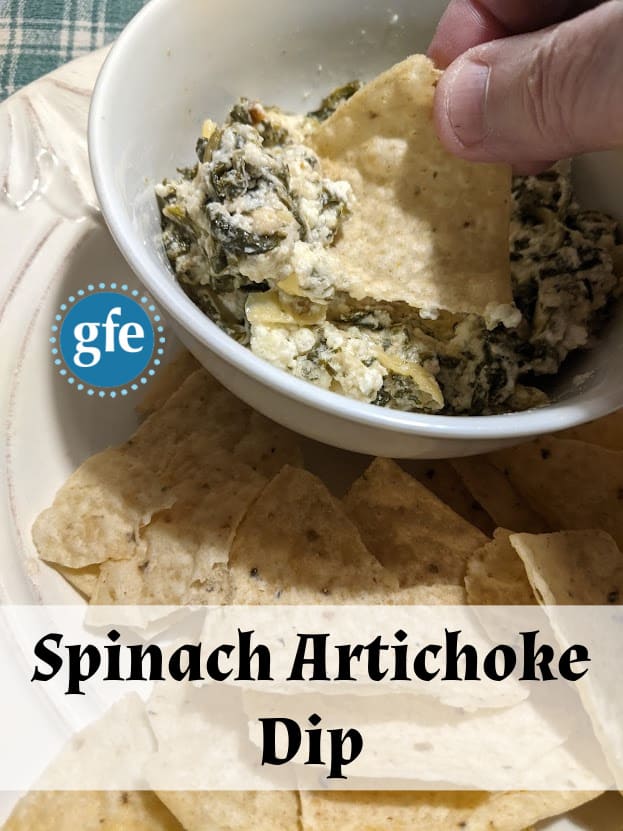 Some Spinach Artichoke Dip recipes have cream cheese. Others have mayonnaise. Some have sour cream. This recipe has all three, which I just love. The mixture seems to impart just the right amount of creaminess with a wee bit of tartness/contrast.
You may recall that I have mentioned my dislike of stringy spinach before. You do not want stringy spinach in your Spinach Artichoke Dip any more than you do any other recipe, believe me.
Make sure you get a name-brand boxed chopped spinach such as Bird's Eye. It really makes a difference in the quality of the spinach.
I am so serious about this that if you're doing a pick-up grocery order and you're asked by your shopper if they can substitute the store-brand frozen spinach, simply say no.
If there is no name brand of quality frozen chopped spinach, you can ask them to sub in 16 ounces of fresh spinach (I prefer baby spinach for its tender texture and taste but I still remove the stems) but please don't accept store-brand frozen chopped spinach, unless you know for a fact that the particular brand is high quality. That means no strings.
If you absolutely can't get a higher quality brand of frozen chopped spinach, you can reduce the stringiness by using your kitchen shears to cut the chopped spinach into much smaller pieces before adding it to the recipe.
Similarly, please do not use marinated artichoke hearts for this Hot Spinach Artichoke Dip. You want artichokes that are packed with very basic ingredients—such as water, salt, and citric acid. In other words, as unflavored as possible.
Note that it's fine to make this recipe with dairy-free alternatives and it will still be very good! However, if you're making the dairy-full version shown below, I highly recommend that you use the full-fat ingredients, not the reduced-fat and low-fat options that are out there, please.
Finally, please do not walk away from your Spinach Artichoke Dip if it's in those last minutes of being baked. Or decide to broil it for a minute or two and then walk away as I did, folks! As you can see from the photo below, it will get a little too browned on the top if you do either.
The good news is that if that does happen, right under that brown top, the dip is ooey gooey, creamy, and delicious!
The last time I made this dip was when my girlfriend Kathi and I had a Happy Hour at my house. The Hot Spinach Artichoke Dip was one of several menu items but it can easily stand on its own when needed.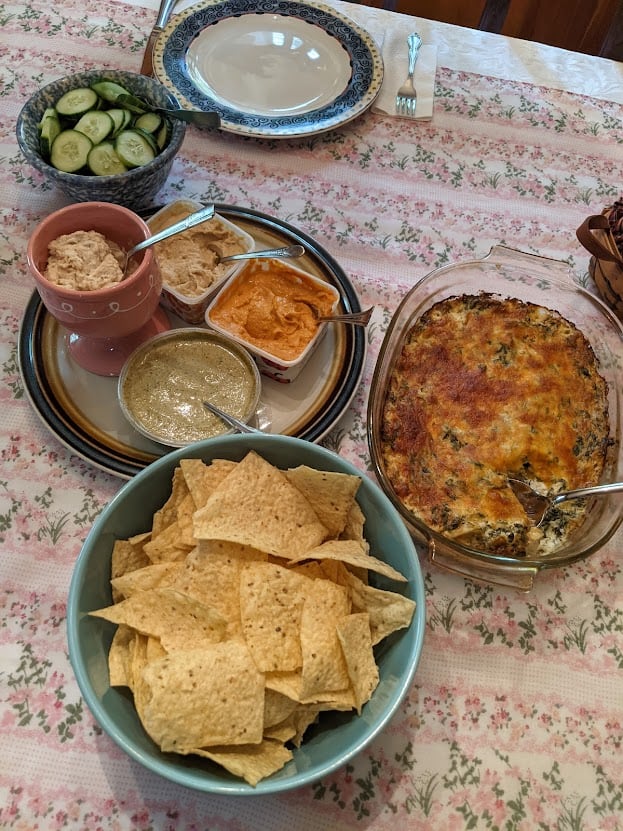 That's how Mr. GFE and I used to enjoy it. Hot Spinach Artichoke Dip, gluten-free tortilla chips, and beverages became our complete meal. One that was delicious and felt indulgent if I am being honest.
Just like whenever my family has eaten Pizza Dip for dinner. Not expected but oh, so good!
For some reason, many of us who stick to an appetizer when eating out feel "bad"—for lack of a better word—doing that at home. We shouldn't!
Finally, you know how I like my food holidays? March 16 is Artichoke Day, March 23 is Chips and Dip Day, and March 26 is Spinach Day. While March obviously is the time of year to celebrate Hot Spinach Artichoke Dip, please don't wait until then.
This dip would be great for noshing while enjoying sports events. Like watching the Big Game, aka the Super Bowl, gearing up for the NCAA's March Madness, and more.
p.s. Dips are also great for those times when you do not want your family to hurry through the meal. It is very hard to rush through dips. You have to take much more time to eat than you would for most meals and you end up "visiting" with each other. That's a really good thing!
More Delicious Gluten-Free Appetizer Dips (Including Other Hot Spinach Artichoke Dip Recipes)
~ Copycat Fried Pickle and Ranch Dip
~ Dairy-Free Spinach Artichoke Dip
~ Shrimp and Spinach Party Dip
Hot Spinach Artichoke Dip Recipe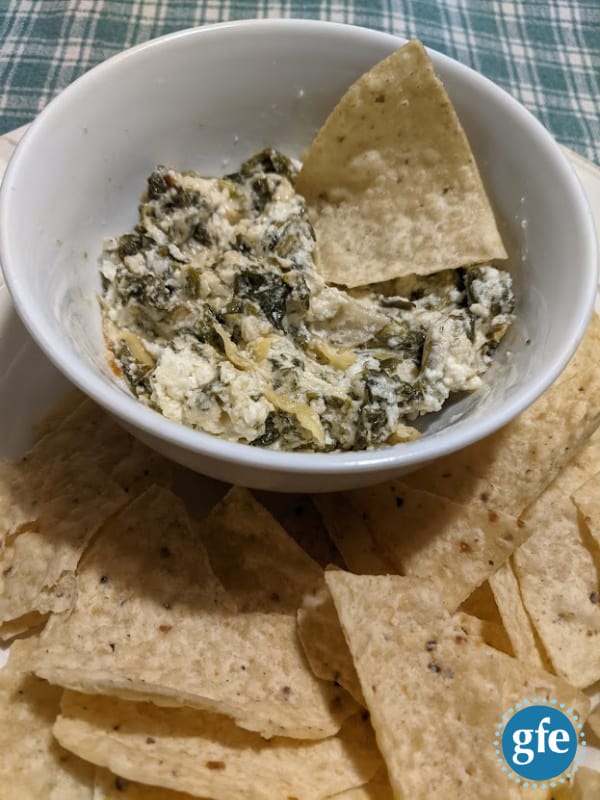 Yield: 15 servings
Hot Spinach Artichoke Dip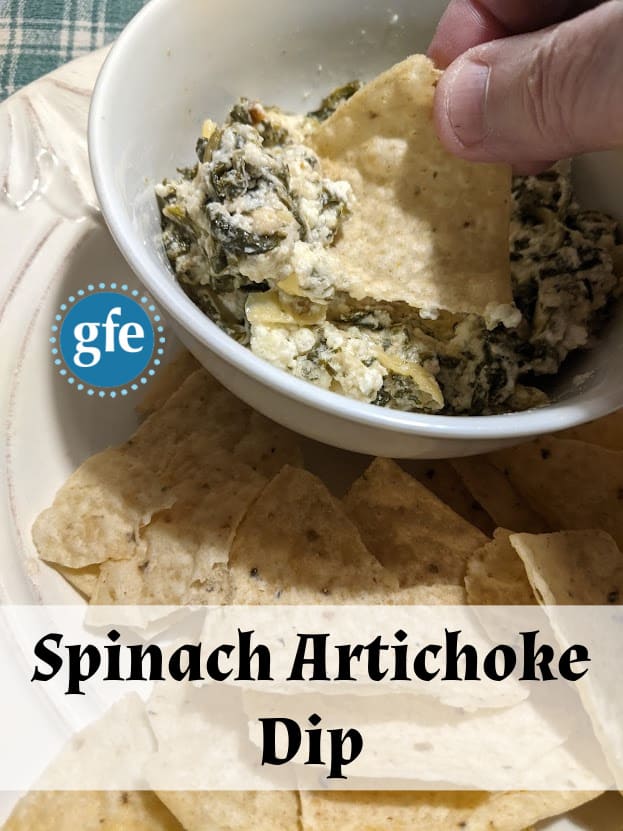 Hot Spinach Artichoke Dip. Creamy and delicious. Serve it to a crowd or make a special meal out of it with your family.

Prep Time 10 minutes

Cook Time 20 minutes

Total Time 30 minutes
Ingredients
2⁄3 cup sour cream
1 cup cream cheese, softened
1⁄3 cup mayonnaise (I love Duke's brand)
1 cup Parmesan cheese, grated (fresh is best!)
1 1/4 cup mozzarella, shredded (divided)
1 heaping tablespoon garlic, minced ("jarlic" is fine)
A couple turns of freshly ground black pepper
1 10-ounce box frozen chopped spinach, thawed and well-drained (please use brand name spinach; it makes a huge difference in the quality and the texture and taste of this dip)
1 (14 ounce) can artichoke hearts (NOT marinated), well-drained and chopped into smaller pieces (I use my kitchen shears)
Instructions
Preheat oven to 375°F.
In a large bowl, mix together sour cream, cream cheese, and mayonnaise until well blended.
Add in Parmesan cheese, one cup of mozzarella, garlic, and pepper. Stir well.
Add spinach and artichoke hearts and stir just until mixed in with the other ingredients.
Pour into an 8 x 8 baking dish (or similar; I use this Pyrex dish) and spread mixture out evenly.
Sprinkle the remaining ¼ cup of mozzarella evenly on top of the mixture.
Bake for 20-30 minutes until hot.
Serve with gluten-free tortilla chips, gluten-free crackers, toasted gluten-free bread (baguette slices would be nice), or gluten-free bagel chips.


Notes
Adapted from a recipe on Food.com.

This recipe is pretty flexible. You can sub in fresh spinach (16 ounces) if you sauté it first and then drain well. (Personally, I always use baby spinach and remove the stems if I'm not using frozen spinach.) You can sub in other cheeses of preference and add small amounts of other ingredients such as pimentos, red pepper flakes, and hot sauce for color and taste. If you do not have artichoke hearts on hand---or don't care for them---I have heard of some subbing mushrooms in their place. (Mr. GFE would have loved that version, too!)

If you are serving this dip for an event, you can easily transfer it from the baking dish to your slow cooker to keep it warm for an extended period of time.

You can make this dip up to a day ahead, refrigerate it, and then set it out to come to room temperature before baking and serving.

Originally published February 1, 2023; updated April 22, 2023.