For affiliate links and as an Amazon Associate I earn from qualifying purchases.
Full disclosure: The Cook IT Allergy Free app was provided by its creator/owner, Kim Wilson-Maes. Free For All Cooking was provided by Jules Shepard and DeCapo Press. The cooking equipment was part of my food blogging conference swag. The peanut flour was provided by the National Peanut Board. Finally, I purchased Go Dairy Free. This is not a paid review; opinions expressed are strictly my own.
This post is linked to Gluten-Free Wednesdays.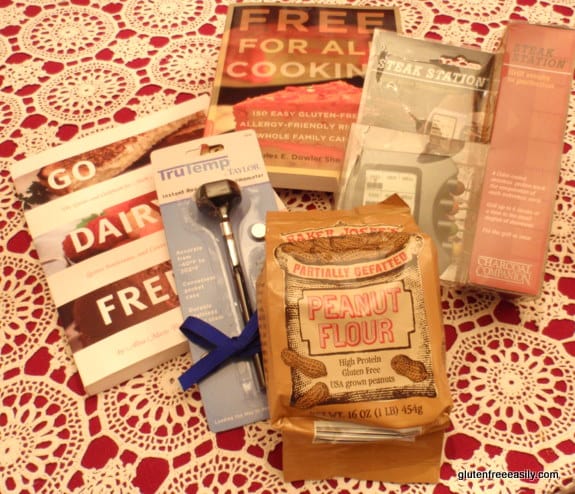 +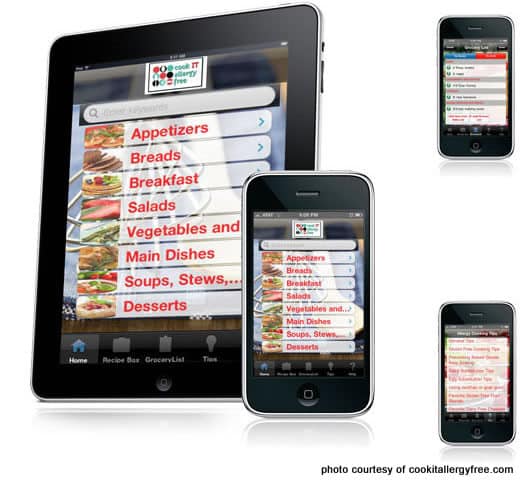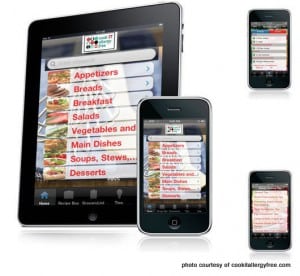 (Note:  Prize is app only! It works on your iPhone, iPad, or iPod Touch. Photos are courtesy of  Cook IT Allergy Free)
UPDATE: This giveaway is now closed. The original winner did not contact me, so random. org has helped me choose a new winner. The winner has been contacted. Thanks to all who entered!
So here's the big day, the one where I announce the final giveaway for the Suite of Sweets for Sweethearts event! Yes, I know the official month for sweethearts has passed, but I don't think you'll mind. March needs something special, too, and since those of us who are gluten free can't drink the traditional green beer this month to celebrate St. Paddy's day, we'll stretch out the more appealing Valentine's Day celebration with a sweet giveaway! At least, I haven't seen green gluten-free beer offered anywhere and I wouldn't drink it anyway due to the food coloring, but I digress. The giveaway includes what you see in the photos, plus a few more small swag goodies (from blogger conferences I've attended) that you may find fun and helpful in the kitchen. (I won't reveal those items; I'll leave them as small surprises for the winner.)
To be clear, the final giveaway package includes: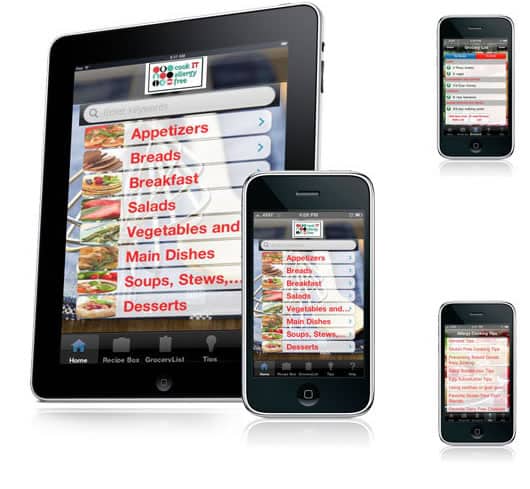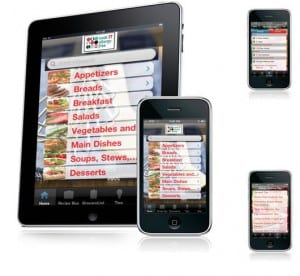 ~ Cook IT Allergy Free app—If you missed my review, you can read it here (alert: Chocolate Fondue recipe!), but this is the "i" app that can convert your recipe to address your specific allergy/intolerance needs with just the touch of a finger. Then you can save your recipe and even create your shopping list—Kim Maes' app, which she designed for all of us, is impressive! If you don't have an iPhone, iPad, or iPod Touch to "run" your app on, you may give this prize away to someone who does. Your celiac/gluten intolerance support group leader? a gluten-free/food intolerant friend or colleague? You'll end up with a very grateful friend!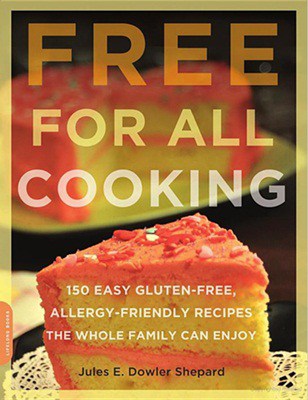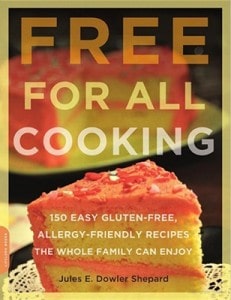 ~ Free for All Cooking—This is the newest cookbook by Jules E. Dowler Shepard. If you missed my review, you can read it here (alert: Coffee Cake recipe). There are not too many reviews on Amazon yet since this book is very new, but they are all 5-stars, and you only have to read the comments on my review post to see how loved both Jules and her recipes are. If you'd like another chance to win Free For All Cooking, head over to Alisa's blog to enter the giveaway and get the "Nutty" Chocolate Chippers recipe that Alisa adapted from Jules' cookbook.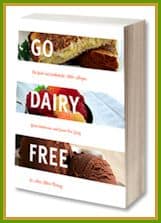 ~ Go Dairy Free—What's better than a cookbook? A combination resource/guide book and cookbook. Go Dairy Free, by Alisa Fleming, offers everything you want to know about going dairy free … the basics and history of dairy–"what" constitutes dairy and "where" other dairy is consumed (horse milk anyone?), the "why" of going dairy free, and, most importantly, "how" to go dairy free. Read my complete review here (alert: Easy Peasy Vegan Truffles 4 Ways recipe). Looking for more opportunities to win Go Dairy Free? My friends, Kim (Cook IT Allergy Free; yep, same Kim as above) and Tia (Glugle Gluten Free), are each giving one away! Plus, don't forget that Alisa's Go Dairy Free, the website, is a valuable resource that's always available to you.
~ Taylor TruTemp Instant Read Digital Thermometer—Perfect for checking doneness of meats (not to be left in the oven though). The digital display updates every second and is protected by a durable plastic lens. Thermometer has temperature range of –40°F to 302°F and comes with one installed 1.5V battery and one bonus battery.
~ Charcoal Companion Steak Station—Allows one to monitor the doneness of several steaks at once, so, for example, if Mr. GFE wants his steak medium rare and I want my steak cooked medium, it's not a problem at all. No more undercooked or overcooked steaks!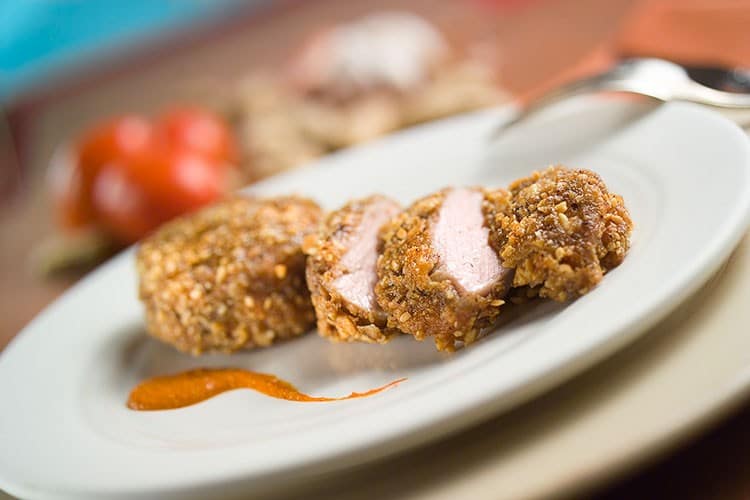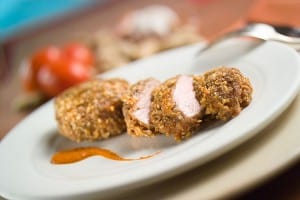 ~ Baker Josef's Peanut Flour (1-lb bag) —This peanut flour was provide to me courtesy of the National Peanut Board with the goal for me to try it and review it. However, I've since been diagnosed with a peanut sensitivity, so no more Flourless Peanut Butter Cookies, peanuts, or peanut products for me right now. So, the National Peanut Board graciously told me to offer this bag to one of my gfe readers. Here's what I found out about peanut flour. It can add a "healthful, lower-fat, and gluten free boost to a variety of foods. It is a great thickener for soups, a flavorful and aromatic ingredient for breads and pastries, as well as a creative coating for meats, fish, and other dishes. Peanut flour is a good source of Vitamin E, Folate, Fiber, Niacin, Magnesium, and Phosphorus." I read that you can successfully substitute up to 1/3 of the flour in your recipe with peanut flour. Here's a great looking recipe for peanut butter muffins from Sarena, The Non-Dairy Queen. The National Peanut Board also has many scrumptious looking recipes here. Crusted Pork Medallions with Ancho Peanut Sauce are shown in the photo on the right (photo is courtesy of the National Peanut Board; click on photo for recipe link). Note that not all recieps are gluten free, but appear to be easily adapted.
As far as the entries, I'd recently vowed to only ask folks to leave a single comment, but then people have told me they were disappointed to not have as many opportunities to enter. So, once again, there are several ways to enter the giveaway below, but  it only takes one to enter the giveaway. Remember to leave a comment for each thing you do because I can only track entries by comments. (Saying "I like gfe on Facebook, follow you on Twitter, and am dying to make the cake on the cover of Jules new book." would only earn you one entry. Make sure you get credit for them all!) And—big important and—remember that all your comments on the previous posts (if submitted by the individual giveaway deadlines) count, too!
~ Simply leave a comment. You could tell me your favorite item in the giveaway package, how you found gfe, or anything else along gfe lines. 😉

~ Subscribe to gfe in a reader or via email. Leave a comment.

~ "Like" gfe on Facebook. Leave a comment.

~ Follow @Shirleygfe on Twitter. Leave a comment.

~ Spread the word about the giveaway. Share on Twitter, Facebook, or your blog. Leave a comment for each.

This giveaway will be open until midnight (Eastern), Sunday, March 6. The winner will be announced here at gfe shortly thereafter. I will not email the winner, so be sure to check back and email me if you see that you are the winner. Sorry, but if I don't hear from the winner within a week, I'll choose another winner.