For affiliate links and as an Amazon Associate I earn from qualifying purchases.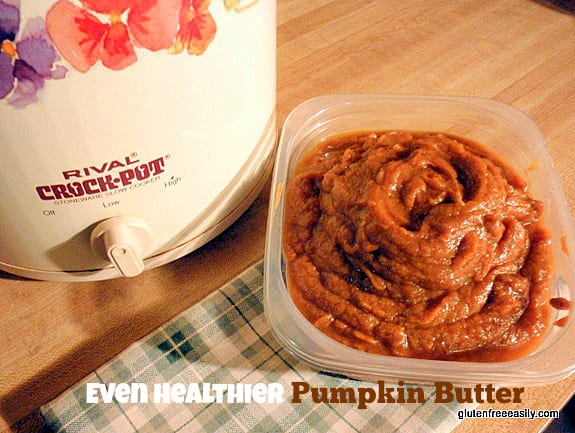 When I made my slow cooker Pumpkin Butter for the first time this season, I had ripe pears on the counter and wondered if pears—and/or apples–could be used totally eliminating the need for an added sweetener. I was mixing up my Pumpkin Butter to slow cook while I slept so I was getting ready to turn in for the night and didn't do any experimenting then. But I finally got a chance to play around with that idea recently and was pleased with the results. The only down side is that I am sensitive to weird textures and noticed the "seeds" from the pears in the pumpkin butter if I ate it spread on bread.
It turns out that the "seedy," sometimes gritty taste of pears comes from stone cells, not seeds. The Fruit Guys Almanac discusses the matter:  "Have you noticed that pears can sometimes have a gritty texture compared to apples?  This comes from stone cells, which develop in pears as they ripen on the tree.  Stone cells have very thick cell membranes with very little space inside and are one of the reasons pears do not ripen well on the tree.  They are protective for the fruit, but not necessarily what humans want, so pears are picked when mature, but not ripe, to avoid excess stone cells."
I picked up my pears from the grocery store and don't even remember what kind they were and I'm guessing that letting them ripen quite a bit more on the counter did not help with the development of stone cells. Hmmm. Pear experts, please weigh in.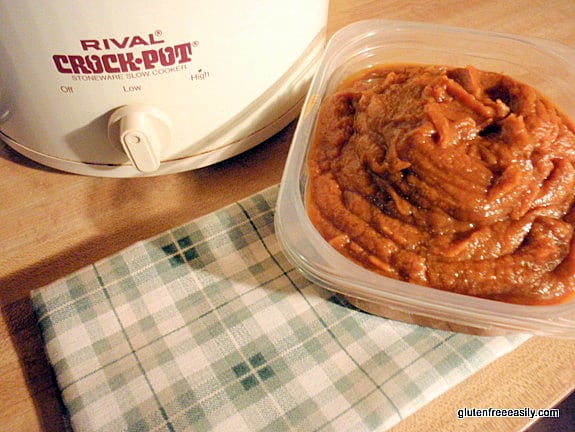 With the addition of naturally sweet ripe pears and a ripe apple, I was able to reduce the honey from a full cup to 1/3 cup. Of course, a slightly lesser amount of maple syrup or agave nectar can also be used in this recipe to make it vegan. (I recommend using slightly less of either because I find them both to be thinner than honey.)
Pumpkin Butter is a key factor in the success of my Pumpkin Spice Bundt Cake, my Pumpkin Butter Pie, Pumpkin Butter Pecan Chocolate Chip Bars, and Pumpkin Butter Salsa Chicken or Pumpkin Butter Swirled with Honey Cinnamon Whipped Cream. Try any of those recipes made with this Pumpkin Butter below (or with my original recipe) or simply slather some on your favorite bread or quick bread (check out quick bread recipes on All Gluten-Free Desserts) and enjoy!
Yield:
Healthier (Lower Sugar) Pumpkin Butter (Made with Pears and Apple)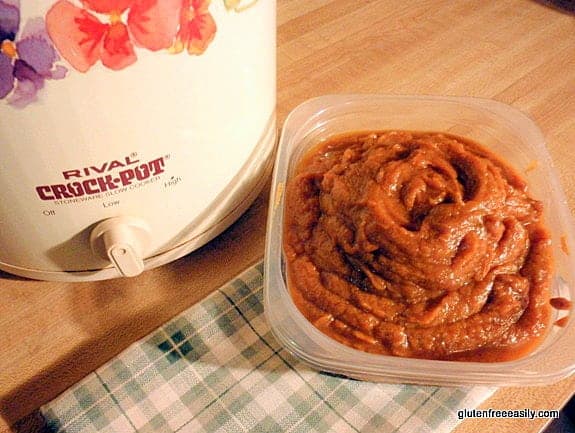 Ingredients
2 cans pumpkin puree (or 4 cups fresh pumpkin puree)
About 2 ½ ripe pears, peeled and chopped (about 2 cups chopped, with juice)
1 ripe apple, peeled and chopped (I used Honeycrisp; see notes)
1/3 cup honey (or slightly less maple syrup)
1 ½ to 2 tsp cinnamon (you can taste mixture before slow cooking to decide amount to use)
½ tsp ginger
½ tsp allspice
½ tsp nutmeg
½ tsp cloves
Instructions
Add apple and pears to food processor and process until pureed, about a minute or so.
Add puree to medium-sized bowl and add in other ingredients. Mix well.
Add mixture to slow cooker.
Slow cook on LOW for about 5 ½ to 6 hours. Check on thickness/consistency of your pumpkin butter. When it's "almost there," remove lid from slow cooker and leave on for another 30 minutes. Then turn off slow cooker and let sit in slow cooker for another 30 minutes or so. Even though the slow cooker is turned off at this point, the pumpkin butter will continue to cook and thicken from the heat left in the slow cooker and the evaporation process. This part is somewhat intuitive, but not difficult.
Once thickened and cool enough, transfer to canning jars or other containers and store in the refrigerator for a few weeks.
Notes
You can substitute 3 to 3 ½ teaspoons of pumpkin pie spice for the individual spices, "in a pinch" or if you prefer. Subbing pumpkin pie spice for part of the spices (allspice, cloves, ginger, and nutmeg) in addition to cinnamon is also an option. You can use a sweeter apple, like Golden Delicious or Pink Lady, or perhaps even use more apples than pears, or all apples. Adjust honey (or other sweetener) as needed when altering the ratio of fruit and to personal preferences. Slow cooking will deepen the flavors, but it won't necessarily make your pumpkin butter sweeter so being happy with the sweetness before adding your mixture to the slow cooker is important.Slow cookers can vary in temperatures and required cooking time. You might need to slow cook your pumpkin butter more or less. Pay attention to that final cooking time the first time you make this recipe and note it on the recipe so you won't have to keep checking your pumpkin butter when you make it in the future.Because of the lower amount of sugar in this recipe (honey in this case), this pumpkin butter will not keep as long as my other slower cooker pumpkin butter recipe does or at least keep its same sweet flavor. The fruit turns fairly tart after a while.
This post is linked to 5-Ingredient Mondays, Gluten-Free Tuesdays, Centsibly Sugar and Grain-Free, Allergy-Free Wednesdays, Gluten-Free Wednesdays, Gluten-Free Fridays, Whole Food Fridays, and Wellness Weekends.