This post may contain affiliate links. If you purchase through them, your cost will stay the same, but gfe will receive a few cents for every dollar spent. Thanks for supporting gfe!
This gluten-free Pumpkin Spice Bundt Cake is on the indulgent side for sure. My girlfriend Veronica invited me to have tea with her and another friend Lisa last week. I'd been thinking about converting a gluten-full recipe for a Spice Cake that a friend—another Lisa—had made for us to enjoy during the holidays years earlier, so I did.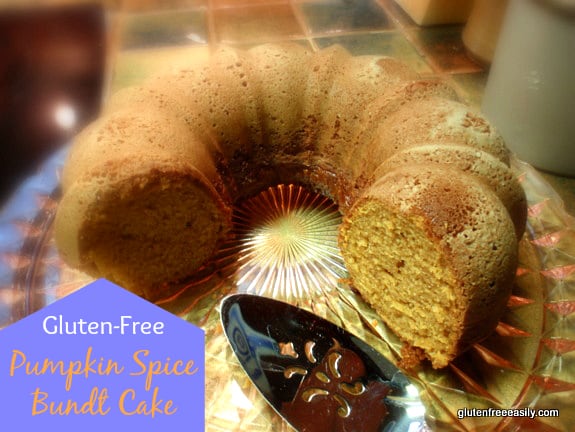 I had just made a lower sugar version of my original Pumpkin Butter using pears, apples, and one third of the honey (recipe coming soon), so I decided to include some of that pumpkin butter to create not only a gluten-free version, but a pumpkin version—in a Bundt pan—Pumpkin Spice Bundt Cake.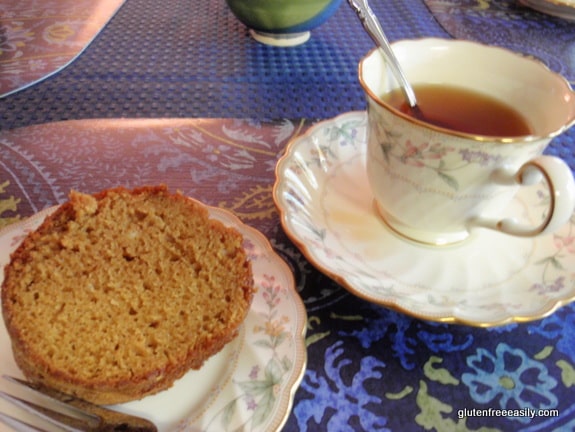 I subbed my gluten-free all-purpose flour mix for the gluten-full flour, added xanthan gum, and omitted the spices as my pumpkin butter already contained spices. I chose to use coconut sugar instead of brown sugar, but either works well in this recipe.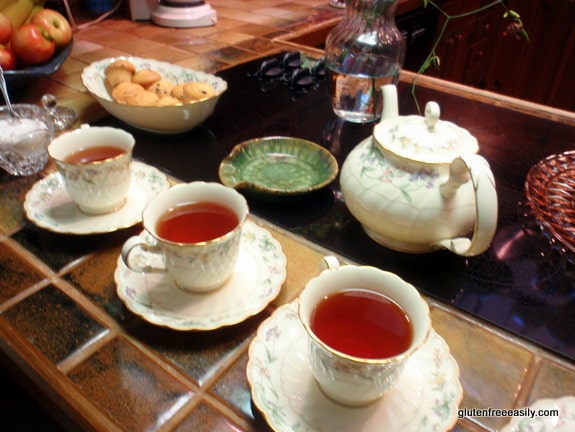 The resulting cake was a delicious, very moist cake with just the right amount of pumpkin flavor and spices. It went well with our hot tea and thoroughly pleased us all! I served the remaining half to my gluten-free support group that evening and they also wholeheartedly approved.
Veronica, Lisa, and I had a really lovely time. Many thanks to Veronica for all her beautiful "props" … her kitchen, tea set, cake plate, cake server, and lovely dining room. I hope you all will enjoy this gluten-free Pumpkin Spice Bundt Cake as much as we did!
Gluten-Free Pumpkin Spice Bundt Cake Recipe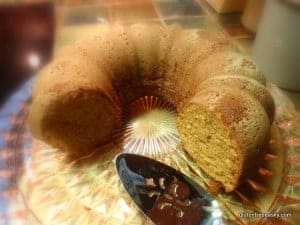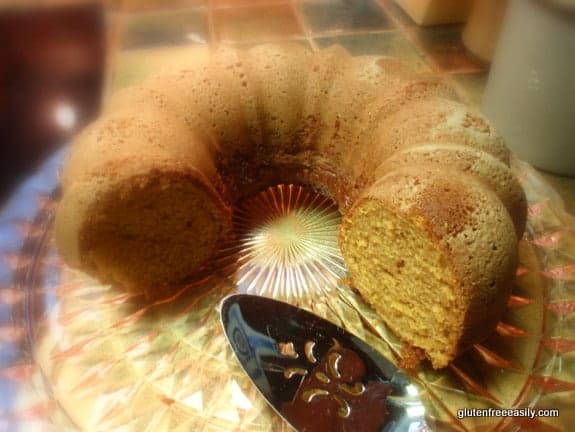 Print
Gluten-Free Pumpkin Spice Bundt Cake
Pumpkin butter turns this gluten-free Bundt cake into something very special. A piece will be just right to go with your cup of tea or coffee ... or a glass of milk!
Ingredients
Cake Ingredients
2 ¼ cups gluten-free all-purpose flour mix (I use my Two-Ingredient Gluten-Free Flour Mix)
1 tsp baking powder
¾ tsp baking soda
2 ¼ tsp xanthan gum
1 cup granulated sugar
¾ cup brown sugar or coconut palm sugar (I used the latter; hence, the darker color of this cake)
¾ cup pumpkin butter
¾ cup vegetable oil (I used extra virgin olive oil, but coconut oil would be great)
1 cup buttermilk or sour milk (dairy or non dairy; I added 1 tsp apple cider vinegar to 1 cup measure; filled with full-fat coconut milk and let sit 5 minutes)
3 large eggs
Penuche Frosting Ingredients
Penuche Frosting (optional; I didn't use any as you can see, but this frosting is something special)
½ cups brown sugar (or coconut palm sugar)
3/8 cup milk ("eyeball" it; dairy or non-dairy)
3/8 cup butter (dairy or non-dairy) or shortening
¾ tsp vanilla extract
Instructions
Preheat oven to 350 degrees Fahrenheit. Grease Bundt pan (or two loaf pans). Flour if you like as well. (Flour with rice flour or gluten-free all-purpose flour. )
Sift together gluten-free all-purpose flour mix, sugar, baking powder, baking soda, and xanthan gum.
Add brown sugar, pumpkin butter, oil, and buttermilk (or sour milk).
Beat for about 2 minutes by hand or using a mixer.
Add eggs and beat until well mixed.
Pour into greased (and floured) Bundt pan. (Two loaf pans will also work.) Use gluten-free all-purpose flour mix or plain rice flour to flour your greased pan.
Bake for about 40 minutes. Test for doneness with a toothpick.
Frost with Penuche frosting, if desired. (Ingredients are shown above.) Add butter to medium-sized saucepan. Melt over medium low heat. Add in brown sugar and milk. Bring to a boil, stirring constantly, for one minute. Remove from heat and beat until lukewarm. (A wooden spoon works fine for this task.) Add ¾ tsp vanilla extract and beat until thick.
Notes
I can't tolerate many of the healthier, gluten-free flours; e.g., sorghum, buckwheat. Therefore, my gluten-free flour mix is 3 parts Asian white rice flour and 2 parts cornstarch. I gently mix three one-lb bags of the Asian white rice flour and two one-lb boxes of cornstarch in a very large bowl and then store the mix in several airtight containers (like large glass jars). No refrigeration is needed. But feel free to use whichever flour mix you use most often for baking. Adapted from a recipe from my friend Lisa Anderson
Courses Dessert
This post is linked to Hearth and Soul Blog Hop.