For affiliate links and as an Amazon Associate I earn from qualifying purchases.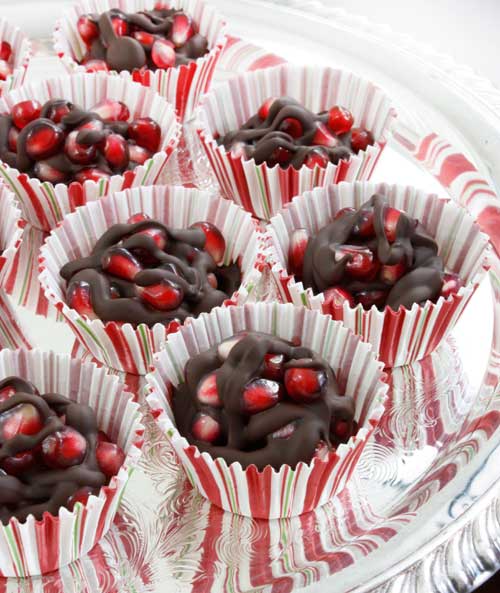 photo courtesy of Lexie's Kitchen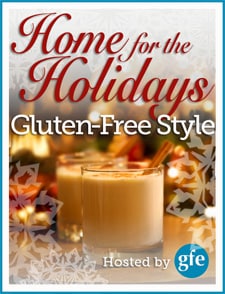 Day 10 of our Home for the Holidays … Gluten-Free Style event brings us amazing little creations from Lexie of Lexie's Kitchen. Chocolate Pomegranate Clusters. With only two ingredients. Really? Yes! A festive treat that wows us with its holiday appearance and impresses us with its multi-dimensional flavors and textures. As Lexie says, "sweet, decadent chocolate melts in your mouth … and then, that burst of bright and tangy pomegranate juice." You'll have to read her post to find out what her husband calls these treats, as well as get her recipe and enter her giveaway. Plus, her treats are a symbol of a simpler Christmas for her family this year, harkening back to those carefree, uncomplicated Christmases of her youth growing up in Hawaii. Don't we all want those simpler times? I know I do.
A little side note … I knew nothing about pomegranates until October 2009. That year I was one of 15 bloggers invited on an all-expense paid trip to California for the POM Wonderful Blogger Harvest Tour. We toured the orchards and the processing plants, enjoyed an amazing pomegranate-themed dinner, and came home with pomegranates, POM juice, POM tea, and more. I fell in love with pomegranates and have shared recipes using pomegranates and their arils (the name for the seeds) here several times on gfe. I've shared POM'd Pork—a tasty slow-cooked entree, POMerdoodle Ice Cream—the meeting of Snickerdoodle Ice Cream and POM juice, Chocolate POMerdoodle Ice Cream—proof that anything good is made better with some chocolate added—and finally, Reindeer Antlers—the perfect holiday drink topped with arils. To date, I've used arils in this holiday drink, in salads, and for snacking, but I can't wait to use them in Lexie's Chocolate Pomegranate Clusters. I have two pomegranates ready to go. Lexie gives you great instructions on opening a pomegranate and removing the arils. In my house, I do that task under water because that juice always seems to go everywhere. Note that in some areas you can actually buy the arils ready to go, but starting out with actual pomegranates and getting your arils is not hard and it's a fun activity to do with kids.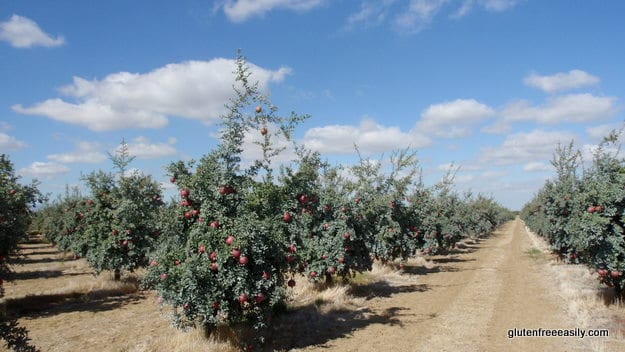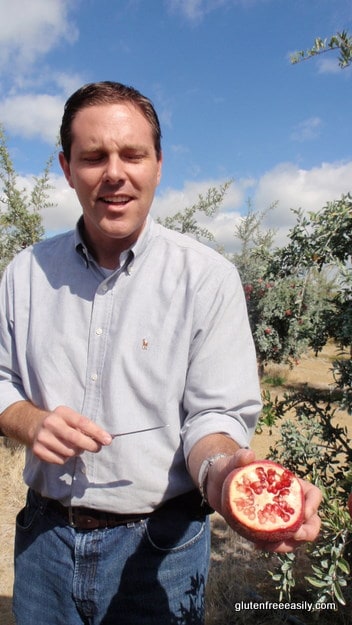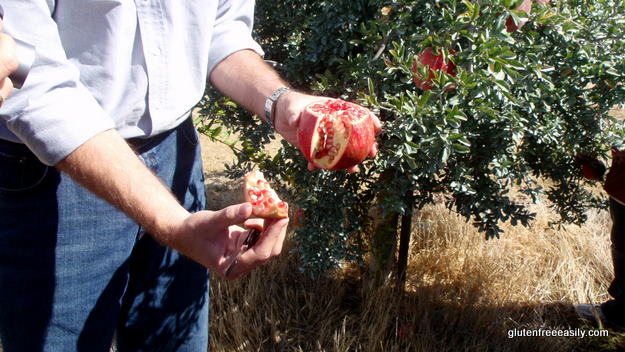 What are Lexie's giveaway items? Well, a few are some great books that we've already featured in our holiday event. So if you were eyeing them earlier and did not win, you get at least another chance (maybe more … you have to stay tuned to our holiday event!).
First, there's another combination set of Steph O'Dea's most recent books: More Make It Fast, Cook It Slow cookbook and Totally Together Journal:  Shortcuts to an Organized Life. Either one of these books would be a very worth giveaway item on its own, but both together is a super special treat!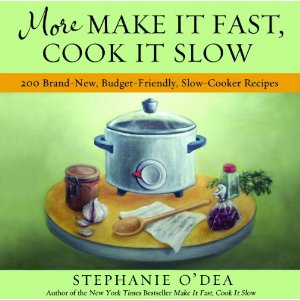 +
 
1 set (1 winner)
Second, there's another copy of Elana Amsterdam's The Gluten-Free Almond Flour Cookbook. I've already raved over this book several times. It's a terrific all-purpose book for those who want to eat grain free using almond flour.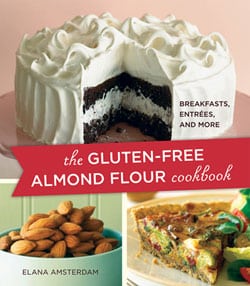 1 copy (1 winner)
Third, there's Elana's Gluten-Free Cupcakes:  50 Irresistible Recipes Made with Almond and Coconut Flour cookbook. This is the first time that Elana's cupcakes cookbook has been offered in our holiday event. You can read my review and get Elana's recipe for Marble Cupcakes here. Her Marble Cupcakes are without a doubt our family's favorite recipe in this cookbook—perfect for those who cannot choose between chocolate and vanilla! I never ice them because we just don't feel they need anything more. Coming in second would be her Chocolate Banana Cupcakes—terrific way to use your overripe bananas, too. Because the recipes in this cookbook use almond flour and/or coconut flour and low-glycemic sweeteners, they are all super easy to make and quite healthy.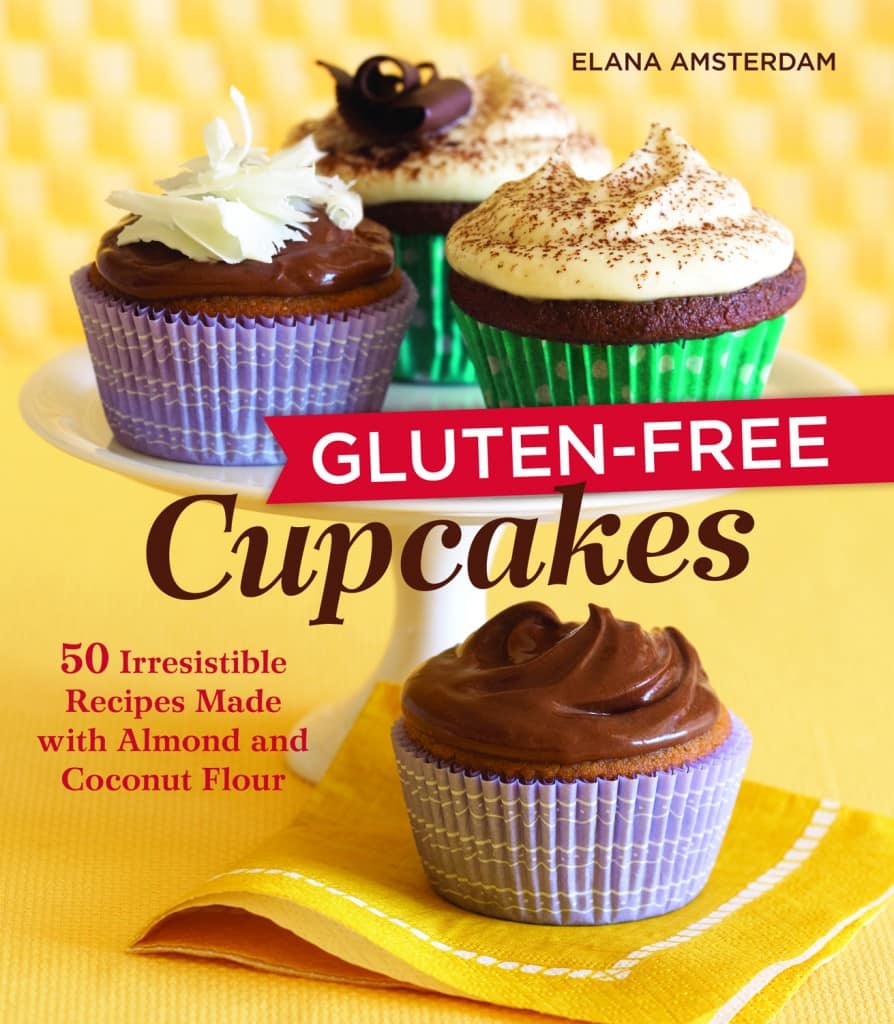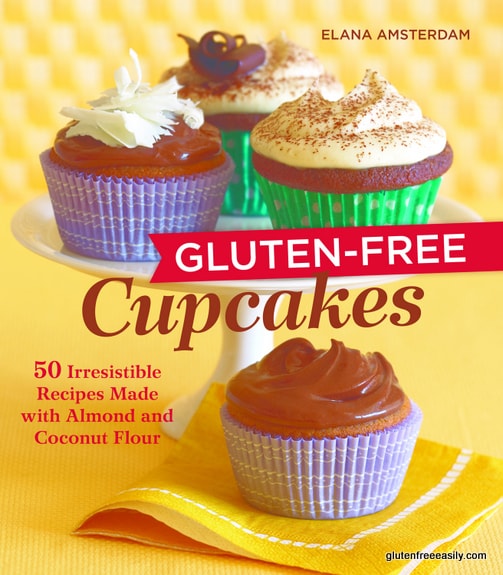 1 copy (1 winner)
So there will be three winners in Lexie's giveaway (one for each item listed above), which will end Saturday, December 10th, at 10:00 am PST. Head over to Lexie's to throw your name in the hat! Of course, all entries enter you into the final giveaway for the gift packages from Caveman Cookies ($89 value), Free From Gluten ($150 value), and Vitamix ($550 value).
Hope you got to see Kim's Cinnamon Bun Cake yesterday; you really don't want to miss that (and her giveaway is open until tomorrow, Thursday, December 8th, at 10:00 am CST). And tomorrow we'll all be over at Brittany's (Real Sustenance) to see her latest creation!