For affiliate links and as an Amazon Associate I earn from qualifying purchases.
Gluten Free
This post is linked to Slightly Indulgent Tuesdays.
I have truly appreciated the compelling personal stories that folks have been sharing for Celiac (plus other gluten issues) Awareness Month. Diane (The W.H.O.L.E. Gang) shared hers with my gfe readers here. Last week, Maggie (She Let Them Eat Cake) told her family's story here. Alta (Tasty Eats At Home) wrote a post on awareness telling her story,  listing symptoms, and providing several helpful links. Heidi (Adventures of a Gluten-Free Mom) gave her own history in compelling detail–by the numbers so to speak. Read her first post about her family's journey here and her follow-up post (with amplifying data from Ron Hoggan) here. (There's also a giveaway. More on that in a moment.) Amy (Simply Sugar & Gluten Free) told her story in this guest post a while back. Zoe (Z's Cup of Tea) recently shared why she and her family are on the Specific Carbohydrate Diet (SCD) path and her experiences in gluten-free, SCD baking. Read Part I here and Part II here; both are worthwhile reads. Linda (The Gluten-Free Homemaker) wrote an informative piece recently about the connection between celiac and other autoimmune diseases. Be sure to read the post and the comments. Again and again, it's the individuals' experiences that speak to us—both letting us know we are not alone and, in many cases, enlightening us about our own issues.
In addition to personal stories, bloggers are also sharing some terrific resources with their readers. Heidi has a great new listing on her Helpful Resource Links page with non-celiac gluten intolerance/sensitivity links. There's a wealth of excellent information there.
Remember: Any time celiac/gluten intolerance is untreated (i.e., one continues to eat gluten), the likelihood of developing additional symptoms and other serious illnesses is greatly increased. You can look at it this way … in its fight against gluten, one's body will "scream" for attention. If you know you have gluten issues, but have ignored them, please take a moment to read this Short, Sad Story.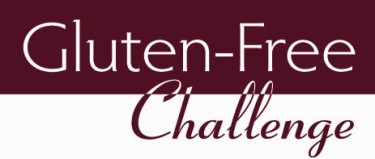 Alisa (Go Dairy Free, Dairy Free and Fit, One Frugal Foodie) just posted a roundup of gluten-free, dairy-free recipes that her dairy-free readers (and anyone else) can use for the upcoming gluten-free weekend challenge. If you haven't heard about the challenge, it's a challenge jointly issued by Pamela's Products and the Gluten Intolerance Group to eat gluten free for a weekend—this weekend, in fact. (Please note that this event is about raising awareness, one should not expect to see results from eating gluten free in a weekend. There have been folks who have reported feeling better in such a short time, but it's rare. Improvement on a gluten-free diet usually takes at least a few weeks and for many noticeable improvement can take months.) Alisa has come up with an impressive and helpful roundup. She has gathered recipes from several bloggers (including yours truly) for breakfast, lunch, dinner, and snacks. These are recipes that will meet everyone's needs … easy beginner recipes (the ones that require no special ingredients; i.e., gfe-type recipes), vegan, more advanced recipes. I know this listing will be helpful to many of you, whether you are going gluten free for the weekend challenge or are completely transitioning to gluten-free eating. Alisa also has a dairy-free challenge on her site for those who currently eat dairy and want to try that route.
Iris (The Daily Dietribe) is hosting this month's Adopt A Gluten-Free Blogger event. This monthly event originated by Sea (Book of Yum) is a great way to connect with another gluten-free blogger and finally make one or two of their recipes you've been drooling over. I finally "got with the program" a few months back. Alta is the one who got me started when she adopted me. To date, I've adopted Pete and Kelli Bronski of No Gluten, No Problem and Kate Chan of Gluten Free Gobsmacked. This month I'm adopting Melanie Krumrey of Gluten Free Krums. Check out Iris' post to find out when you have to sign up and what you need to do. I promise it's not hard at all—a very simple and rewarding adoption process!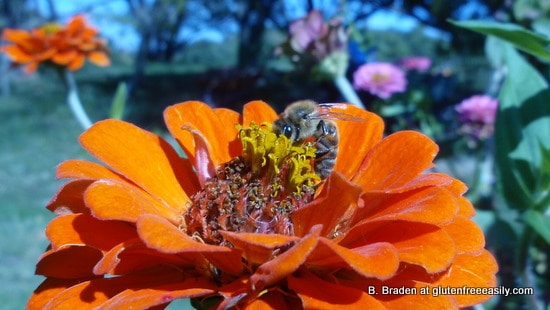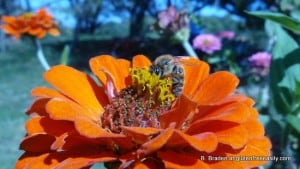 Jenn (Jenn Cuisine) just hosted the Blogger Secret Ingredient carnival. This whole event was a secret to me. Okay, maybe I'd read about it at some point and forgotten. (That happens to you, right?) Anyway, I'm disappointed that I missed out because the secret ingredient was honey. If you don't already know, we keep bees and love their honey! See Jenn's roundup here  and since I missed the fun here's one of my favorite honey recipes: Flourless Chocolate Banana Honey Walnut Cake. I also like to use honey as my sweetener in homemade ice cream, too. (For example, see Peach Sorbet, Honey Dewed Sherbet, and Honey Cinnamon Grand Marnier Ice Cream.) Raw honey has so many health benefits and can be used most of the time when you want to make a recipe refined sugar free. Because it is a liquid, you may have to adjust other liquid amounts in the recipes. Helen of Fuss Free Flavours is hosting the next Blogger Secret Ingredient event; it's all about capers! Check out the guidelines here.
Aubree of Living Free has a fun, new roundup where she lists her Top 10 Recipes of the Week. I think she's one smart cookie because not only is she sharing the recipes with us, but now she also has these handy little reference posts of recipes that she wants to try! Finally, I'm so honored that she included my Super-Charged Garlic Lemon Broccoli in her latest roundup—check out her recent top choices here. 
Chandice of Gluten Free Frenzy is still featuring gluten-free bloggers in her Tell All Tuesdays. Up this week is none other than Alta of Tasty Eats At Home. If you're a fan of Alta's as I am, take a moment to read her interview with Chandice. Chandice was kind enough to feature me recently and you'll find many other gluten-free bloggers to check out. These interviews really offer some insight into the bloggers' perspectives and approaches. Gluten-Free Frenzy covers a wide range of info: chef advice, product reviews, restaurants with gluten-free menus, giveaways, and more.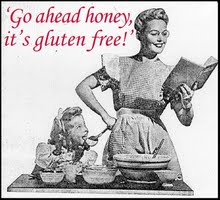 Tracee (Mrs. Ed's Research and Recipes) is hosting Go Ahead Honey, It's Gluten Free! this month. Go Ahead Honey is the brainchild of Naomi (Straight Into Bed Cakefree and Dried). Tracee's theme is You Say 'Jelly', I Say 'Jello'. Entries are due by May 27; you can read more here.

If you follow me on Twitter and Facebook, you know that I recently gave a presentation to The West End Gluten Intolerance Group (TWEGIG). TWEGIG is the other terrific support group that I'm active in. I edit its newsletter and serve on the core council. TWEGIG's leader, Madelyn Smith, is a personal friend and very active in National GIG. My presentation topic was "Using Blogs and Other Social Media to One's Gluten-Free Advantage." As I told my audience, it's a whole lot easier than that title sounds! I solicited inputs from my gfe readers on my Facebook page and via Twitter on why and how gluten-free folks are using social media. The TWEGIG members were very appreciative of my readers' insight. Another person who is sharing social media tips these days is Sandra Robbins. One of her blogs is actually devoted to this topic–Gluten-Free Social Media Tips.  (You may also know her as the Gluten-Free Optimist or @MarylandCeliac.) She has a couple of handy posts that are just right for beginners, so I shared her tips with the TWEGIG folks as well. You may be interested in checking our her site, too.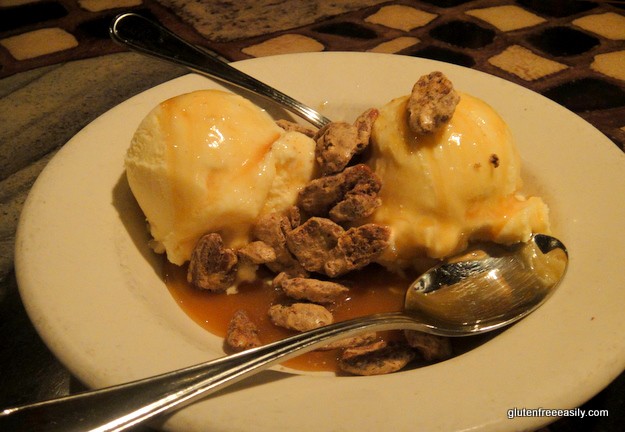 If you haven't entered the Carrabba's $100 gift card giveaway on my Out and About page, you can still do so here. Over 1000 folks have viewed this page, but not even 200 have entered to date. All one has to do is leave a comment to enter–easy. Be sure to read my review, too.
Speaking of giveaways, Stephanie (A Year of Slow Cooking, Totally Together Journal, and Totally Together Reviews) is also doing a giveaway. Those of you with children will want to check this one out.
Pete and Kelli Bronski are giving away five copies of their outstanding cookbook, Artisanal Gluten-Free Cooking, in conjunction with the National Foundation of Celiac Awareness for Celiac Awareness Month.  You can read my review of their cookbook here and you can visit here to enter the giveaway. (Hint: Answers needed to enter the giveaway can be found on the Athletes for Awareness blog via the link on the left side of the NFCA page.) Or order it right away here.
In conjunction with her celiac/non-celiac gluten issues awareness posts, Heidi (Adventures of a Gluten-Free Mom) is giving away five copies of Dangerous Grains! Check that out here.
Last in the giveaway department, Shauna and Danny (Gluten-Free Girl and the Chef) have reviewed five gluten-free cookbooks and are giving away one of each! I have three of the five on my support group's shelf … how many do you have? Which ones do you want? Read the in-depth reviews (with photos of recipes that Shauna and Danny made) and enter the giveaway here.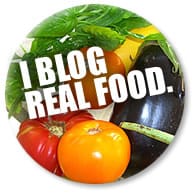 Remember that the 30 Days to a Food Revolution is still going on over at Diane's (The W.H.O.L.E. Gang). The bloggers—and the recipes and tips that they are sharing—are all amazing! This is not just me being overly enthusiastic … you'll hear that sentiment repeated again and again in the comments. Jamie Oliver and his Food Revolution movement have been our inspiration.

If you haven't signed Jamie Oliver's petition to get real food into schools in the U.S., please take a moment to do so here if you agree with his mission. Jamie needs a million signatures to go forward and as of this writing has just under 600,000.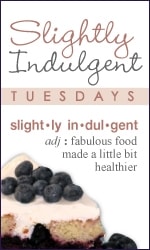 And, don't forget my weekly favorites: Amy's Slightly Indulgent Tuesdays and Linda's Gluten-Free Wednesdays (FYI: Linda's challenge for this month is cake). Both of these carnivals have new bloggers jumping in all the time. The recipes are extremely diverse, but you'll probably want to try them all! Trying other bloggers' recipes is a great way to step out of one's comfort zone and find a new favorite.
Okay, these links should keep you busy until at least my next post!
Shirley
Not just gf, but gfe!