For affiliate links and as an Amazon Associate I earn from qualifying purchases.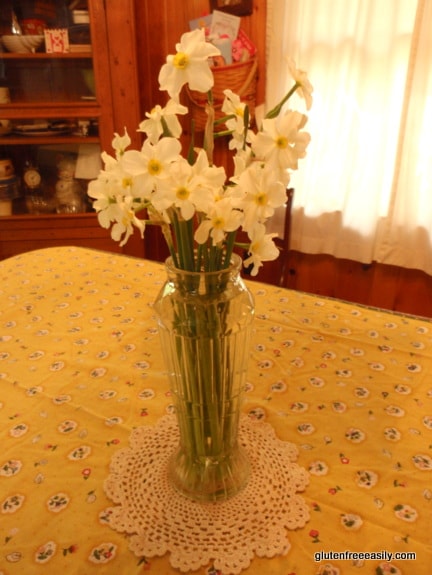 This post is linked to Allergy-Free Wednesdays.
Welcome to the May GFE Virtual Gluten-Free Support Group (VSG) meeting! If you're new to GFE VSG, it's the online event where I share information from my actual support group meetings with all of you. That includes information on the presentations, the food shared, tips from my members … anything that comes out of the meeting that I think you will find helpful. Sometimes I'll also add additional pertinent information to my GFE VSG post that we might not have had time for in our actual meeting or maybe even information that came up or was investigated further later. As part of your participation in our VSG, I ask that you interact with all of us joining in to the GFE VSG by commenting on the presentations, gluten-free recipes, and any of the shared info and offering your own input. Usually there is a linky via which bloggers can link up recipes, but I'm foregoing the linky this month as it has not been working well for everyone. If you have a recent recipe that you'd like to "bring" to our VSG, just tell us about it in your comment or leave a link to your post. Hopefully, we can re-instate the linky feature next month. Last, there is also a giveaway each month! Giveaways always tie into the topic of the meeting and/or the food theme. Anyone who leaves a comment will be entered. Only one comment is required (and only one will be counted), but folks are welcomed and encouraged to have discussions with each other in comments.
Our meetings start with our shared meal. Let's get to it!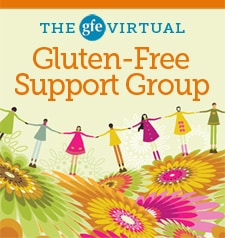 Food:  We had a tasty, "true" potluck for our last meeting with Crockpot Jambalaya; Venison Sausage (my version of this recipe) with Lydia's Caramelized Onions (another crockpot recipe—easiest way to make caramelized onions … ever) and Sautéed Mushrooms; Veggie Rice Salad (see photo); Beef, Sausage, and Quinoa-Stuffed Red Peppers (see photo); Great Salad with Homemade Poppy Seed Dressing; Green Pea Salad with Vinaigrette Dressing, Blackberry Pudding Cake (see photo); Brazilian Un-Cheese Rolls; Flourless Peanut Butter Cookies; fresh pineapple and strawberries; and more. On my plate shown below, you'll see Crockpot Jambalaya, Great Salad, and a Brazilian Un-Cheese Roll. It's wonderful to have such a variety of food at our meetings. Everything is gluten free, most foods are dairy free, and some are vegetarian or vegan, too.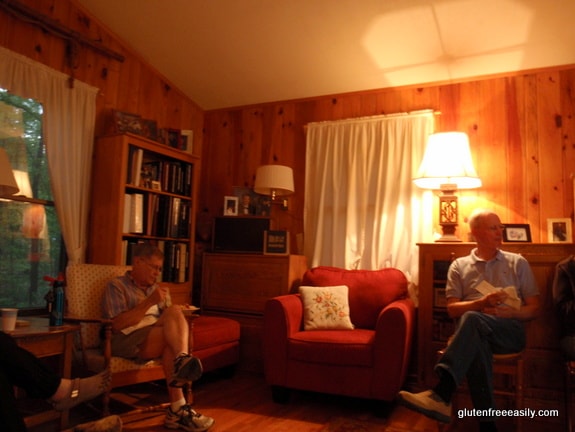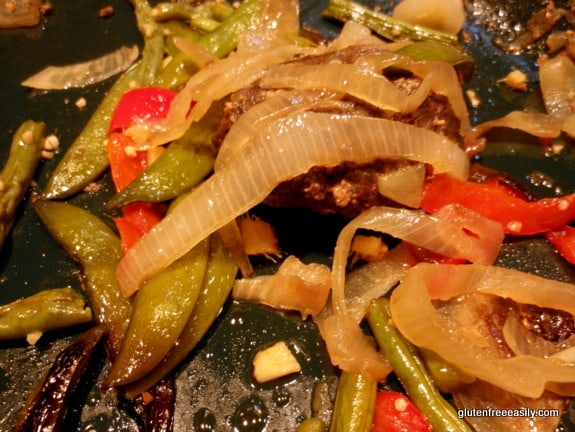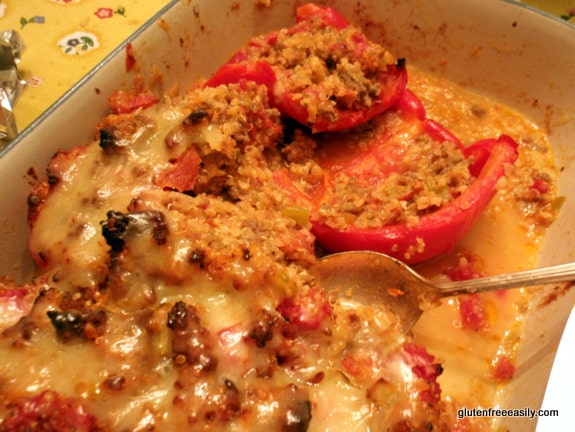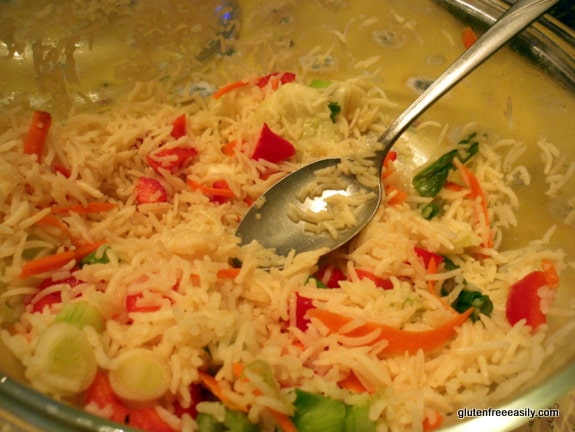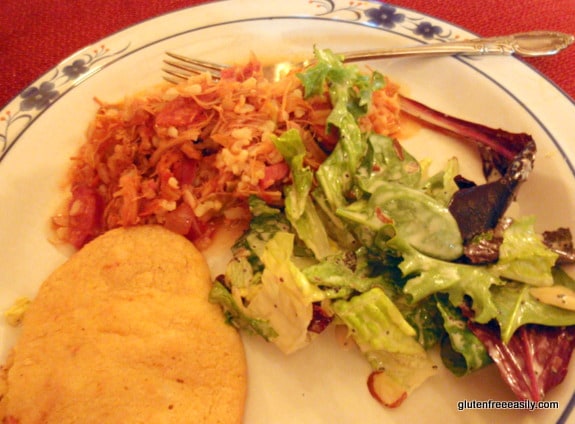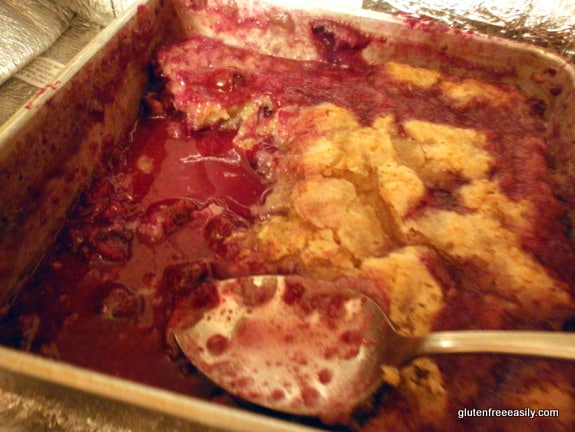 Presentation:  Our meal was followed by a great presentation by Tricia Thompson via teleconference. Tricia had forwarded her presentation on the Gluten Free Watchdog program, which she founded and operates. Tricia is one of the most respected in the gluten-free community for her extensive knowledge and sharing of her knowledge with the gluten-free community. You may also know Tricia as "The Gluten-Free Dietitian" or remember her informational posts on the celiac listserve if you're a member of that group. Tricia also has written her own "expert" blog, Living Gluten Free, over at diet.com. Tricia spoke previously to my group several few years back. At that meeting, she talked about her part in testing mainstream oats (critical testing which established that mainstream oats are highly cross contaminated and not safe for those on a gluten-free diet; always use certified gluten-free oats) and the lack of nutrition in processed gluten-free foods. I've actually looked to Tricia for her expertise on a number of topics over the years:  gluten-free labeling specifics, the presence of gluten in naturally gluten-free grains, (and explained further here), to name a few.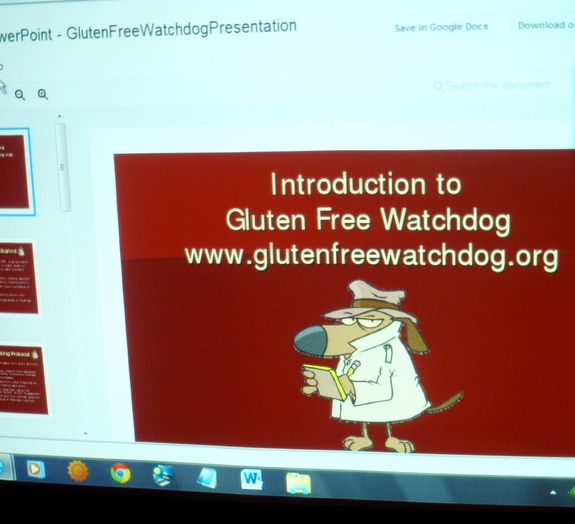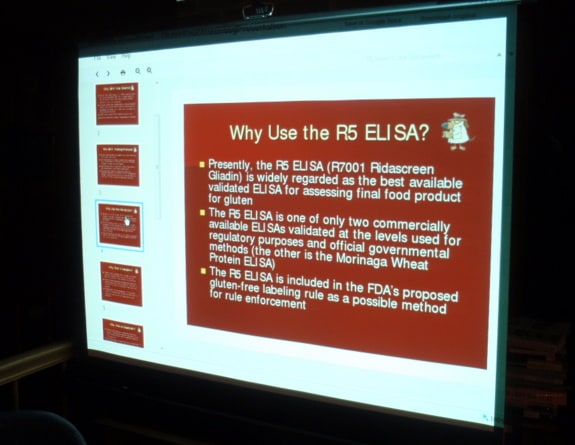 The Gluten Free Watchdog tests several products weekly to see if they actually are "gluten free." Products are tested in the following categories: tortillas, cookies, hot cereals, and breads. For each product, three samples are tested. If the product tests positive for gluten the level of 20 parts per million (ppm) or more, Tricia contacts the company and sends out an alert to the public via the Gluten Free Watchdog site and numerous other public forums like the celiac listserve, Facebook, and Twitter. You can see Tricia's whole presentation here. She shares some of the surprising things that she has learned since starting the program; e.g., unbelievably, many manufacturers did not know that including barley in a product was not allowed in gluten-free products. Most importantly, you can see the product alerts that she discussed here. There are only a few shown, but if you are eating even one of the products listed, it's critical that you read these alerts and stop consuming these products until they are retested and determined to be gluten free. That is, if the company decides to improve its process to ensure gluten-free products. Very disturbingly, one of the products that tested positive for gluten is a product that has been certified to be gluten free to less than 10 ppm by the Gluten-Free Certification Organization (GFCO). In actuality, the product tested far higher than even the proposed 20 ppm level. Please take a moment to see if any products you consume are on the Gluten-Free Watchdog Alerts page.
It's also very nice to receive testing reports and find out that products that you are consuming are gluten free. As Tricia shared, most of the products that the Gluten-Free Watchdog has tested have been found to be gluten free to less than 5 ppm. That's an important distinction to note. Gluten Free Watchdog testing is done to the less than 5 ppm level, but alerts are only issued if the product tests at 20 ppm or above–the current level that is proposed for a "gluten-free" label by the U.S. Food and Drug Administration (FDA). I am one of the super sensitive, and while I use very few gluten-free products (other than naturally gluten free, real food), I very much appreciate getting my Gluten Free Watchdog reports. They come often … at least once a week. Since subscribing to the program, I have seen that products that I occasionally use have tested to less than 5 ppm and I have seen that a few other products, as already noted, have tested decidedly not gluten free. The latter information is critical even for someone like me who uses few products as I might be at a friends' home and she has graciously picked up some "gluten-free" tortillas for me or I might be at a conference that is providing gluten-free products for gluten-free attendees, or I might just want to try something new. Knowing the Gluten Free Watchdog testing results to date has already prevented me from getting "glutened" in such situations more than once, which makes the program worth so much more than its small monthly subscription fee.

It's an understatement to say that I am a huge fan of this program! I wish that there was no need for the Gluten Free Watchdog, i.e., that gluten free always meant gluten free, but that is not the case, so the Gluten Free Watchdog's services are greatly needed. For less than it costs to buy one gluten-free product a month, you can subscribe. Subscriptions are $4.99 a month and you can stop your subscription at any time. Subscribers get to see the actual tests results, not just a "pass" or "fail," so to speak. The reports show whether products that tested "gluten-full" contain 20 ppm or 700 ppm gluten. Of course, either level will harm someone who is gluten free, but I think it's important to see actual test results and know when a positive result was not just over the proposed limit by a small amount. It's all too easy for folks to rationalize that their favorite products still might be safe … to think that a reading 20 ppm or 25 ppm would still probably be okay for them. That's simply not the case, but we humans can sometimes play surprising mind games when it means giving up favorites. Or individuals might rationalize that the readings were total anomalies. That's why Gluten Free Watchdog shares any follow-up testing data and information from manufacturers, but also does follow-up testing itself. "The policy of Gluten Free Watchdog is to retest products that have tested at or above 20 ppm gluten within one year of the original test date." That means the Gluten Free Watchdog program gives manufacturers an opportunity to resolve their issues, but re-tests to determine if the gluten-free consumer is now being offered a truly gluten-free product.
Subscribers have access to all test results from the moment they join the program. However, subscribers are not allowed to share any of the information with others. That's why alerts are shared in public forums on products that do not test gluten free. Subscribers get the news on products that test positive for gluten immediately, and again, they get the specifics. In addition, subscribers can request that certain products be tested. For example, if I reacted to product X, I could request that the Gluten Free Watchdog test product X in the future. All in all, this program is a great one and much needed to keep us all safe if we're consuming any "gluten-free" products.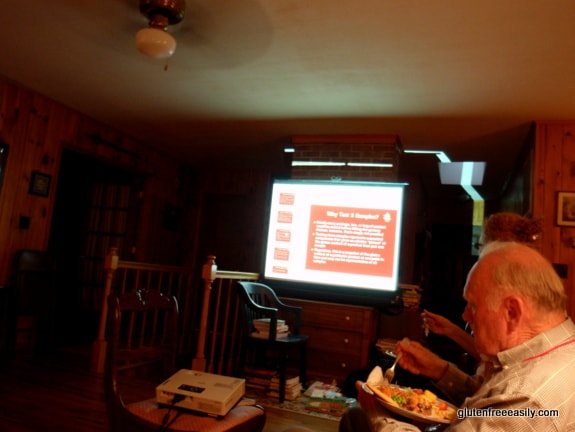 Giveaway:  Tricia Thompson has generously donated two three-month subscriptions for two gfe winners. Simply leave a comment to enter the giveaway.  This giveaway will end Sunday, May 13, at midnight Eastern.
Last, please come back at the beginning of next month for our next GFE Virtual Gluten-Free Support Group, featuring nutritionist and personal trainer Donna Hetrick with her presentation on Healing the Gut. And don't forget to come back tomorrow for Part II of They Just Don't Understand: Strategies for Dealing with Friends and Family. You can read Part I here.
UPDATE:  I want to announce the winners of the two three-month subscriptions to the Gluten Free Watchdog program. Congratulations to Amber (The Tasty Alternative) and Cindy W.! You can read their comments below.
Amber (The Tasty Alternative) ~ "Hi Shirley,

Great VSG this month!! Thank you for introducing me to Tricia and The Gluten Free Watchdog! I would love to win a three month subscription!

And thank you for including a link to the presentation. I'm so shocked to learn about this ignorance within companies (claiming to be GF) – I mean, really…barley?? come on people! This is eye opening Shirley.

No Linky, no worries…
This week I am sharing Strawberry Cantaloupe Popsicles (sugar free).

Thanks again for this information.

Hugs,
–Amber"

and

Cindy W. ~ "Once again, the food looks delicious. Wish I could be there. (: Thanks for the great information, Shirley."