For affiliate links and as an Amazon Associate I earn from qualifying purchases.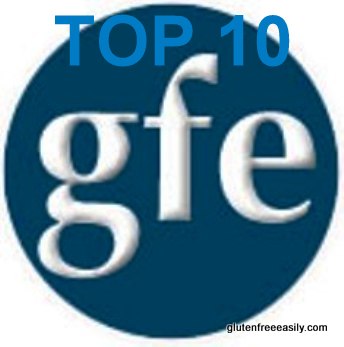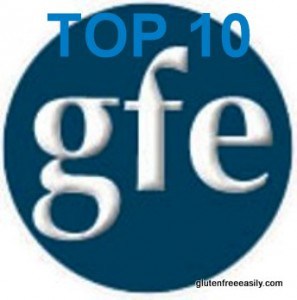 I know that every other blogger has been sharing their most popular posts, their most favorite posts, and the like, so chiming in with mine at this point might seem a bit repetitive and unimaginative. However, I'll admit that it is always fun to take a look back before we really move on with the new year. (Yes, I know it's January 12. Its' a slow and easy start here this year on gfe, remember?)
These listings remind us of favorite recipes and there are always some surprises! And every time I share a Top 10 for the year or all time, folks tell me that they're grateful because there are recipes, discussions, and tips that they completely missed the first time go-round. We all do that. We simply can't read or catch everything all the time.
Note that these posts were tops on December 31, 2013. The ordering has already changed some since that time, but you can see the Most Popular Post of the Day, Week, and All Time right on the gfe sidebar at any time. (Just click on the tab of choice. The recipe posts and discussion posts are not separated out like I'm doing here though.)
Top Posts of 2013
Top 10 Recipe Posts on GFE for 2013
10. Top 10 Best Gluten-Free Girl Scout Cookie Knockoff Recipes Plus Bonus Ideas ~ If you missed this post the first time around, you will love finding the gluten-free version of your favorite Girl Scout Cookies. Some terrific food bloggers graciously joined in for this roundup. Many of their recipes are more than gluten free, which will be really helpful for many of you, and some of the bonus ideas are so innovative and/or super simple.
9. Easy Crustless Pecan Pie ~ Pecan pie is a beloved Southern dessert, but it's become a favorite for folks all over. This recipe is super easy to make. Read comments for sweetener variations.
8. Best Pumpkin Pie Ever and It's Crustless, Gluten Free, and Dairy Free (With Even More Options) ~ This recipe is the dairy-free version of my original crustless pumpkin pie. It's not only a terrific option for those who are gluten free and dairy free, but it's so creamy that many prefer it over the original.
7. Green Chile Chicken Enchilada Casserole ~ The success of this recipe surprised me, but it shouldn't have. It's very easy to make—basically four ingredients with some seasonings—and it's very good!
6. Pantry Black Bean Soup and Paleo Bread ~ I'm pretty sure that the Paleo Bread recipe is why this post on this tasty combo is so popular. It pleases not only the paleo folks, but anyone who is gluten free. And even those who are not gluten free. Good bread makes everyone happy! And if you eat beans, you'll love the soup, too!
5. Perfect Pound Cake ~ As I've said before, I don't use the word "perfect" often, but this pound cake truly is perfect.
4. Paleo Fluffy Puffy Almond Butter (or Sunbutter or Peanut Butter) Cookies ~ I love these big grain-free cookies and many of you did, too. Made with almond butter, sunbutter, or any other nut butter, they're paleo, but they're also delicious when made with peanut butter if you're not paleo.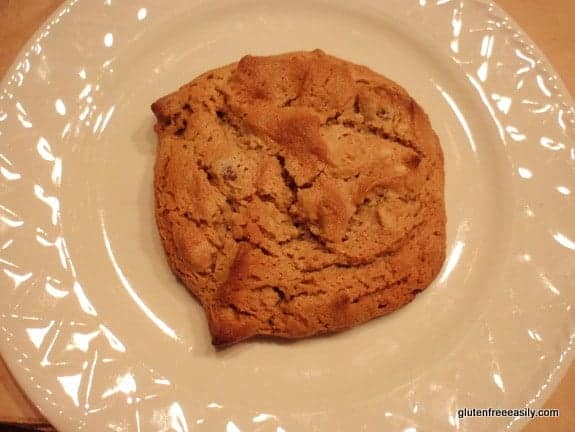 3. Top 40 Best Gluten-Free Bread Recipes: Basic Rolls and Biscuits (from the Bountiful Bread Basket Series) ~ This post was the second one in my ongoing Bountiful Bread Basket series. With 40 recipes, there's something here for everyone! The only thing better than looking at the wonderful variety of rolls and biscuits here is to add one to your meal. Nothing quite complements a great meal like a good biscuit or roll. If you've been missing that factor, you don't have to any longer!
2. Flourless, Doughless Gluten-Free Pizza ~ This recipe gets a lot of skeptics. I mean after all how can a pizza that has a crust made of eggs and cheese really get the job done? Well, if you read the comments, you'll see that this pizza gets the job done and more!
1. Top 20 Best Gluten-Free Bread Recipes: Loaves (from the Bountiful Bread Basket Series) ~ This post was the first in my Bountiful Bread Basket series. It is the most popular post on gfe by far. Almost everyone loves good bread and most who are gluten free have not had been smitten by what they can pick up at the market. This listing offers many choices from "just gluten free" to dairy free to egg free to grain free to vegan. You can find a great bread recipe here for sure! (Note:  Please stay tuned for the continuation of this series, with more roundups of bread recipes; e.g., loaves, tortillas, English muffins, buns, rolls.)
Top 10 Discussion Posts on GFE for 2013
Some of these posts are "crossover" posts, having a mix between both recipes and discussions.
10. How to Clean Your Blender (Vitamix/Blendtec/Omni-Tech, etc.) in Two Minutes or Less ~ Self explanatory, but potentially life changing. (Anything that simplifies my life is potentially life changing!)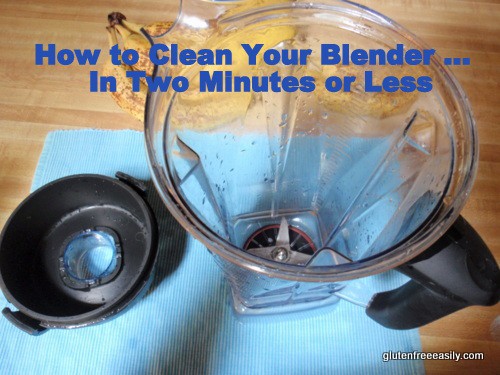 9. Grieving Gluten:  The Five Stages of Loss of Gluten Plus a New One ~ There is a grief process for almost everyone who goes gluten free. It's helpful and validating to read that these stages are completely normal, and that there's a stage beyond grieving. And it's a far better stage than the one that is typically thought of as the final stage for grieving.
8. Chicken (or Turkey) Enchilada Casserole & Some Non-Standard Symptoms of Celiac and Gluten Issues ~ Almost everyone tries to fit celiac and non-celiac gluten issues and symptoms in a neat little box, but it doesn't work. And people fall through the cracks and suffer as a result. Read about some of the atypical symptoms, which according to Dr. Stefano Guandalini's presentation at the Canadian Celiac Association Conference last summer, are what most of those diagnosed with celiac disease now experience. More folks diagnosed with celiac disease experience extraintestinal, "atypical" symptoms than those who experience the intestinal typical symptoms that have always been thought to be "required" for a celiac diagnosis.
7. Over 100 Gluten-Free Thanksgiving Recipes, Plus GFE Thanks and Wisdom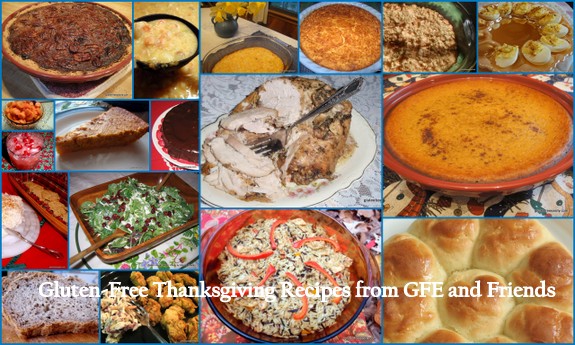 6. Healing Crohn's Disease with the Specific Carbohydrate Diet (Which is Gluten Free and More) ~ Vicky of Gluten Free SCD and Veggie shared her family's incredible story of healing Crohn's (and other family symptoms) by using the Specific Carbohydrate Diet.
5. GFE Tip Sheets ~ While not a single post, these printable tip sheets (in PDF) for living gluten free, which are easily located under the "Getting Started" tab here on gfe, are clearly well used by readers. They include 50 Foods You Can Eat Today, 50 Meals That Are GFE, 50 GFE Sweet Treats, and The GFE Pantry, but you'll find more of interest in this section as well.
4. How to Make Almond Milk in Less Than Three Minutes! ~ The discussion here mostly involves why this method of making almond milk is brilliant. It really is!
3. The 5-Minute Secret to Cleaning Your Pots and Pans Without Harsh Chemicals ~ So many have already tried this super easy method of cleaning baked-on food off pots, pans, and your slow cookers (you know how hard those are to get clean, right?). And they are all loving it!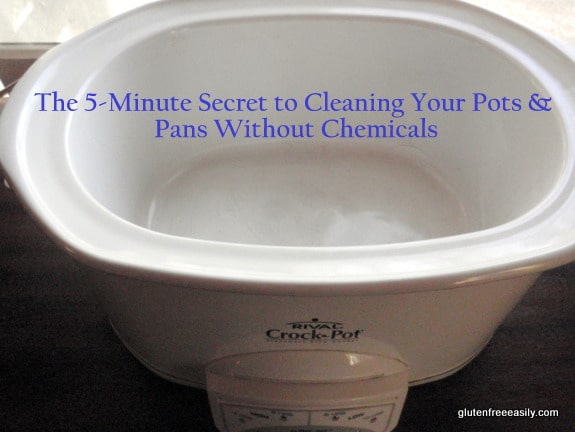 2. The Spin on Spelt ~ If anyone has told you that spelt can be part of a gluten-free diet, they are wrong. Please read this post if you need more data.
1. HONOR Your Body:  How to Recover After Being "Glutened" ~ This post has gotten more of a response than I ever expected. The intent of this post was to share my tips as well as several other gluten-free bloggers' tips on getting off gluten exposure as quickly and easily as possible. And while, it certainly does that and readers have said they've greatly benefitted from the various tips, the bigger benefit for readers seems to be seeing that others go through the same awful time that they do. That's right. You're not exaggerating. You're not overreacting. Gluten really does do that big a number on you!
Top GFE Recipe Posts of All Time
The discussion posts of this last year and those of all time are almost the same, so we'll skip the discussion posts of all time. I've done less discussion posts the last year or so, and have focused on recipes more. I plan to share more discussion posts in 2014, hoping to make gluten-free living even easier for folks by getting some issues and discussions out in the open.
But here are the recipe posts of all time. Some are the same as the ones for this year, so I won't comment on those again, but I will share more photos because an image can say so much.
9. Chicken and Rice Casserole—Uncondensed ~ Giving up canned soup (there were two kinds in the original recipes) is actually pretty easy in this classic chicken and rice casserole, and the results are so much better!
8. Easy Crustless Apple Pie ~ Frankly, this apple pie recipe amazes people and turns apple pie haters into apple pie lovers as well. You don't make a crust as with a traditional apple pie. You simply mix the batter and pour it over the apples. If you need a grain-free, dairy-free, paleo version, you'll want this recipe.
7. Best Pumpkin Pie Ever and It's Gluten Free and Dairy Free
6. Passion for Peanut Butter (Flourless Peanut Butter/Almond Butter/Sunbutter Cookies) ~ This recipe is the one that I tell newly gluten-free folks to make first when they want a delicious treat. It can be made with ingredients that almost everyone has on hand. Plus, this one recipe has so many variations. Make it with peanut butter. Make it with almond butter. Use sunbutter. Make it "as is" or add chocolate chips (minis, regular, or mega) or cocoa nibs. Use coconut sugar instead of brown sugar. I've also used this same recipe as the starting point for other egg-free, vegan variations (here and here) … plus Cookie S'mores and an alternative chocolate chip-free chocolate version.
4. Crustless Pumpkin Pie ~ This recipe is basically the pumpkin pie that you remember growing up, but without a crust. A little bit of gluten-free flour (your favorite gluten-free flour mix or single flour; even coconut flour works) added to the mix makes the pie work without a crust. The interesting thing is that folks who have never like pumpkin pie in the past often love this recipe. The added flour makes the pie less "wet" and creamier, which is a magical combination for many.
3. Flourless Oatmeal Cookies ~ This recipe is another super simple one. The caramelized edges and chewy middles make these cookies a hit! You'll also want to read information in this post on the importance of using certified gluten-free oats. The regular brands that you'll find on the shelf are not safe for those who eat gluten free. (Read the post to find out exactly how much gluten those oats contain.)
2. Flourless, Doughless Gluten-Free Pizza
1. Top 20 Best Gluten-Free Bread Recipes: Loaves (from the Bountiful Bread Basket Series)
Come back tomorrow for More Recipes—A Baker's Dozen—from 2013 That Deserve Your Attention and later this week for something really special for National Pizza Week!
This post is linked to Gluten-Free Tuesdays, Gluten-Free Wednesdays, Allergy-Free Wednesdays, Gluten-Free Fridays, and Whole Food Fridays.